Is Daimler Stock a Good Way to Invest in Self-Driving Cars?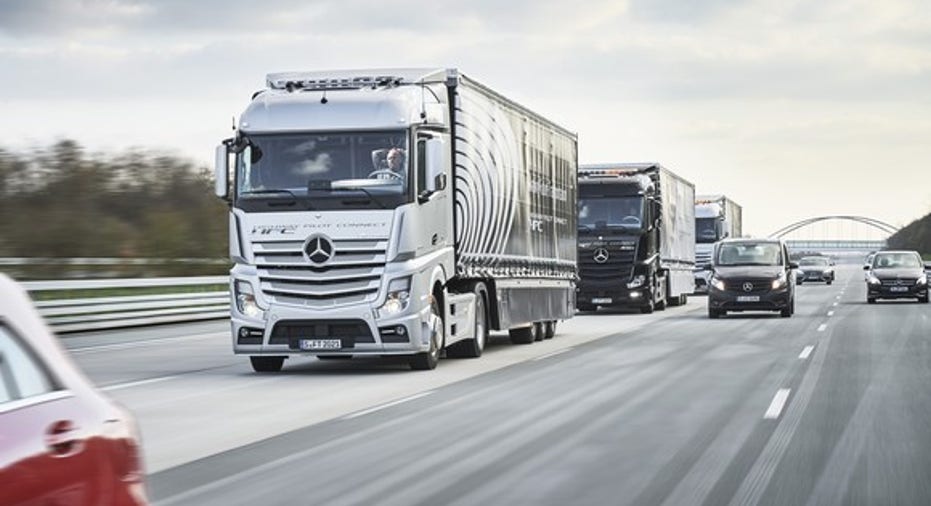 Self-driving cars are coming. In time, the technology is likely to transform the way we get around -- and it might even transform cars (and trucks) as we know them.
It's generally true that transformative changes bring investment opportunities for those who are paying attention. So how do we invest in self-driving cars -- or, as they're properly termed, autonomous vehicles?
I've been looking carefully at the public companies known to be working on some aspect of autonomous vehicle technology, in search of good opportunities for investors to profit from these changes. Lately, I keep coming back to one that most U.S. investors seem to overlook: The company that's credited with inventing the car itself.
The first car with (very limited) self-driving capability? It wasn't a Tesla, it was the 2014 Mercedes-Benz S-Class with Daimler's Traffic Jam Assist system. Image source: Daimler AG.
Daimler is not just a luxury-car company
Daimler AG (NASDAQOTH: DDAIF) is mostly known to U.S. investors as the maker of Mercedes-Benz luxury vehicles. That's an important part of the company's business. But it's more than that: Daimler is also a major global producer of medium and heavy trucks and buses under several brands, including Freightliner and the Mercedes-Benz commercial-vehicle brand.
Why is that important? Daimler appears to be well along in the process of developing its own autonomous-vehicle system. Daimler has been investing in autonomous-driving research and development for many years. The company will always have the distinction of being the very first to bring a hands-off-the-steering-wheel system to market, on the 2014 Mercedes-Benz S-Class sedan.
It's also making big investments in (and good progress with) battery-electric drivetrains. Both technologies have obvious near-future applications in luxury cars, of course, as Mercedes gears up to push back against upstart Tesla(NASDAQ: TSLA)over the next few years.
But the more significant opportunity for Daimler over the next several years may be in automated (and eventually, electrified) long-haul trucking. Daimler may well lead that transition: Among other efforts, it has been testing a system called "Highway Pilot" that allows automated tractor-trailers to "platoon," or drive in a closely spaced, automated convoy.
Mercedes-Benz tractor-trailer trucks fitted with a prototype of its Highway Pilot system are shown moving in an automated platoon in a test last year. Note the position of the driver's hands. Image source: Daimler AG.
Think that technology might have commercial implications? Absolutely. By the way, Daimler is also gearing up to produce the latest version of its electric light-duty truck (think of an urban delivery van) and is working on electric heavy trucks that will go into mass production in a few years.
Daimler's Fuso eCanter is a battery-electric commercial truck that will soon be available with battery packs up to 84 kWh. Image source: Daimler AG.
Daimler, together with rivals BMW (NASDAQOTH: BAMXF)and Audi and chip giant Intel (NASDAQ: INTC) also owns a piece of HERE. HERE is the mapping company that began life many years ago as NAVTEQ. It's significance now is that itis expected to be a key supplier of the highly detailed maps that will be needed by the first Level 4 autonomous vehicles. It's another piece of the autonomous-vehicle puzzle that might prove significant in a few years: The more maps a given self-driving system hasavailable, the more places it will be able to go without intervention from a human driver.
To sum up: As a luxury-car maker, Daimler is in a good position to profit from the early stages of the self-driving revolution (when autonomous capabilities might be an expensive option on premium sedans and SUVs). But the bigger opportunity for Daimler may lie in self-driving trucks, whether urban delivery vans or long-haul tractor trailers. Taken together, there's potential for a significant bottom-line boost as the technologies come to market over the next several years.
Daimler as an investment
Right now, Daimler has a price-to-earnings ratio of about 8.8, making it a little undervalued by long-term automaker standards (10 times earnings is more typical for an automaker in good economic times).
Daimler is expected to pay a dividend of 3.25 euros this year, same as last year, for a 41% payout ratio and a rich dividend yield of about 4.6%. (That fat yield is another sign that the stock might be undervalued.)
Daimler's current management team is a strong one. Led by CEO Dieter Zetsche, the group has boosted the company's profit margins over the last few years while making what appear to be the right investments for the future.
Long story short: If you're looking for ways beyond the obvious to invest in the coming wave of autonomous cars (and trucks), Daimler is worth a closer look.
10 stocks we like better than Daimler AGWhen investing geniuses David and Tom Gardner have a stock tip, it can pay to listen. After all, the newsletter they have run for over a decade, Motley Fool Stock Advisor, has tripled the market.*
David and Tom just revealed what they believe are the 10 best stocks for investors to buy right now... and DAIMLER AG ORD wasn't one of them! That's right -- they think these 10 stocks are even better buys.
Click here to learn about these picks!
*Stock Advisor returns as of February 6, 2017
John Rosevear has no position in any stocks mentioned. The Motley Fool owns shares of and recommends Tesla. The Motley Fool recommends BMW and Intel. The Motley Fool has a disclosure policy.