Is CSX Corporation Stock Gearing Up for Another Huge Year After a Fantastic 2016?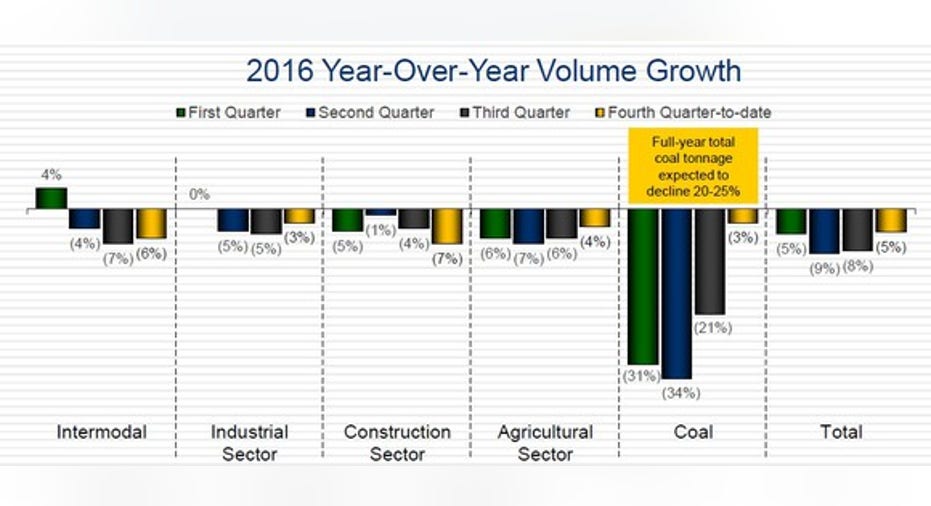 CSX Corporation (NASDAQ: CSX) has faced a confluence of challenges in recent years, with low commodity prices and the secular decline in coal proving particularly detrimental to the railroad's prospects. 2016, however, turned out to be a surprisingly strong year, with CSX stock soaring 39% as commodity prices bottomed out.
Any recovery in end markets, however, is yet to reflect on CSX's bottom line as its latest numbers proved. CSX also continues to struggle with high operating expenses and remains one of the least efficient railroads in the industry. These factors could've cooled down CSX's stock had things not taken a dramatic twist earlier this year. CSX now faces a major potential management shakeout after Canadian Pacific Railway's (NYSE: CP) CEO Hunter Harrison abruptly stepped down and joined activist investor Paul Hilal to gain seats on CSX's board.
Image source: Getty Images.
Things have progressed rapidly since, with Harrison now being considered for the role of CSX's CEO. CSX, however, just announced that the two parties have differences over the proposals set forth and that it will call a special shareholders' meeting in the coming weeks to decide the next course of action.
Given the backdrop, it remains to be seen how things will pan out and whether Harrison's entry into CSX will help unlock shareholder value. An activist investor may not always align his interests with those of the company and its shareholders in the long run. Any fallout could send CSX stock crashing much like the way it has rallied. With that in mind, what are the chances of CSX's stock rallying higher this year after its stupendous run in 2016?
Where CSX falls behind peers
Coal remains an important market for CSX, but management's efforts to shift focus to the more consumer-oriented markets has helped the company navigate the downturn. For example, CSX's total revenue declined 6% in 2016 as strong automotive markets helped offset 20% decline in revenue from coal. However, CSX's net income came in 13% lower at $1.7 billion as one-time charges added to costs.
CSX's operating ratio which measures operating expenses to net sales -- continues to be the biggest dampener. Unlike peers, CSX hasn't been able to exploit low fuel and labor costs to its best advantage in the past year. When you stack CSX against other railroad operators like Union Pacific(NYSE: UNP), Canadian Pacific, and Canadian National Railway(NYSE: CNI), you realize how it lags in terms of operating ratio. Norfolk Southern(NYSE: NSC), too, improved its operating ratio by 370 basis pointsin 2016 versus CSX's 30-basis-point improvement.
| Railroad Stock | 2016 Operating Ratio |
| --- | --- |
| CSX | 69.4% |
| Union Pacific | 63.5% |
| Norfolk Southern | 68.9% |
| Canadian Pacific | 58.6% |
| Canadian National | 55.9% |
Data source: Companies' financials.
Being at the higher end of the industry cost curve is certainly a disadvantage in a competitive industry like railroads. With fuel prices rising, it could get tougher for CSX to boost its operating ratio going forward. It's disappointing that management didn't give out any guidance for 2017. Worse yet, its "long-term" goal of mid-60s operating ratio isn't too encouraging either when you realize that most of CSX's peers already operate at that level.
That said, CSX's prospects for 2017 aren't all gloomy.
CSX's growth catalysts for 2017
Some of CSX's key markets, such as industrials and agriculture, appear to be returning to growth. If you see this chart carefully, coal's decline is decelerating, too, which is a positive sign for CSX.
Fourth quarter-to-date reflects Sept. 24-Oct. 28, 2016 data. Image source: CSX's presentation at Baird's Industrial Conference.
CSX is betting on an improved coal market and stronger freight environment to push its intermodal volumes this year. At the same time, management hopes to cuts costs further and save $150 million in 2017. Overall, CSX expects to earn more this year than $0.81 per share that it earned in 2016, backed by percentage growth in the low to mid-teens during the first quarter.
If CSX can grow its profits, its free cash flows could improve considerably in 2017 on lower capital spending. Given the industry conditions, CSX plans to spend about $2.2 billion this year, down roughly $500 million from 2016, as it shifts focus from expanding its fleet to revamping its infrastructure. That could also mean a dividend hike coming investors' way. CSX didn't increase its dividend last year.
Foolish takeaway
All said, higher potential earnings already appears priced in CSX's stock given that its trailing P/E, price-to-book value, and price to cash flow are all above its five-year and industry averages. If there's anything that could lift CSX higher going forward, it's Harrison's control over the company. Given his incredible record of turning around both Canadian Pacific and Canadian National Railway, it wouldn't be wrong to expect him to steer CSX to the next growth level. It's a wait-and-see situation for now, though you could consider any drop in CSX stock an opportunity now that Harrison has his eyes on the railroad.
10 stocks we like better than CSXWhen investing geniuses David and Tom Gardner have a stock tip, it can pay to listen. After all, the newsletter they have run for over a decade, Motley Fool Stock Advisor, has tripled the market.*
David and Tom just revealed what they believe are the 10 best stocks for investors to buy right now... and CSX wasn't one of them! That's right -- they think these 10 stocks are even better buys.
Click here to learn about these picks!
*Stock Advisor returns as of February 6, 2017
Neha Chamaria has no position in any stocks mentioned. The Motley Fool owns shares of and recommends Canadian National Railway. The Motley Fool recommends CSX. The Motley Fool has a disclosure policy.