Is Crown Abandoning Melco Ahead of Wynn Going Live?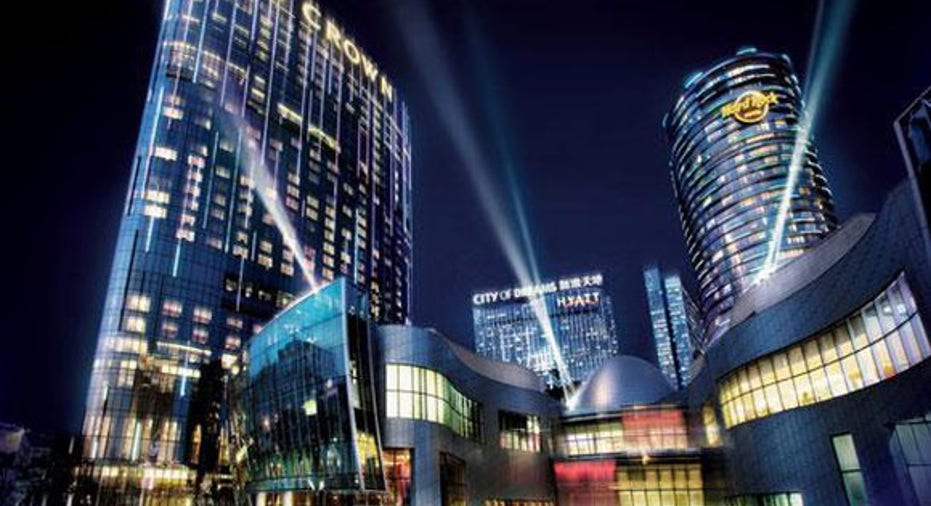 The City of Dreams has been struggling in the face of the anti-corruption crackdown by Beijing, and even more competition will be coming online soon, vying for the same high-rollers. Image source: Melco Crown Entertainment.
Should Melco Crown Entertainment investors be worried that one of their casino operator's owners sold down its stake and its co-chairman resigned his position to instead become a deputy chairman on the board of directors?
The decision by Crown Resorts International to sell $800 million worth of shares back to Melco Crown, reducing its ownership stake from 34.3% to 27.4%, is being described as a net positive for the casino operator because it gives its other owner, Melco Development International , greater strategic control over its operations as it increases its position to 37.9% from 34.3% and puts Lawrence Ho as sole chairman.
Crown Resorts is believed to be preparing for significant investments in Australia, possibly buying back assets there. Ratings agency Moody's says that with the gaming company developing its Crown Sydney hotel and casino in Sydney, a 500-room hotel in Perth, and a hotel and apartment complex in Melbourne, not to mention its Alon hotel and casino project in Las Vegas, Crown's decision to use the proceeds from the Melco stock sale "will help alleviate the growing pressure on Crown's financial metrics as a result of its expanded pipeline of projects and investments."
Still, it also indicates Crown Resorts billionaire owner James Packer doesn't see the same growth opportunities and returns on investment in Macau as he does elsewhere.
Certainly, Macau remains under pressure from the crackdown by the Chinese government on corruption and money laundering. Because Macau is the only place Chinese nationals can legally gamble in casinos, the anti-graft campaign has hit demand from wealthy gamblers hard.
The 9.5% drop in gaming revenues in April in the gambling oasis marks the 23rd consecutive monthly decline in revenues and indicates, despite a seeming stabilization of the situation, the malaise is not showing any sign of abating. There will eventually be a new, lower threshold reached that will be sustainable, but it's hard to see that floor being reached any time soon.
Competition for VIP gamblers is already intense, and it's only going to become more so. Melco Crown Entertainment's City of Dreams 1,400-guest room resort plans on opening a fifth hotel tower in 2018 while its $3.2 billion Studio City opened on the Cotai strip in October, adding to the pressure being faced by casino operators there. Galaxy Entertainment Groupopened two resorts on the strip last year,Las Vegas Sands is opening the Parisian in Macau later this year, andMGM Resorts will be opening the MGM Cotai sometime in 2017.
Although having something of first-mover status ought to give it a leg up on the competition, Wynn Resorts will be bringing its Wynn Palace online in August and competing for the same VIP customers.
Studio City did help Melco Crown Entertainment boost overall revenues by 5% in the first quarter, but the continued deterioration of the market could be seen in the persistent underperformance at City of Dreams, where revenues tumbled 16% year over year. Its Altira Macau was down 27%.
Melco Crown, like a number of other gaming houses in Macau, are turning their attention away from the high-roller customers toward tourists, recreational gambling, and family-oriented entertainment such as that offered by Studio City. But Galaxy and Wynn are doing that, too, meaning Melco won't easily escape the competitive landscape that's crowding in around it.
Crown Resorts' decision to sell down its ownership position in Melco Crown Entertainment isn't a death knell for the casino operator, since it still retains asizableposition, but it does indicate there are likely better growth opportunities elsewhere, and investors may want to follow Packer in looking for them.
The article Is Crown Abandoning Melco Ahead of Wynn Going Live? originally appeared on Fool.com.
Rich Duprey has no position in any stocks mentioned. The Motley Fool owns shares of Wynn Resorts, Limited. The Motley Fool recommends Moody's. Try any of our Foolish newsletter services free for 30 days. We Fools may not all hold the same opinions, but we all believe that considering a diverse range of insights makes us better investors. The Motley Fool has a disclosure policy.
Copyright 1995 - 2016 The Motley Fool, LLC. All rights reserved. The Motley Fool has a disclosure policy.