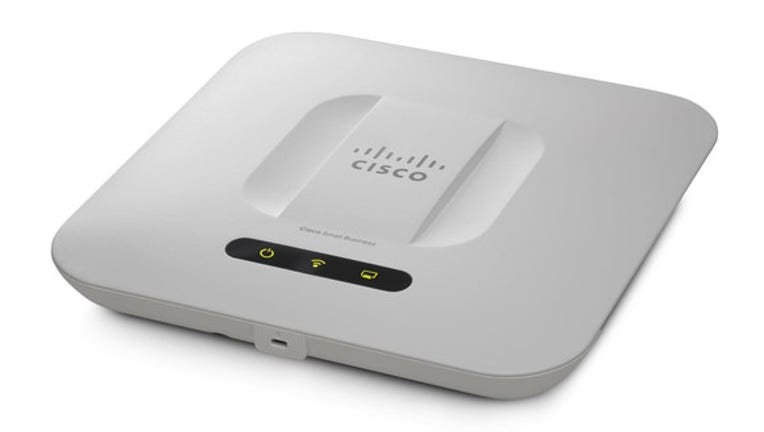 Image source: Cisco.
Cisco Systems Inc. (NASDAQ: CSCO) is certainly facing new hurdles, including intensified pressure from competitors, among which is the company that often stokes fear in shareholders of rival companies:Amazon.com (NASDAQ: AMZN). However, after reporting mixed fiscal 2017 first-quarter earnings, Cisco stock still looks like it could be a strong contender for a spot in a long-term oriented portfolio, even in the face of its challenging transition.
Why the stock is down now
Cisco reported fiscal 2017 Q1 earnings for the period ended Oct. 29 on Nov. 16, including sales of $12.4 billion (excluding certain product categories that were sold in 2015), up 1% year over year. GAAP earnings per share of $0.48 were 4% lower than a year ago, but in line with expectations.
While the sales growth was modest, the company performed reasonably well in the quarter compared to expectations. What led to the 5% sell-off after earnings were released seems to be the weaker-than-expected guidance for Q2. Because of weak orders from service providers, which Cisco management blames on uncertainty in the economy and other macro-level trends, revenue (excluding the same segments as above) is expected to be 2% to 4% lower than a year ago, withEPS (GAAP) expected to be in the range of $0.42 to $0.47, which would be a 32% to 24% decline year over year.
Cisco's transformation in focus
Cisco Kelly Kramersaid in the release:
Cisco seeksto become less reliant on hardware. Image source: Cisco.
The transition Kramer is speaking to is Cisco's attempt to break out of the hardware and other traditional product categories such as Switching andData Center, two segments that had declining sales in the quarter. Instead, Cisco believes other areas of the business will lead future growth.
There were highlights in Cisco's earnings, such as NGN routing, Cisco's second largest segment, which grew 6%; security, which increased 11%; and deferred revenue, which accounts for subscription products and grew 12% year over year.Gross margin expanded healthily during the quarter, up 190 basis points to 64.7%, thanks mostly to improved productivity.
Profit margin still fell because of heavier costs, part of which is due to recent acquisitions.To help further its transformation, Cisco has been busy buying up software and cloud-computing companies in the last quarter, including:
CloudLock:Provides protection from the cloud to the network to the endpoint, enhances Cisco's security portfolio and "Security Everywhere" strategy, and will helpdeliver more cloud-based subscription services.
ContainerX:Focuses on developing enterprise-class container management technology that works across a range of platforms.
Heroik Labs: Doesbusiness under the name Worklife, provides software to improve meeting productivity.
Is Cisco stock worth holding?
There's one very large elephant in the room that Cisco shareholders (and those of any business, really) need to watch out for: Amazon's next moves.Amazon Web Services (AWS) has made incredible gains in the cloud-computing services marketin a very short period. Bearish Cisco analysts believe Amazon can offer equal or better cloud service for a lower cost, and that the hardware used to build Amazon's infrastructure is brand-name, so there's little chance for Cisco to gain on the hardware side.
Still, Cisco's numbers are already providing encouragement that some of its newer growth segments, such as security, could become bigger parts of the company and provide a way for Cisco to remain very relevant in a market focused on cloud computing and the Internet of Things (IoT). These segments are still a relatively small part of the company's total sales, but the transition focus does seem to be paying off in those areas.
Cisco also has an incredibly large cash stockpile that could soon be put to use in new product development, more acquisitions, and increased share buybacks and dividends. Similar to Apple, which has made headlines for what it might do with its more than $200 billion, most of Cisco's massive $71 billion in cash is outside of the United States while the company waits for more favorable tax conditions to repatriate it into the U.S. President-elect Donald Trump has signaled for lower corporate tax rates and possibly a tax holiday to get these companies to bring their funds to the U.S., which we could see happen as early as 2017.
Ciscoshares are currently trading at just 13 times estimated 2017 earnings estimates, and that also includes an attractive 3.5% yield that Cisco management has signaled is likely to grow. For all of those reasons, it appears worthwhile to hold on to Cisco stock and see how this transition turns out.
Forget the 2016 election: 10 stocks we like better than Cisco Systems Donald Trump was just elected president, and volatility is up. But here's why you should ignore the election:
Investing geniuses Tom and David Gardner have spent a long time beating the market no matter who's in the White House. In fact, the newsletter they have run for over a decade, Motley Fool Stock Advisor, has tripled the market.*
David and Tom just revealed what they believe are the ten best stocks for investors to buy right now...and Cisco Systems wasn't one of them! That's right -- they think these 10 stocks are even better buys.
Click here to learn about these picks!
*Stock Advisor returns as of November 7, 2016.
Seth McNew owns shares of Apple and Cisco Systems. The Motley Fool owns shares of and recommends Amazon.com and Apple. The Motley Fool has the following options: long January 2018 $90 calls on Apple and short January 2018 $95 calls on Apple. The Motley Fool recommends Cisco Systems. Try any of our Foolish newsletter services free for 30 days.
We Fools may not all hold the same opinions, but we all believe that considering a diverse range of insights makes us better investors. The Motley Fool has a disclosure policy.