Is Celgene Simply the Best Biotech Stock on the Planet?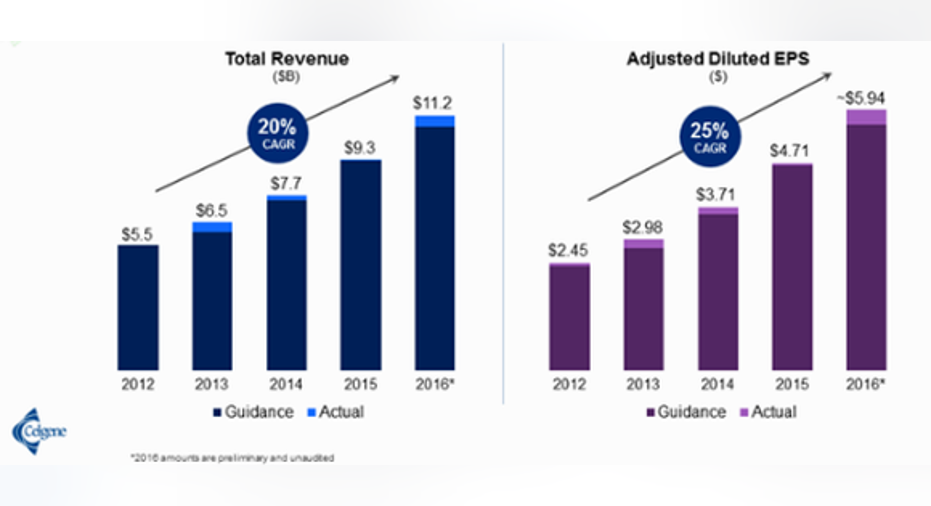 A mic drop at the end of Celgene (NASDAQ: CELG) CEO Mark Alles' presentation at the35th AnnualJ.P. Morgan (NYSE: JPM) Healthcare Conference might have been appropriate.
Celgene traditionally kicks off the conference and did so again this year. Alles briefly described what the biotech has done recently, where it's headed, and how it plans to get there. After he finished, I couldn't help but wonder if Celgene might simply be the best biotech stock on the planet. Here's what Alles said that could answer that question with a resounding "yes."
Image source: Getty Images.
Past
Alles didn't have to brag too much about Celgene's past performance. He did, though, show one slide that spoke for itself. This slide was titled "Operating Excellence Is Driving High Growth & Financial Overperformance." The following charts were displayed underneath the title:
Image source: Celgene.
Certainly, compound annual growth rates (CAGR) of 20% for revenue and 25% for adjusted diluted earnings per share are impressive. What struck me, though, was the "financial overperformance" referred to in the slide's title. In three of the past five years, Celgene's actual performance outpaced the biotech's guidance.
The 2016 figures were based on unaudited results. Celgene won't announce the official fourth-quarter and full-year 2016 results until January 26. However, it's pretty clear those results will again be strong -- with sales up 22% year over year and earnings jumping 26% from the prior year.
Present
Celgene's track record of underpromising and overdelivering gives credibility to the company's projections for 2017 and beyond. So what does the big biotech think is in store for the present year?
Alles said that Celgene expects revenue will grow 18% this year and will be in the range of $13 billion to $13.4 billion. 2017 adjusted earnings per share are projected to be between $7.10 and $7.25. That's a year-over-year increase of 21%. It's also better than the consensus Wall Street earnings estimate of $7.04 per share.
Blood cancer drug Revlimid should keep on rocking, with anticipated year-over-year sales growth of 17%. Sales for Celgene's Pomalyst/Imnovid franchise are expected to increase 22% over the prior year. As in 2016, though, the fastest-growing product will likely be autoimmune disease drug Otezla, with a projected year-over-year sales increase of 57%.
Alles showed an intriguing chart about Otezla's market share growth in the psoriasis indication. While leading drugs like Humira, Stelara, and Enbrel are losing market share, Otezla and Novartis' Cosentyx are growing market share rapidly.
The worst outlook for Celgene's primary products belonged to Abraxane. Sales of the cancer drug are expected to grow by only 3% in 2017. However, Alles said that Celgene will explore opportunities for Abraxane to be used in combination with checkpoint inhibitors, a move that could lead to more sales growth down the road.
Future
For investors, the best news from Alles was that Celgene reaffirmed its long-range financial targets. The company continues to project total revenue in 2020 will top $21 billion and adjusted diluted earnings per share will exceed $13. These targets represent a 17% CAGR for revenue and 22% for earnings.
What I really like about Celgene is that the biotech doesn't just provide goals. It also says how those goals will be achieved. Between now and the end of 2018, Celgene expects 18 late-stage data readouts and nine products advancing to pivotal clinical trials.
One of the most important of these late-stage studies is for ozanimod in treating multiple sclerosis. Celgene anticipates filing for regulatory approval for the indication by the end of 2017. Ozanimod is also one of a pair of pipeline candidates (along with GED-0301) that could add to the biotech's success in the autoimmune disease space.
Despite the difficulties for another of Celgene's partners, Juno Therapeutics (NASDAQ: JUNO), with one of its CAR T candidates, Alles remained optimistic about the prospects for JCAR017. Juno sidelined JCAR015 after patients died in clinical trials. Celgene and Juno, though, are advancing JCAR017 to a pivotal clinical study in 2017. Although both areCD19-directed CAR T cell therapies, the safety profile for JCAR017 could be better than JCAR015.
JCAR015 was one of 10 pipeline candidates that Celgene thinks could reach annual sales of at least $1 billion. Four of those candidates, including ozanimod and GED-0301, could be multibillion-dollar success stories for the company.
Best biotech stock around?
My hunch is that no biotech presenting at the J.P. Morgan conference will have a better story to tell than Celgene. The company has solid growth engines currently with Revlimid, Pomalyst, and Otezla. Celgene's pipeline is very strong. Celgene plans to grow at an impressive rate through 2020 and beyond -- and has a clear path for achieving this goal.
Is Celgene the best biotech stock on the planet? For now, at least, I think probably so.
10 stocks we like better than Celgene When investing geniuses David and Tom Gardner have a stock tip, it can pay to listen. After all, the newsletter they have run for over a decade, Motley Fool Stock Advisor, has tripled the market.*
David and Tom just revealed what they believe are the 10 best stocks for investors to buy right now... and Celgene wasn't one of them! That's right -- they think these 10 stocks are even better buys.
Click here to learn about these picks!
*Stock Advisor returns as of January 4, 2017
Keith Speights owns shares of Celgene. The Motley Fool owns shares of and recommends Celgene. The Motley Fool recommends Juno Therapeutics. The Motley Fool has a disclosure policy.