Is Buying Rite Aid Stock a Good Idea Regardless of What Happens With the Walgreens Deal?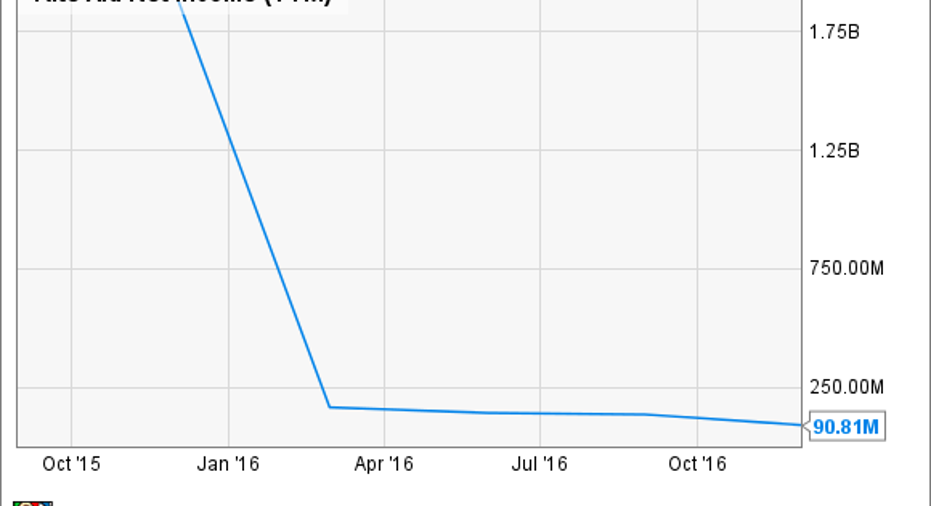 What in the world is going on with the proposed acquisition of Rite Aid (NYSE: RAD) by Walgreens Boots Alliance (NASDAQ: WBA)?
Just a few weeks ago, the New York Post reported that the deal was likely to be approved by federal regulators. More recently, however, the newspaper reported that Walgreens might declare that it has "certified compliance" in its application for the acquisition. This move would force the Federal Trade Commission (FTC) to complete its review within 30 days. Rite Aid stock sank on this news, because the action is considered to be risky.
This roller-coaster ride isn't making investors feel warm and fuzzy about the deal's chances of going through. Perhaps the best question to ask with all the uncertainty is this: Is buying Rite Aid stock a good idea, regardless of what happens with the Walgreens buyout attempt?
Image source: Getty Images.
Slam dunk?
Walgreens first announced its intention to buy Rite Aid on Oct. 27, 2015. At that time, the offer price was $9 per share. What's more important to know, however, is where Rite Aid's share price was before the proposed Walgreens acquisition was announced:
For most of the time in the weeks leading up to Walgreens' announcement, Rite Aid stock traded at a little below $6.25 per share. Should Rite Aid shares be worth somewhere close to that level if the Walgreens deal collapses? If so, the stock is roughly 25% below where it could be.
That would make Rite Aid stock a buy regardless of what the FTC decides or what Walgreens does. It's a slam dunk, right?
Things have changed
Before you call your broker or log into your online trading account, there's more to consider. Stock prices are generally based in large part on earnings power. Therefore, we should also look at Rite Aid's earnings then and now:
RAD Net Income (TTM) data by YCharts.
Clearly, Rite Aid's earnings have declined. Is a stock with lower earnings worth the same amount as one with higher earnings? Most of us would say it isn't. So is Rite Aid stock not a good purchase because earnings have fallen more than its stock price has? It's not that quite that straightforward.
Earnings can be affected by many out-of-the-ordinary items. In Rite Aid's case, its earnings in 2015 were artificially higher than usual due to a large income tax benefit received that year. The following chart puts the impact of this benefit into perspective:
RAD Net Income (TTM) data by YCharts.
Generally speaking, Rite Aid is performing close to or better than it was prior to the Walgreens announcement. Keep in mind also that Rite Aid CEO John Standley has said that the extended duration of the FTC approval process has created "a difficult operating environment" for the company. Its financial results certainly don't appear to warrant the stock trading at a 25% discount to its levels before the potential acquisition was made public.
A win-win proposition
It seems to me that the market has totally written off the possibility of FTC approval. And I think the piling on has pushed Rite Aid's share price well below where it should actually be trading, even if the Walgreens deal falls through.
But I also still think there's a pretty good chance that the acquisition will be finalized. If the FTC gives a green light to Walgreens, Rite Aid stock will soar by around 30% and possibly more. If it doesn't, Rite Aid shares might drop due to the psychological letdown. However, I suspect shares will bounce back strongly over time. In my view, buying Rite Aid stock at current levels makes sense, regardless of what happens with the Walgreens acquisition.
10 stocks we like better than Rite AidWhen investing geniuses David and Tom Gardner have a stock tip, it can pay to listen. After all, the newsletter they have run for over a decade, Motley Fool Stock Advisor, has tripled the market.*
David and Tom just revealed what they believe are the 10 best stocks for investors to buy right now... and Rite Aid wasn't one of them! That's right -- they think these 10 stocks are even better buys.
Click here to learn about these picks!
*Stock Advisor returns as of February 6, 2017
Keith Speights has no position in any stocks mentioned. The Motley Fool has no position in any of the stocks mentioned. The Motley Fool has a disclosure policy.