Is Biogen a Worthwhile Buyout Candidate?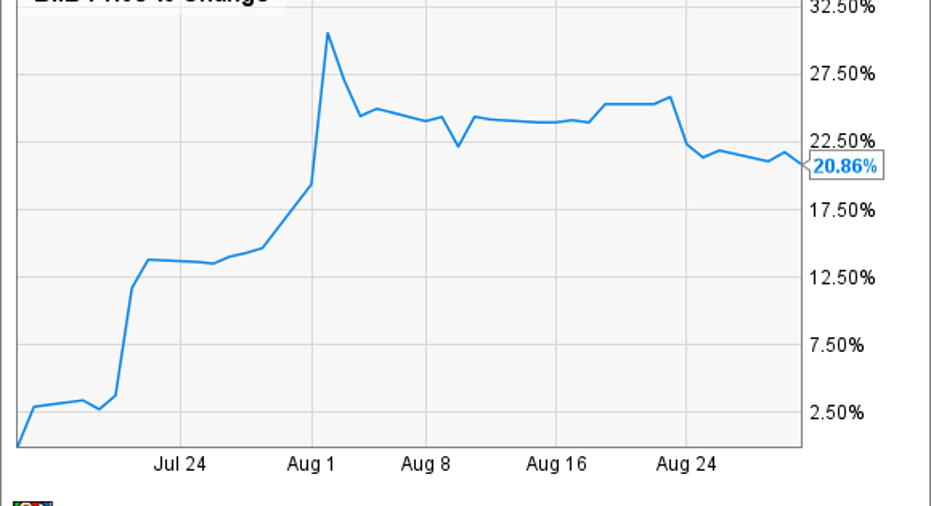 Image source: Getty Images.
Biogen's (NASDAQ: BIIB) shares have been screaming higher over the last few weeks, fueled by a better-than-expected second-quarter earnings reportand rumors that Allergan (NYSE: AGN) and Merck (NYSE: MRK) are both considering a buyout offer for the biotech.
While it's not entirely clear if these rumors are actually based on solid information or simply wishful thinking, the issue of whether or not Biogen is even an attractive buyout candidate is certainly debatable. Let's take a look.
Is Biogen's financial house in order?
Although biopharma buyouts tend to revolve around franchise-level products or novel drug discovery platforms, suitors never want to take on a company with problematic balance sheets or bloated valuations. The good news is that Biogen has a decent balance sheet, offers modest near-term growth levels, and sports a fairly typical valuation for a large-cap biotech.
Turning to the specifics, Biogen appears to be on solid financial footing with only $6.54 billion in debt, 12-month trailing free cash flows of nearly $4 billion, and a projected top line growth rate of 3.4% in 2017.
On the valuation side of the ledger, Biogen isn't exactly cheap, with a forward price-to-earnings ratio of 14.4 and a current market cap $67 billion. However, that's not an unsightly valuation for a revenue-generating biotech company. In fact, Biogen sits in the meaty middle of its peer group in terms of its forward P/E ratio. The biotech also doesn't have nearly the amount of leverage on its balance sheet as most of its fellow biopharmas, with a debt-to-equity ratio of only 57.4%, perhaps adding yet another layer of value for potential suitors.
Strengths and weaknesses
Biogen is a global leader in the multiple sclerosis (MS) drug market. Specifically, the biotech owns approximately 40% of this $19 billion market, headed up by its megablockbuster MS drugTecfidera.
And even though Tecfidera's sales were expected to be slowed by a warning from the FDA regarding a possible association between the drug and a rare yetfatal brain infection, the drug has continued to post strong growth of late, with sales rising by a healthy 12% in the second quarter of 2016, compared to the same period a year ago. With Tecfidera's sales on track to reach or possibly exceed $4 billion this year, Biogen unquestionably has a franchise-level drug on its hands, and that's often a key factor in buyout scenarios.
Image source: Biogen.
With its core MS franchise performing well, the biotech's biggest weakness is perhaps its high-risk clinical pipeline of central nervous system (CNS) drugs. Unlike other biopharmas that tend to go after low-handing fruit, Biogen has charted a path that could generate an unprecedented economic moat or leave its CNS franchise in deep trouble.
Biogen's top two CNS drug candidates, aducanumab forAlzheimer's disease andnusinersen for spinal muscular atrophy -- an antisense therapy licensed from Ionis Pharmaceuticals (NASDAQ: IONS)-- illustrate this issue nicely.
As 99% of Alzheimer's disease drugs fail in the clinic, aducanumab is certainly a high-risk asset, and should probably be viewed strictly as a moonshot effort. Despite the drug showing some promising early signs of efficacy -- such as reducing amyloid-beta plaque levels in the brain -- similar amyloid-disease-modifying drugs have gotten investors'hopes up before, only to flame out later in the clinical testing process. Even so, aducanumab does appear to be well worth the risk, as the Street thinks that an effective Alzheimer's treatment that's truly disease-modifying could generate an astounding $20 billion in peak sales.
And while Biogen and Ionis were fortunate to hit pay dirt with nusinersen, this candidate easily could have gone belly up.Ionis, after all, was rocked earlier this year after one of its top experimental candidates seems to have caused a noteworthy decline in patient platelet levels, raising concerns that the biotech's entire antisense pipeline was riddled with safety problems.
What's the verdict?
At this stage in its life cycle, Biogen doesn't look like a particularly compelling buyout candidate. Any tender offer that has a reasonable chance of being accepted by management is almost certainly going to have to come at a sizable premium compared to the biotech's present valuation, and that seems like a deal breaker. Biogen, after all, already occupies the upper tier of biotech valuations with its $67 billion market cap, and its shares aren't exactly trading at a discount relative to its growth prospects.
Digging deeper, Biogen's lack of prototypical clinical assets is also a major problem from a buyout standpoint. Suitors should want to create deep value for their shareholders with any acquisition of this size, and there's no guarantee that Biogen's clinical pipeline can deliver the goods. After all, aducanumab, while intriguing from a peak sales perspective, is more likely than not going to fail in its ongoing late-stage trials if history is any guide. And the biotech doesn't have a strong drug discovery platform to fall back on, instead relying heavily on external partnerships with companies like Ionis to flesh out its pipeline. In short, suitors wouldn't be getting a novel platform to drive future clinical efforts, arguably reducing Biogen's attractiveness as a buyout candidate even further.
Having said all that, investors shouldn't be surprised if Allergan and/or Merck do indeed make a play for Biogen. The serial acquirer that is Allergan doesn't seem overly concerned with internal prospects for research and development, but rather the impact an acquisition has on its bottom line. In that sense, an Allergan-Biogen pairing may make sense. Merck, for its part, has made a number of questionable tender offers in the recent past in an attempt to reinvigorate its top line, meaning that it's not inconceivable for the drugmaker to take a similar approach with Biogen.
All told, Biogen is arguably not the most enticing buyout candidate as things stand now, but that may not stop Allergan or Merck from pushing forward with an offer.
A secret billion-dollar stock opportunity The world's biggest tech company forgot to show you something, but a few Wall Street analysts and the Fool didn't miss a beat: There's a small company that's powering their brand-new gadgets and the coming revolution in technology. And we think its stock price has nearly unlimited room to run for early in-the-know investors! To be one of them, just click here.
George Budwell owns shares of Allergan. The Motley Fool owns shares of and recommends Biogen and Ionis Pharmaceuticals. Try any of our Foolish newsletter services free for 30 days. We Fools may not all hold the same opinions, but we all believe that considering a diverse range of insights makes us better investors. The Motley Fool has a disclosure policy.