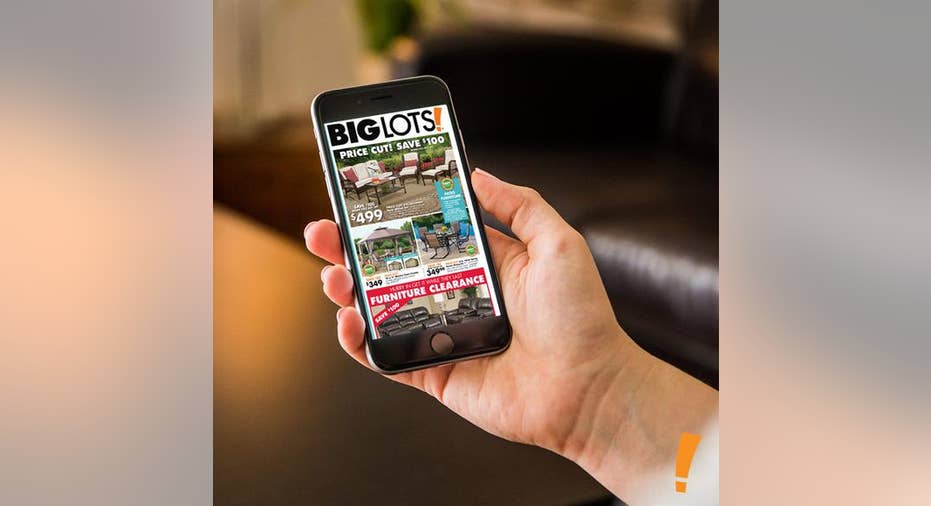 Shares of Big Lots have been on a white-hot run of late, up about 30% over the past three months. That easily outpaces the S&P 500, as well as discount retail peers like Dollar Generaland Wal-Mart. Signs of a sales turnaround and optimism over finally entering the digital age are fueling the happy times for Big Lots shareholders, but how long can they last?
Image source: YCharts.
Turnaround taleOperationally, Big Lots shareholders have reason to be optimistic. In Q4, same-store sales increased 70 basis points -- representing the eighth straight quarter of growth -- while gross margin inched up to 40.9%, which was 10 basis points higher than the year-ago period. Operating margin also came in at a solid 9.5%, suggesting that management isn't just deep-discounting their way to improved comps.
Big Lots' turnaround initiatives, which include the introduction of a furniture leasing program, a change to its merchandising mix, and the continued right-sizing of its store count, have all seemed to help sales without weighing too heavily on profitability. No small feat, indeed. Management even upped the quarterly dividend 11% to $0.21 per share, showing plenty of confidence in the company's growth trajectory going forward. For Q1, Big Lots expects a same-store sales increase in the low single-digit range.
When you combine that upbeat near-term outlook with the long overdue launch of an e-commerce platform (which should help boost longer-range sales), it's no surprise that Mr. Market is big on Big Lots' prospects. As a Foolish value investor, however, I worry that he might be a little too excited.
Image source: Big Lots
Too much credit?Without a clearly differentiated offering, it's tough to see how Big Lots keeps the momentum up in such a notoriously competitive space. After all, as fellow Fool Demitrios Kalogeropoulos notes, same-store sales declined for 10 consecutive quarters prior to the recent string of increases. While aggressive merchandise changes are certainly having a positive effect, the novelty might fade over time with fickle customers. And since the gains related to Big Lots' furniture leasing program are heavily credit-driven, they may not be all that sustainable, either. In other words, there's a decent chance that the company's recent sales improvement is somewhat temporary in nature.
On the digital side, Big Lots itself doesn't expect too big of an initial boost: CEO David Campisi says it only sees the website generating $20 million in sales this year, which pales in comparison to a top line of $5.2 billion. As Demitrios points out, Big Lots has its work cut out in the e-commerce game against rivals with a multiyear head start. The platform probably won't be profitable for several quarters, and may even cannibalize business from customers who enjoy Big Lots' in-store experience.
Waiting for a discountWith all that said, it wouldn't shock me if management keeps the sales momentum up for several more quarters. Given the recent-run up and P/E in the high teens, however, Big Lots shares don't seem to be factoring in enough risk that it doesn't. For reference, you can pick up dividend stalwart Wal-Mart at a P/E of 15, or pay up a bit for the faster-growing Dollar General at a P/E of 20. With year-over-year comparisons only about to get tougher for Big Lots in upcoming quarters, a more attractive entry point may be ahead.
The article Is Big Lots a Big Buy? originally appeared on Fool.com.
Brian Pacampara has no position in any stocks mentioned. The Motley Fool recommends Big Lots. Try any of our Foolish newsletter services free for 30 days. We Fools may not all hold the same opinions, but we all believe that considering a diverse range of insights makes us better investors. The Motley Fool has a disclosure policy.
Copyright 1995 - 2016 The Motley Fool, LLC. All rights reserved. The Motley Fool has a disclosure policy.