Is Apple Inc. Going to Dump Intel Corporation in the iPhone?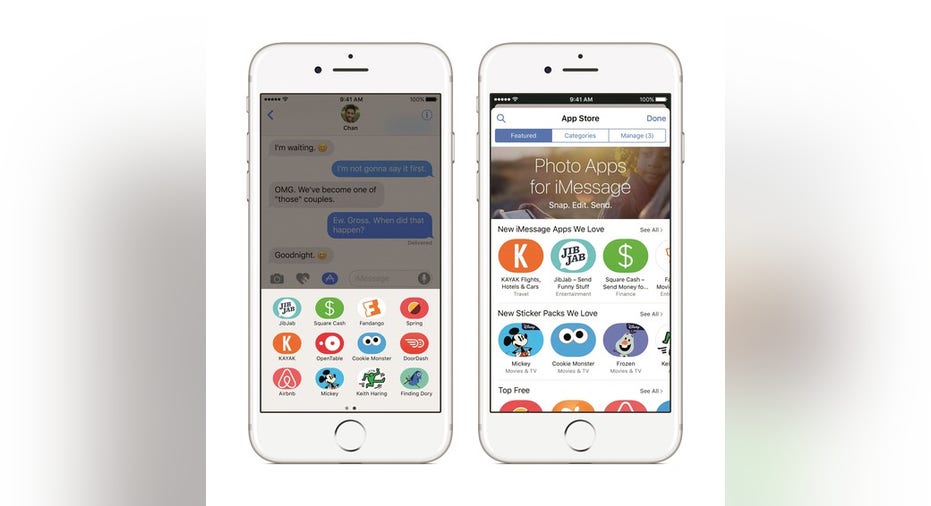 Analyst Tom Sepenzis with Northland Capital Markets (via Barron's) published a research note in which he points out that "several reports over the past month" have revealed that the Intel (NASDAQ: INTC) modem that Apple uses in some of its iPhone 7 models is inferior to the Qualcomm (NASDAQ: QCOM) modem used in other versions.
Image source: Apple.
"Apple has apparently throttled the speeds on the [Qualcomm] models to keep the experience across carriers, with the [Qualcomm] X12 modem capable of 600 mb/s while the [Intel] XMM 3360 modem tops out at 450 mb/s," the analyst writes (the Intel modem used is the XMM 7360, not 3360).
The analyst further goes on to state that, "while Apple will certainly keep a second source if possible, it isn't going to do so for too long if it has to handicap half of its devices."
Sepenzis also points out that Intel's next modem, known as the XMM 7480, "is capped at 450 mb/s" and that Qualcomm's current X16 modem can already hit speeds of 1 gigabit (1,000 megabits) per second.
Qualcomm's superior modem technology, the analyst argues, "should give [Qualcomm] a path toward recapturing all of Apple over the next two years if Intel doesn't find an answer."
Although this reasoning is quite plausible, I don't expect Intel to be completely designed out of the iPhone anytime soon. Here's why.
Apple likely knows what Intel and Qualcomm have in the pipeline
I believe that Apple knows what both Intel and Qualcomm have in their respective modem pipelines for several years out, at least. Both companies are trying to get their modems designed into future Apple products, and those design-in decisions need to be made well in advance of product going into production.
Apple chose to source stand-alone modems from Intel for the iPhone 7/7 Plus, knowing full well that Intel's XMM 7360 is a less featured solution than Qualcomm's X12 modem. Apple also probably knew that the XMM 7480 would also lag the Qualcomm X12 in terms of key capabilities and couldn't come close to the X16.
Yet, knowing all of this, Apple still did the work to design Intel's XMM 7360 into the iPhone 7/7 Plus.
What to expect going forward
There is significant evidence to suggest that Apple is going to start more aggressively segmenting its iPhone product family. Next year, for example, Apple is expected to release two iPhone models with liquid crystal displays alongside a "premium" iPhone with a curved OLED display.
In a prior article, I suggested that a good way for Apple to differentiate the OLED iPhone would be to use more advanced modem technology than what the more mainstream models use.
Under such a strategy, Apple would probably want to keep component costs low on the cheaper iPhone models to keep those devices highly profitable. Using older-generation Qualcomm modems as well as Intel modems (which I expect Intel sells cheaply) would be a reasonable way to keep costs down.
For higher-end models that sell for more, using premium Qualcomm modems (and related components) would make sense, since the higher price could support a richer bill of materials cost.
Such a scenario wouldn't mean a return to 100% iPhone modem share for Qualcomm, but it would allow the wireless chip giant to capture substantially more unit and revenue share than Intel will probably be able to.
That is, unless Intel can find a way to close the modem technology gap between itself and Qualcomm, though that seems unlikely to happen in the foreseeable future.
10 stocks we like better than Intel When investing geniuses David and Tom Gardner have a stock tip, it can pay to listen. After all, the newsletter they have run for over a decade, Motley Fool Stock Advisor, has tripled the market.*
David and Tom just revealed what they believe are the 10 best stocks for investors to buy right now... and Intel wasn't one of them! That's right -- they think these 10 stocks are even better buys.
Click here to learn about these picks!
*Stock Advisor returns as of November 7, 2016
Ashraf Eassa owns shares of Intel and Qualcomm. The Motley Fool owns shares of and recommends Qualcomm. The Motley Fool recommends Intel. Try any of our Foolish newsletter services free for 30 days. We Fools may not all hold the same opinions, but we all believe that considering a diverse range of insights makes us better investors. The Motley Fool has a disclosure policy.