Is Anyone Using Apple Pay?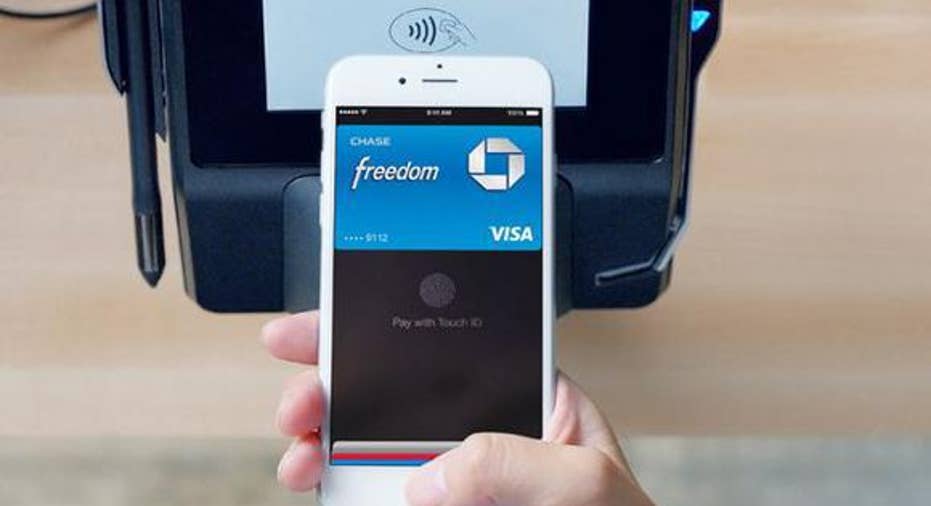 Apple Pay in action. Photo: Apple.
Few consumers are taking advantage of Apple's mobile payment service, Apple Pay, according to a recent series of surveys from Trustev (via NFC World). The same is true for Apple Pay's rivals, including Alphabet's Android Pay and Samsung's Samsung Pay.
In time, these digital payment services could emerge as a major force, and a strong alternative to traditional payment methods, but Trustev's findings suggest they're not currently a meaningful factor.
Survey: Only 20% of those that can use Apple Pay have used itTrustev surveyed 1,000 consumers who owned Apple Pay-compatible iPhonesabout their Apple Pay habits. (The iPhone 6, iPhone 6 Plus, iPhone 6s, and iPhone 6s Plus support Apple Pay, while older iPhones do not.) It found that about 80% had not used Apple Pay even once. Of the 20% who had, most (56%) only used it about once a week.
The findings for Android Pay and Samsung Pay were even worse. Trustev surveyed 1,000 consumers who owned Samsung's Galaxy S5 or Galaxy S6. Samsung's Galaxy S6 supports both Samsung Pay and Android Pay, while the Galaxy S5 supports only Android Pay. Still, even when combining the two, only 14% had tried either service. Among those who had tried Samsung Pay or Android Pay, 38% said they "never" used them.
The problem isn't one of convenience: Few consumers from either group described the mobile payment services as hard to use. Rather, apathy appears to be the culprit. About one-third of Apple Pay-compatible iPhone owners and 39% of Samsung Galaxy owners said they simply didn't care about mobile payments. The firms may also need to do a better job educating consumers: About one-fifth of iPhone owners didn't know of Apple Pay's existence, while about one-third of Samsung Galaxy owners weren't aware of Android Pay or Samsung Pay.
Not a major improvementWhen I interviewed venture capitalist Peter Thiel last year, he was skeptical that Apple Pay would find much success. "Most payment systems work reasonably well even though we can imagine ways to make them better. But it's often the case that it's very hard to get from things that are 'pretty good' to 'better', because the gradient is just not steep enough to drive adoption," he told me.
Apple Pay, Samsung Pay, and Android Pay are, in many ways, better than paying with a traditional credit card or using cash, but they're not significantly better. Samsung Pay works in more places than Apple Pay or Android Pay (both of which require NFC terminals) but it doesn't work everywhere. In time that may change, but for now, consumers are still required to carry around a traditional wallet in addition to their mobile phone. And if they have cash or a credit card with them, they may continue to use them out of sheer habit.
In theory, all three mobile payment services should benefit their respective firms: Apple collects a small cut of everytransaction (0.15%)facilitated with Apple Pay. Android Pay ensures Alphabet's mobile operating system can keep pace with Apple's iOS. Samsung Pay gives the Korean tech giant a unique feature it can use to distinguish its phones from its rivals.
But with such little consumer interest, investors shouldn't put much emphasis on mobile payments. Perhaps they'll catch on one day, but for now, they remain a novelty.
The article Is Anyone Using Apple Pay? originally appeared on Fool.com.
Sam Mattera has no position in any stocks mentioned. The Motley Fool owns shares of and recommends Alphabet (A shares), Alphabet (C shares), and Apple. Try any of our Foolish newsletter services free for 30 days. We Fools may not all hold the same opinions, but we all believe that considering a diverse range of insights makes us better investors. The Motley Fool has a disclosure policy.
Copyright 1995 - 2015 The Motley Fool, LLC. All rights reserved. The Motley Fool has a disclosure policy.