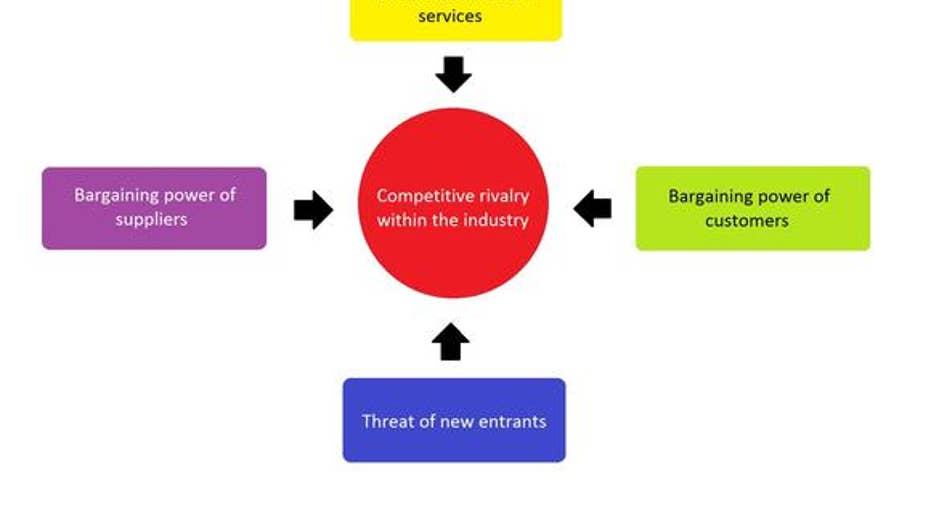 Image source: AMC Theaters.
Last year was fantastic for the movie business. Blockbusters such as Jurassic World and Star Wars: The Force Awakens made for record-breaking sales at the box office. As 2016 has gotten under way, a lot of excitement has been generated after AMC Theaters announced it will purchase small-town operator Carmike Cinemas .Should investors be excited and buy AMC? Let's look at the current state of the theater business and judge AMC against it.
To do so, let's use Porter's Five Forces model to determine how competitive the industry is and see how AMC is positioned. Here is Porter's Five Forces illustrated:
Image source: Nicholas Rossolillo.
Competitive rivalry within the industryCompetition among movie theaters is moderate. The industry is largely dominated by three players: AMC, Cinemark Holdings , and Regal Entertainment . Carmike Theaters operates in smaller markets, whereas the three larger companies focus on areas with a higher population concentration. Besides these players, most theater businesses across the country operate as small, privately owned operations. Many of these focus on niche offerings such as foreign or independent films, classic movies, and the like. This situation essentially leaves competition for new-release movies in high-density population markets to the country's three biggest names.
This competition is primarily dictated by geographical location of the theater and show times. A typical moviegoer opting for a new release will usually choose the theater nearest his or her location at the time most convenient. AMC, Cinemark, and Regal have very similar business models, and pricing tends to be homogenous across theaters in a local market. We'll discuss specifics concerning business models a little later.
Since Carmike Theaters operates in a different market from AMC, the proposed buyout is attractive because it's a business that complements the one AMC already runs. From an investor's perspective, a buyout will give AMC not only the largest screen count in the U.S. but also access to a small-town market that's beyond the scope of Cinemark and Regal's current reach.
Threat of substitute servicesThe threat of substitute services is moderate. A substitute service is one that's different but still viewed as an acceptable alternative. The theater business has had to contend with the digital revolution, much as traditional cable companies have. An increasing number of families opt to stay at home and stream movies and TV shows rather than go out to the movies. Last year saw the first increase in gross box office sales in three years, up 7.4% from 2014. By comparison, however, streaming TV subscriptions were up 40% in 2015.
The movie business has done much to attempt to lure customers back to the big screen. AMC, Cinemark, and Regal have all implemented and begun executing plans to update their viewing experience for the 21st century. Things such as 3-D showings, reclining seats, and dine-in options have all begun to pop up in many locations. While this approach doesn't serve to differentiate AMC from its main rivals, the company does believe it will help lure families out of the house.
Threat of new entrantsThe threat of new entrants into the theater business is low. There is considerable cost in opening and operating a movie theater. As I discussed earlier, geographic location plays an important role in deterring competition. Once a theater has established a footprint in a location, competitors are deterred from opening a rival business in the area.
AMC has done well in establishing itself in key markets. The company reports that it holds the No. 1 or No. 2 market share for the top 15 markets in the country (which is defined as the 15 highest-population cities). They also own four of the top five highest-grossing theaters in the country. Adding the Carmike locations to its portfolio would allow AMC to compete in new markets without having to build and develop new theaters in an industry that's already well established.
Bargaining power of suppliersThe bargaining power of suppliers, movie production studios in this case, is high. The movie theater business is largely dependent on what Hollywood cranks out to entertain the masses. In its 2015 annual report, AMC lists "decreased supply of motion pictures," the "quality of motion picture production," and the "spending levels on motion picture marketing" as the top threats to its business.
While 2015 saw total box office sales exceed $11 billion for the first time, 2016 is expected to be flat at best, with a sales drop of as much as 5%, according to analysts. The culprit? Not as many big-hit titles are slated for release. AMC's attempt to drive growth in other ways is appealing when considering the cyclical nature that is Hollywood production.
Bargaining power of customersWhile theaters are at the mercy of the new movie pipeline in a large way, they do have the market cornered for those new releases. Customers wanting to be among the first to view a movie, especially big box office hits involving superheroes, epic adventures, or sci-fi action, are at the mercy of their local movie theater.
As I mentioned, the movie business has found ways to not only coax people back to their screens but also to extract revenue from them. 3-D showings and higher-quality IMAXscreens fetch a higher price per ticket than a standard screen does. There are also those dine-in options, extending the potential revenue generation beyond the classic popcorn and soda. To illustrate how this approach has helped AMC, look at box office sales and the company's revenue over the past few years:
| Calendar Year | Box Office Sales (% Increase Over Previous Tear) | AMC Revenue (% Increase Over Previous Year) |
| --- | --- | --- |
| 2013 | 0.8% | 9.1% |
| 2014 | (5.2%) | (1.8%) |
| 2015 | 7.4% | 9.3% |
Data sources: Box Office Mojo and AMC Theaters.
AMC has managed to beat box office sales increases in each of the past three years by hefty margins. Even in a meager 2014, where total sales decreased by over 5%, AMC was able to trim that decrease through concessions and other sales.
Is AMC a buy?Using these points as a framework, should investors be excited about owning AMC? I believe so. In an industry dominated by a few businesses that all look the same, AMC is attacking the competition by making a complementary acquisition. If the purchase of Carmike goes through, AMC would not only become the nation's largest purveyor of films, but it would also gain access to markets that rivals Cinemark and Regal don't have. This move would then help cushion the company against its two biggest threats -- a lackluster supply of big-hit Hollywood productions and the threat of customers who opt to stay at home.
The article Is AMC Theaters a Buy? originally appeared on Fool.com.
Nicholas Rossolillo has no position in any stocks mentioned. The Motley Fool owns shares of and recommends Imax. Try any of our Foolish newsletter services free for 30 days. We Fools may not all hold the same opinions, but we all believe that considering a diverse range of insights makes us better investors. The Motley Fool has a disclosure policy.
Copyright 1995 - 2016 The Motley Fool, LLC. All rights reserved. The Motley Fool has a disclosure policy.