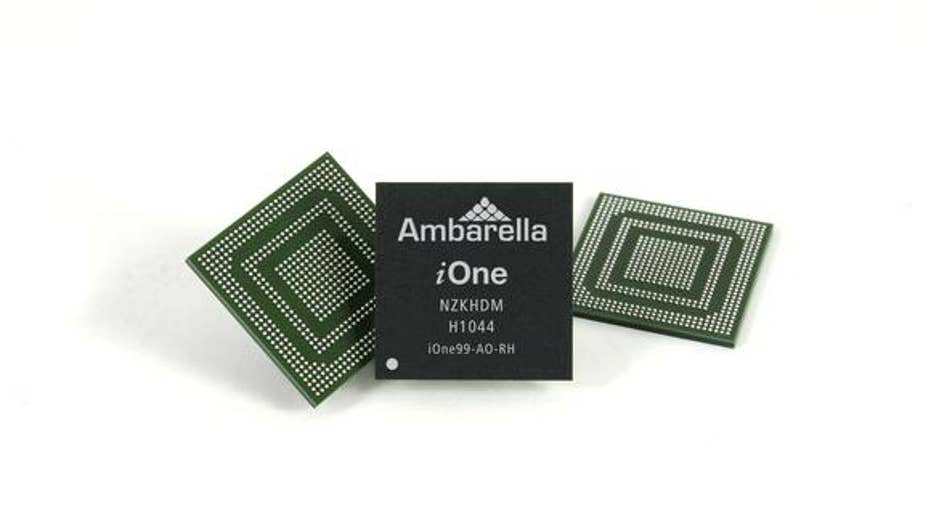 Image source: Ambarella.
The past year hasn't been kind to Ambarella shareholders. Despite displaying a bit of strength over the past couple of months, shares of the video processing chip technologist remain off nearly 70% from their 52-week highs set in June. Weakness from its top customer and mounting competitive threats continue to weigh heavily on the stock, but are the risks now baked into the price?
Low GoPro doughDespite crushing Q4 estimates early last month, Ambarella's soft Q1 guidance reignited one of the biggest fears about the company: Its heavy reliance on GoPro .
Due to lower sales from the action camera specialist, Ambarella now sees Q1 revenue of $55 million to $57 million, which missed the consensus of $62 million, with gross margins expected to decline to 60.5% to 62%. Management now expects GoPro business to account for only a low-single-digit percentage of Q1 revenue, with the weakness likely to continue "until the launch of any new products with our chip."
Said differently, Ambarella likely won't see a sales increase to GoPro until the latter launches its Hero 5 camera in the second half of the year.
Qualcomm qualmsWhile Ambarella's dependence on GoPro is cause for concern, imminent competition from Qualcomm likely poses an even bigger risk. As fellow Foolish colleague Leo Sun noted earlier this month, the mobile chip giant is aggressively diversifying into SoCs for dash cams, action cameras, and drones, threatening to "marginalize" smaller players like Ambarella.
Of course, Ambarella CEO Fermi Wang downplayed the threat in the last conference call, arguing that Qualcomm's base solution is "quite behind in video quality, compression efficiency, power consumption, video features, and performance." While that certainly seems the case, there's a prevailing thought on Wall Street that Qualcomm could offer the better-priced alternative when cellular integration is considered.
Whole pie still scrumptiousGiven those concerns, Ambarella shares would seem like a fairly obvious pass. When you consider the company's longer-term prospects and current valuation, however, the bearish picture isn't quite as clear.
Outside of GoPro, Ambarella's overall growth prospects remain particularly strong. In Q4, the company continued to see solid sales from its professional IP security, automotive, home monitoring, and drone markets. And while management expects a decrease in Q1 IP security camera revenue (increased competition in China), auto aftermarket and drone demand is expected to stay healthy.
Although GoPro's troubles certainly serve as a strong near-term headwind for Ambarella, the customer-concentration strain seems to be pushing management to become better diversified. FBN Securities, for example, estimates that GoPro will only account for about 14% of Ambarella's business in 2017 (down from 31% in 2016), with higher-margin, higher-growth security, drone, and auto markets all expected to represent a significantly greater chunk of the revenue pie.
Buy and watch...closelyI wouldn't expect the GoPro overhang and Qualcomm concerns to go away anytime soon, but the evidence suggests that Ambarella's leading position in several juicy emerging segments remains largely intact. In other words, Ambarella's overall business still offers solid growth upside for patient investors.
More important, with roughly $9 per share in net cash versus a stock price of about $42, the downside looks relatively limited as well. Given its forward P/E and EV/EBITDA multiples of 14.5 and 13.1, respectively, Ambarella's near-term headwinds also seem fairly factored into the valuation.
The competitive and customer-concentration risks surrounding Ambarella need to be closely monitored, but the current risk/reward trade-off seems tempting enough to take a position. So while the stock is far from one that you can just sock away and forget about, the potential long-term gains might be worth the extra bit of supervision.
The article Is Ambarella Inc a Buy? originally appeared on Fool.com.
Brian Pacampara has no position in any stocks mentioned. The Motley Fool owns shares of and recommends Ambarella, GoPro, and Qualcomm. Try any of our Foolish newsletter services free for 30 days. We Fools may not all hold the same opinions, but we all believe that considering a diverse range of insights makes us better investors. The Motley Fool has a disclosure policy.
Copyright 1995 - 2016 The Motley Fool, LLC. All rights reserved. The Motley Fool has a disclosure policy.