Is Alphabet Inc.'s Share Repurchase Program Big Enough?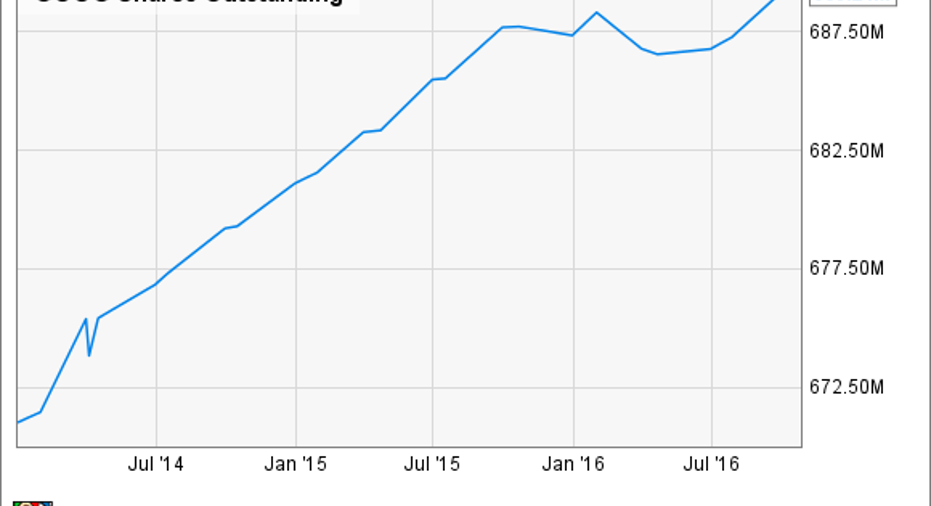 When Google's parent company,Alphabet (NASDAQ: GOOG) (NASDAQ: GOOG),released its third-quarter results in October, the company also announced a new, more aggressive share repurchase program. Alphabet's board of directors authorized the company to repurchase up to about $7 billion of its Class C stock. While the repurchase program is probably a good idea, is it big enough to really make a difference?
Image source: The Motley Fool.
Well timed, but too small
Alphabet's third-quarter announced repurchase program isn't its first. It follows a $5.1 billion repurchase program initiated in the third quarter of 2015. Interestingly, a review of how this program fared can provide some useful insights for the new program.
The first thing to note about Alphabet's $5.1 repurchase program is that it was well-timed. Share repurchases have the biggest positive impact when they are executed at a lower stock price than where shares end up later on. Fortunately, Alphabet was able to purchase its shares at a discount with its $5.1 program. The stock is up about 20% since Alphabet started repurchasing shares. Further, since about half of this gain came after Alphabet had already exhausted its authorized $5.1 billion repurchases, the timing of the program was particularly keen.
But because $5.1 billion is hardly a large sum given Alphabet's $521 billion market capitalization, and adding in the fact that Alphabet was averaging over a billion dollars every quarter on stock-based compensation, the net effect of these repurchases were more preventative than accretive when it came to reducing total share count.
Indeed, Alphabet's Class C share count is actually higher in 2016 compared to 2015, despite the $5.1 billion repurchase program.
GOOG Shares Outstanding data by YCharts.
This isn't to say Alphabet's repurchase program isn't making a difference. Without these repurchases, Alphabet's share count would be even higher today. Further, since the repurchases were well timed, Alphabet essentially got more bang for its buck than it was actually spending. But this $5.1 billion repurchase program does show that Alphabet is going to need a much bigger authorization if the repurchases are going to have a meaningfully accretive impact on earnings per share.
Still not big enough
While Alphabet's new repurchase program is larger, it arguably doesn't represent the jump investors should be hoping for. Like its $5.1 billion program, the $7 billion program will likely also fail to reduce Alphabet's total share count, and it may even fail to fully take advantage of an opportunistic period.
In Alphabet's third quarter alone, the company diluted shareholder ownership with $1.63 billion in stock-based compensation, up significantly from about $1.28 billion of stock-based compensation in the year-ago quarter. Assuming stock-based compensation continues to grow alongside Alphabet's expected revenue and net income growth throughout 2017, its stock-based compensation during the first twelve months of this program is likely to match or even exceed the $7 billion authorized for repurchases.
Alphabet offices. Image source: Alphabet.
And looking beyond the simple fact that Alphabet's share repurchase program isn't likely big enough to help reduce its share count, it's also arguable that Alphabet is simply hanging on to too much cash. In its most recent quarter, Alphabet's cash and cash equivalents hit $83 billion, up 14% from its $72.8 billion in the year-ago quarter. Further, the search giant is generating significant free cash flow, or cash from operations less capital expenditures, every quarter. In its third quarter alone, Alphabet raked in $7.3 billion in free cash flow.
The big question mark with Alphabet's new $7 billion repurchase program -- or any repurchase program for that matter -- is whether the timing of purchases will be right. While I'd personally argue that Alphabet's shares are still undervalued, a sell-off in the overall stock market, a recession, or unexpected competitive headwinds, could drive the stock lower and render Alphabet's conservative repurchases today great decisions in hindsight.
But considering Alphabet's incredible lead in online search, paired with the company's heady cash flow, I'd bet investors would benefit more from an even larger repurchase program.
Maybe Alphabet's decision to repurchase $7 billion this time around instead of $5.1 billion is the beginning of a trend that could turn into more aggressive repurchases down the road. But will Alphabet have missed a great opportunity by then?
10 stocks we like better than Alphabet When investing geniuses David and Tom Gardner have a stock tip, it can pay to listen. After all, the newsletter they have run for over a decade, Motley Fool Stock Advisor, has tripled the market.*
David and Tom just revealed what they believe are the 10 best stocks for investors to buy right now... and Alphabet (C shares) wasn't one of them! That's right -- they think these 10 stocks are even better buys.
Click here to learn about these picks!
*Stock Advisor returns as of November 7, 2016
Suzanne Frey, an executive at Alphabet, is a member of The Motley Fool's board of directors. Daniel Sparks has no position in any stocks mentioned. The Motley Fool owns shares of and recommends Alphabet (A shares) and Alphabet (C shares). Try any of our Foolish newsletter services free for 30 days. We Fools may not all hold the same opinions, but we all believe that considering a diverse range of insights makes us better investors. The Motley Fool has a disclosure policy.