Is Alliance Resource Partners' 20% Slide in November a Market Overreaction?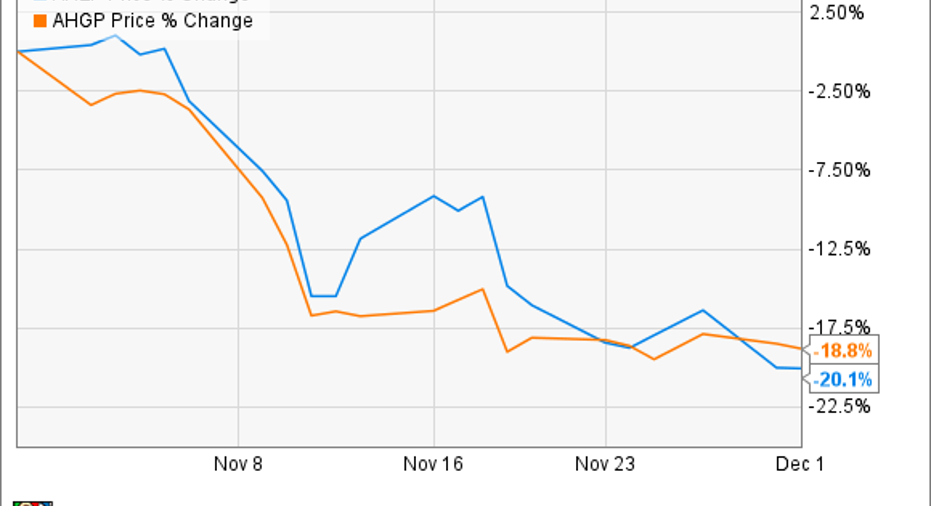 Image source: Alliance Resource Partners.
What: Shares of Alliance Resource Partners and its parent and general partner,Alliance Holdings GP , saw shares decline 20% and 19%, respectively. The largest culprit for the decline was the idling of three of its higher-cost mines.
So what: Earlier in the month, Alliance Resource Partners issued WARN (Worker Adjustment and Retraining Notification) Act notices for its Elk Creek, Gibson North, and Onton Mines. As management stated, these minds are a little higher on the production cost curve for the company and it plans to increase production from some of its lower-cost mines in order to meet its contracted volume commitments. These three mines contributed 15% to 20% of the company's total production so far in 2015.
According to CEO Joseph Craft, AllianceResourcePartners and Alliance Holdings are making thesemovesbecause the market has not responded as management had expected. Continued oversupply from cash-strapped companies has kept prices low, and continued pressure from natural gas prices is capturing power-generation market share. As long as these overhangs remain in place and there is no supply response, Alliance and others will need to lean on their lowest-cost production centers.
Since Alliance Holdings sole asset is its equity ownership stake in Alliance Resource Partners, it's pretty easy to see why impacts at the limited partnership level are having similar effects on the general partner's stock.
Now what: This news doesn't sound great. In the grand scheme of things, though, this looks like a bit of an overreaction from Wall Street. One thing to consider is that this move doesn't seem to impact the company's total production levels. Also, unlike so many other coal companies, Alliance Resource Partners is still turning a decent profit on its coaland doesn't have the specter of debt hanging over it.
Coal is likely to play a diminishing role in the energy world for several years to come, but Alliance has the benefit of being one of the few companies that remains profitable in today's weak market. Once we start to see a decline in supply as more unprofitable mines go idle, Alliance should be able to capture even greater market share and keep its strong payout to shareholders going for quite some time.
The article Is Alliance Resource Partners' 20% Slide in November a Market Overreaction? originally appeared on Fool.com.
Tyler Crowe has no position in any stocks mentioned.You can follow him at Fool.comor on Twitter@TylerCroweFool.The Motley Fool recommends Alliance Resource Partners. Try any of our Foolish newsletter services free for 30 days. We Fools may not all hold the same opinions, but we all believe that considering a diverse range of insights makes us better investors. The Motley Fool has a disclosure policy.
Copyright 1995 - 2015 The Motley Fool, LLC. All rights reserved. The Motley Fool has a disclosure policy.