Is Advanced Micro Devices, Inc.'s Polaris GPU Really That Exciting?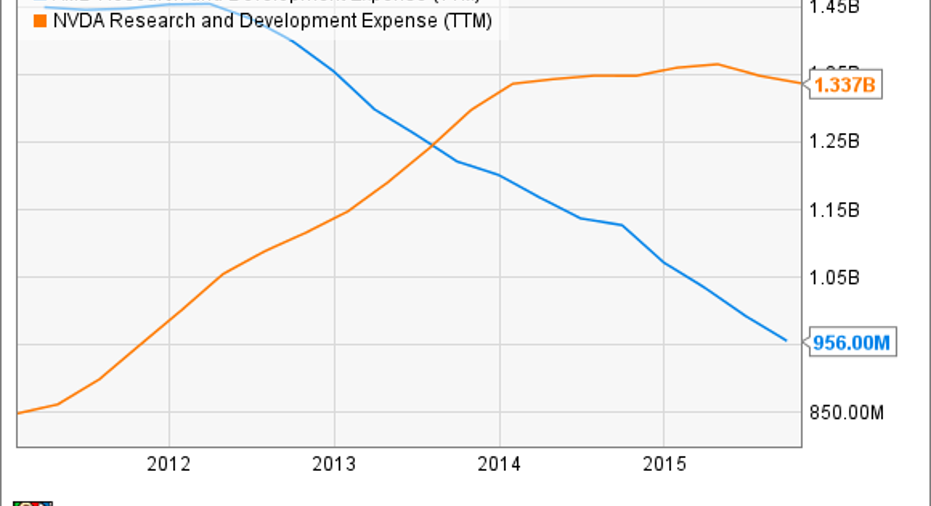 At CES 2016, struggling chipmaker Advanced Micro Devices took the wraps off of its next-generation graphics processor architecture, known as Polaris. Polaris represents the next step in the evolution of AMD's graphics processing unit designs, bringing architectural enhancements and a (much-needed) transition to a next generation manufacturing technology.
There's no doubt that Polaris will offer a significant leap in performance-per-watt compared to its prior generation graphics chip architecture. In fact, AMD took the opportunity to demonstrate that its upcoming Polaris chip can deliver substantially better performance-per-watt than NVIDIA's current generation GeForce GTX 950 (a fairly low-end gaming part).
However, I don't think either AMD or NVIDIA investors should get too worked up at this point. Here's why.
NVIDIA should get a big boost with Pascal, tooAMD spent a considerable amount of time talking up the fact that Polaris is built on a new 14-nanometer FinFET manufacturing technology, which brings significant performance and power benefits over the 28-nanometer planar manufacturing technology that AMD and NVIDIA have been using to build high-end graphics chips since late 2011.
In fact, according to PC Perspective, AMD said that about 70% of the efficiency improvement that the company plans to deliver with Polaris is a result of the new manufacturing technology while the remaining 30% comes from architectural improvements.
That's all well and good, but don't forget that AMD has no monopoly on 14/16-nanometer FinFET technologies. Indeed, NVIDIA's next-generation graphics processor family, known as Pascal, will use Taiwan Semiconductor Manufacturing's 16-nanometer FinFET Plus technology (which Taiwan Semi's Mark Liu claims offers 10% higher transistor speed compared to the Samsung 14-nanometer process that Polaris will be built on).
So, with the products that it will have out to compete with AMD's Polaris, NVIDIA should also get the big "FinFET boost."
Does this mean that Pascal will be superior? Only time will tellAt this point, the performance battle between AMD and NVIDIA in the coming generation will be, as it was in the prior generation, decided primarily based on the quality of the GPU architecture, driver software, and more.
Right now, even though both companies are building GPUs on Taiwan Semi's 28-nanometer technology, and even though AMD is employing more advanced memory technology (known as "High Bandwidth Memory" or "HBM") on its highest-end "Fury" line of graphics cards, NVIDIA's graphics chips seem to be significantly more power-efficient than AMD's.
This points to NVIDIA having an edge when it comes to the underlying graphics chip architectures.
At this point, I am inclined to believe that NVIDIA will once again have the architectural advantage with Pascal for a couple of reasons. The first is that NVIDIA is starting with an arguably superior architecture, so unless NVIDIA decides to "phone it in" with Pascal, I'd imagine it will be easier for NVIDIA to maintain its lead than it will be for AMD to capture it.
Second, it's worth noting that NVIDIA's annual research and development budget is now well in excess of AMD's, as you can see in the chart below:
Source: YCharts.
Indeed, AMD's product portfolio is quite a bit broader than NVIDIA's so I believe that a higher percentage of NVIDIA's research and development spending is spent on graphics than AMD's. Couple that with the fact that NVIDIA is plain spending more, and it would seem that NVIDIA is investing far more into graphics than AMD is.
That said, investors should keep a close eye on how the Pascal and Polaris product perform relative to each other. If Pascal is able to maintain a similar lead over Polaris as Maxwell does over AMD's current lineup, then I would expect no meaningful change in the current market share dynamics.
If AMD is able to narrow the gap, then it could have an opportunity to retake share. And, of course, if AMD falls further behind, it stands to lose more of what little share it currently has in the stand-alone graphics chip market.
AMD has said that Polaris will begin shipping to customers in mid-2016, and I doubt NVIDIA will launch too much later/earlier than AMD, so it won't be long now before investors get a glimpse at how this next graphics card generation could play out.
The article Is Advanced Micro Devices, Inc.'s Polaris GPU Really That Exciting? originally appeared on Fool.com.
Ashraf Eassa has no position in any stocks mentioned. The Motley Fool recommends Nvidia. Try any of our Foolish newsletter services free for 30 days. We Fools may not all hold the same opinions, but we all believe that considering a diverse range of insights makes us better investors. The Motley Fool has a disclosure policy.
Copyright 1995 - 2016 The Motley Fool, LLC. All rights reserved. The Motley Fool has a disclosure policy.