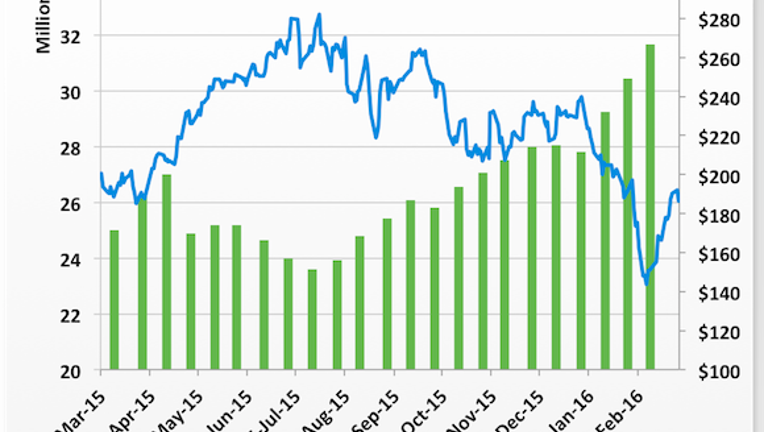 Image source: Tesla.
For the most part, it's been a good few weeks to be short shares of Tesla Motors . Well, the entire month of January was a good time to be short just about anything, considering the fact that 2016 was the worst start to a calendar year ever for the market. For the first five weeks of 2016, Tesla shares shed almost exactly $100, or over 40% of their value.
This was partially driven by pessimism surrounding the Model X launch, since Tesla was only able to deliver 208 Model X vehicles during the fourth quarter, despite officially launching the electric SUV in September. There were some initial quality issues to get through. That led to some downward revisions to earnings estimates, and as I already mentioned, the broader market wasn't doing too hot, either.
Adding insult to injury, the short-sellers are all jumping on the bearish bandwagon.
Mix 31.5 million shares short with a pinch of 35% gains...Tesla's short interest has been steadily rising since last summer, contributing to the corresponding decline since that time.
Source: Nasdaq.
As of last count (settlement date of Feb. 12), there were 31.5 million shares being held short, an all-time high. That's a whopping 24% of outstanding shares. Days to cover has fallen, but that's just a function of increased volume and trading activity.
However, shares have put up a strong recovery following Tesla's fourth-quarter earnings release, up by 35% from the recent low. This is a textbook recipe for a potential short squeeze.
...and a side of 20% annualized rate feesAs shares begin to bounce back, short positions begin to lose their footing and short-sellers will often begin to close out their positions by buying back the shares that they've borrowed. This only triggers more buying pressure, which continues to push the stock higher.
There's another factor to consider as well. When a stock is heavily shorted, there is limited supply of shares available to loan out to other short-sellers. Stocks like this are considered "hard-to-borrow" and interested short-sellers must pay an interest rate to borrow shares. The annualized rate to borrow Tesla had recently soared to 20%. The clock is often ticking with short positions since the market tends to trend higher over time, but adding a 20% annual rate to the equation makes it tick that much faster.
By the way, if you ever happen to be long a hard-to-borrow security and don't mind loaning them out to short-sellers knowing that they may temporarily push down the price, you can actually get a piece of this action and in some cases earn a pretty decent return. Ask your broker/dealer for details about their fully paid securities lending programs, if available. (Typically, broker/dealers acquire short shares through a hypothecation process related to outstanding margin balances.)
In fact, it is also possible that Tesla is already part of a short squeeze and we don't know it quite yet. The exchange discloses short interest figures twice a month, and the last settlement date reported was a couple of days after the earnings release. It might have begun already.
The article Is a Tesla Motors Short Squeeze Coming? originally appeared on Fool.com.
Evan Niu, CFA owns shares of Tesla Motors. The Motley Fool owns shares of and recommends Tesla Motors. Try any of our Foolish newsletter services free for 30 days. We Fools may not all hold the same opinions, but we all believe that considering a diverse range of insights makes us better investors. The Motley Fool has a disclosure policy.
Copyright 1995 - 2016 The Motley Fool, LLC. All rights reserved. The Motley Fool has a disclosure policy.