Is 2016 Going to Be a Bad Year for Apple Inc.?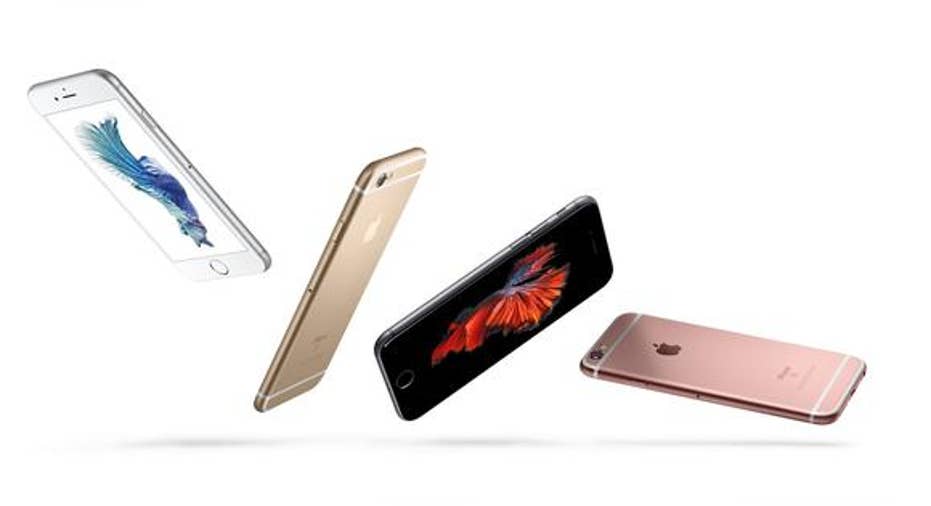 Image Source: Apple.
As the late economist Herbert Stein once said, "If something cannot go on forever, it will stop."Apple, investors may experience this firsthand as the trend of spectacular smartphone growth may finally be losing steam. A recent forecast from International Data Corporation (IDC) shows slow growth ahead for the smartphone market, with 2015 expected to be the last year to put up double-digit annual growth.
The word of the day is "saturation"IDC estimates there were 1.44 billion smartphones shipped worldwide in 2015, up 10.4% from 2014. But 2016 growth will be almost half of that at 5.7%, or 1.5 billion units. By 2020, volume should grow to 1.92 billion, keeping the annual compound growth rate at approximately 6%.
However, these aggregate worldwide figures mask some of the saturation that's already taken place. The IDC report notes that some major markets are already saturated, hitting the single-digit annual growth mark in 2015. This list includes the United State, Western Europe, and ... China.
China may come as a surprise to many investors as it is usually touted as the next big growth leg for smartphone makers, especially Apple. Yet in the most recent quarter, sales growth in China was only 14% for Apple, and CEO Tim Cook even specifically noted "signs of economic softness" in the region.
Recent reports have since surfaced indicating slowing iPhone sales in China. It also doesn't help there is now stiff competition at the high-end smartphone market in China, a place where the iPhone was once the undisputed leader. That's not to mention the rave reviews the new Samsung flagship phone is receiving, which will make competition at the premium segment even fiercer.
A tale of two phone systemsWhat is especially worrisome for Apple is the market's continued shift toward the low end. Aggregate average selling prices are expected to drop from $295 in 2015 to only $237 by 2020. Alphabet's mobile operating system, Android, dominates the low-end smartphone market, as only 14% of Android devices had prices above $400 in 2015.
IDC expects pockets of growth in emerging markets such as India, Indonesia, and the Middle East and Africa, where more inexpensive smartphones are in high demand. This trend should boost Android's worldwide market share from its current 81% to 85% by 2020 and result in a five-year compound annual growth rate (CAGR) of 6.9%. Conversely, Apple is expected to lose market share from an expected 15.2% in 2016 to 14% by 2020, while achieving a pedestrian CAGR of only 3%.
With almost 70% of Apple's revenue coming from the iPhone only, it will be an uphill climb for Apple to move the growth needle as it depends on hardware sales. Alphabet's Google, on the other hand, will continue to grow its Android user base and make money off ad sales and related services whether or not the device is high or low end.
You can't change the wind, but you can control the sailsThat the smartphone market is slowing and becoming saturated is completely natural, and the market is partly where it is today because of Apple's massive success. Given Apple can't change the state of the smartphone market, is it doomed?
Far from it -- there are a number of things Apple could use to its advantage in 2016 to combat the slowing market. For example, one of the bright spots in the IDC report is the "phablet" trend, which is expected to continue. Phablets accounted for 20% of all shipments in 2015 and are expected to grow to 32% by 2020.
Specifically, Apple phablets, such as the current iPhone 6 Plus and 6s Plus, are expected to grow from 26% in 2015 to 31% in 2020. Since Apple's largest phones are also the more expensive ones, this trend should continue to drive sales and margins for the company. In fact, the company may even go bigger, further capturing the phablet market.
Another strategy would be to start catering to the low end of the market. Already there is the anticipated iPhone SE, which is expected to be priced at $400 to $500. Not exactly rock-bottom for the emerging markets, but there is also the rumor of keeping the iPhone 5s and slashing its price by 50%, all the way down to $225.
Finally, there's the iPhone 7 launch expected later this year. A complete redesign could drive upgrades, and even the IDC report notes the Apple trade-in program could further drive churn. This is, however, probably something that won't get a lot of traction until 2017.
These things are focusing purely on drivers for the iPhone and don't even touch on the other projects that could substantially add to Apple's top line such as Apple Watch, Apple Pay, CarPlay, or even an entire car. However, these are all initiatives that I believe will take some time before they start to get close to the revenue and profit level of the iPhone.
Saying goodbye to blistering growth doesn't mean a bad investmentThe latest IDC forecast confirms that Apple is going to have a hard time putting up growth figures in the near term -- it isn't immune to the law of large numbers. Revenue is expected to shrink 10% this quarter and 3% for this fiscal year, before returning to 6% growth next year -- right in line with the IDC forecast for worldwide smartphone growth.
This doesn't mean Apple is a poor company,nor does it mean it's a bad investment. Apple is still an excellent company with some of the most enviable financial metrics on the planet in terms of profitability and efficiency. It will also continue to be a cash cow, and one the market seems to be discounting given it is trading at only nine times its trailing-12-month free cash flow. Investors just need to be aware of the level of growth to expect going forward.
The article Is 2016 Going to Be a Bad Year for Apple Inc.? originally appeared on Fool.com.
Suzanne Frey, an executive at Alphabet, is a member of The Motley Fool's board of directors. Chris Kuiper has no position in any stocks mentioned. The Motley Fool owns shares of and recommends Alphabet (A shares), Alphabet (C shares), and Apple. Try any of our Foolish newsletter services free for 30 days. We Fools may not all hold the same opinions, but we all believe that considering a diverse range of insights makes us better investors. The Motley Fool has a disclosure policy.
Copyright 1995 - 2016 The Motley Fool, LLC. All rights reserved. The Motley Fool has a disclosure policy.