iRobot Rides Broad Strength to Another Great Quarter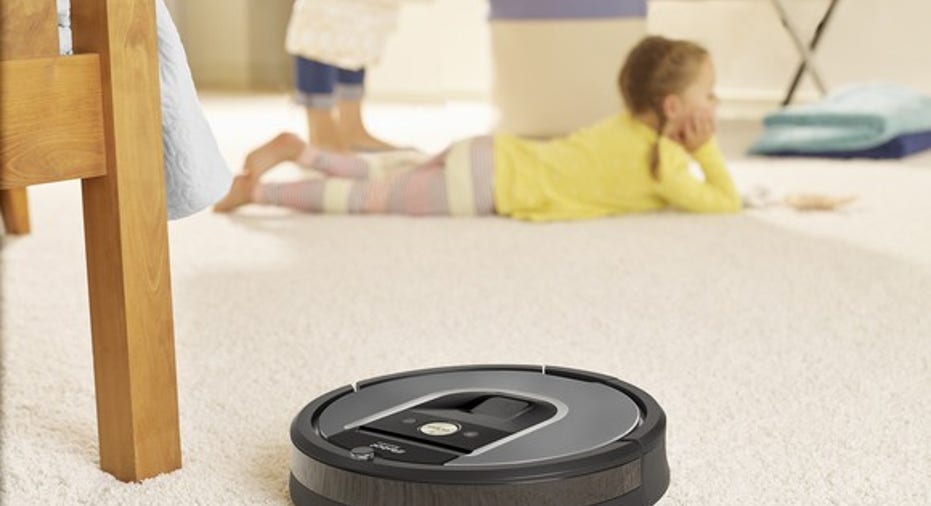 iRobot Corporation(NASDAQ: IRBT)released another strong quarterly report on Tuesday after the market closed, demonstrating solid growth and momentum in all geographies and key product lines to start 2017. Shares of the home-robotics specialist popped nearly 16%as a result on Wednesday.
With iRobot stock now up a jaw-dropping 126% over the past year, let's take a closer look at what drove its business in the first quarter, as well as what investors can expect going forward.
Image source: iRobot.
iRobot results: The raw numbers
| Metric | Q1 2017 | Q1 2016 | Year-Over-Year Growth |
| --- | --- | --- | --- |
| Sales | $168.5 million | $130.8 million | 28.8% |
| Net income | $16.4 million | $3.9 million | 320.5% |
| Earnings per share | $0.58 | $0.13 | 346.2% |
Data source: iRobot Corporation.
What happened with iRobot this quarter?
Bear in mind that last year's first-quarter results included $3 million in revenue and a negative-$0.12-per-share impact to earnings from iRobot's since-divested defense and security business. This quarter's earnings also included a $0.06-per-share discrete tax benefit related to new accounting standards for stock-based compensation.
Even after adjusting for those items, however, iRobot still crushed expectations for revenue of $154.6 million and earnings of $0.27 per share.
Adjusted earnings before interest, taxes, depreciation, and amortization more than doubled year over year, to $30.2 million.
Consumer-robot revenue grew 32% year over year, driven primarily by higher demand for premium Roomba 900 products in all regions.
This figure included 34.2% growth in domestic revenue to $84.8 million, and 29.3% growth from international markets, to $83.5 million. Within the latter, revenue in China increased 23%, Japan sales grew 21%, and Europe, Middle East, and Africa (EMEA) region revenue climbed 36%.
iRobot closed on the previously announced acquisition of its Japanese distributor, which should help the company both solidify leadership and accelerate growth in its second-largest market.
iRobot tookpatent-infringementaction against several popular appliance brands and Chinese robotic-vacuum manufacturers.
Braava floor-mopping robot family revenue almost doubled on a year-over-year basis this quarter to represent 10% of total sales, up from 7% in last year's first quarter. Braava robot revenue was also 25% of iRobot's total in Japan, and 40% of total sales in China.
iRobot ended the quarter with $275 million in cash and no debt.
What management had to say
iRobot's co-founder and CEO, Colin Angle, stated:
Looking forward
Keeping in mind that iRobot only offers annual guidance given its own long-term focus, the company now expects full-year 2017 revenueof $780 million to $790 million (up from $770 million to $785 million previously), earnings per share of $1.45 to $1.70 (up from $1.35 to $1.65 previously), and operating income of $60 million to $70 million (up from the old range of $57 million to $70 million).
In the end, it's hard to ask much more from iRobot as it steadily implements its long-term plans for becoming a ubiquitous part of our lives. And assuming it follows through on its promise to continue to do so, it's hard to blame the market for bidding iRobot stock up to an all-time high on Wednesday.
10 stocks we like better than iRobot When investing geniuses David and Tom Gardner have a stock tip, it can pay to listen. After all, the newsletter they have run for over a decade, Motley Fool Stock Advisor, has tripled the market.*
David and Tom just revealed what they believe are the 10 best stocks for investors to buy right now... and iRobot wasn't one of them! That's right -- they think these 10 stocks are even better buys.
Click here to learn about these picks!
*Stock Advisor returns as of April 3, 2017
Steve Symington owns shares of iRobot. The Motley Fool owns shares of and recommends iRobot. The Motley Fool has a disclosure policy.