iRobot Is Ready to Accelerate Growth in Japan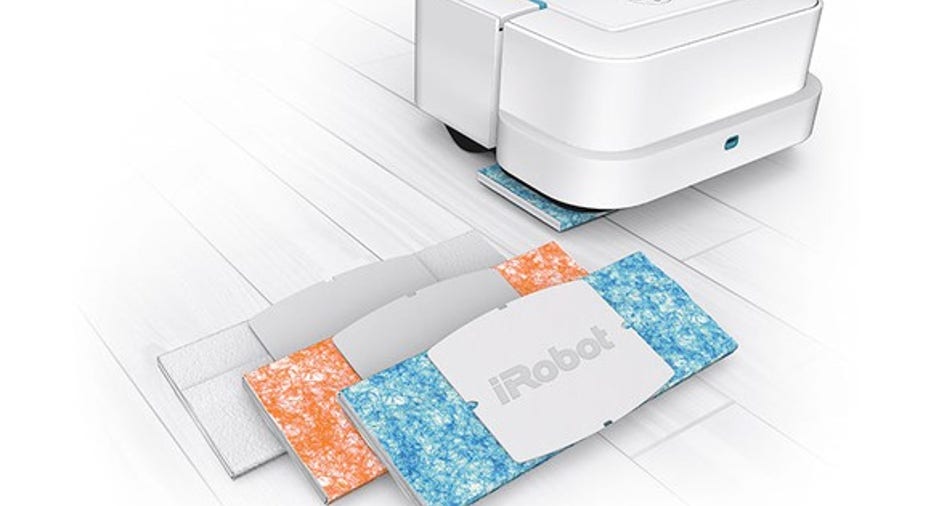 Japan is alreadyiRobot's (NASDAQ: IRBT) largest international market, but the home-robot maker has much bigger plans to tackle the country of nearly 130 million people. Last week, iRobot announced an agreement to acquire the iRobot-related distribution business of Tokyo-based, privately held Sales On Demand Corporation (SODC).
iRobot's new Braava jet is driving growth in Japan. IMAGE SOURCE: IROBOT CORPORATION
The headline numbers
The transaction is expected to close in April for between $14 million and $16 million in cash, representing the equivalent of the book value of acquired assets (primarily inventory) at the time of the close.
The purchase should also contribute incremental revenue of roughly $20 million to $25 million next year and will expand iRobot's gross margin even after accounting for a one-time inventory fair value accounting adjustment. Based on generally accepted accounting principles, which includes accounting adjustments, one-time charges, and acquisition costs, the deal will have a dilutive effect on per-share earnings of between $0.25 and $0.35 next year. Then, starting in 2018, SODC should contribute incremental revenue, gross margin, and earnings to iRobot's consolidated results.
SODC, for its part, has served as iRobot's exclusive distribution partner in Japan for the past 12 years. And iRobot insists that SODC is "well respected by top channel partners," and that its "team has been instrumental in establishing iRobot as the leading consumer robotics brand among Japanese consumers and maintaining significant market share in an increasingly competitive region."
Sweating the details
Persistent macroeconomic headwinds in Japan have held back iRobot's overall growth in recent years, though not directly. Rather, because iRobot previously sold its products directly to international distributors like SODC, it was primarily hurt when those distributors faced pricing pressure in countries like Japan as they faced prolonged currency devaluation, and so had less cash to spend marketing those products in foreign markets.
Early last year, for example, iRobot was forced to reduce its full-year earnings guidance after it opted to make incremental "demand generation" investments to supplement international distributors' marketing budgets. In doing so, iRobot was working to ensure that its brand would maintain its market-leading position overseas, especially given the impending Japanese launches of competing robotic vacuums from the likes of Dyson.
To be fair, those ads served their purpose well, boosting sell-through and replenishment orders from distributors in subsequent quarters.But later in 2015, iRobot also withheld some of those marketing funds (incidentally to the benefit of its bottom line) as broader economic strife was largely negating their impact.
Why now?
According to iRobot, "The acquisition will better enable iRobot to maintain its leadership position and accelerate the growth of its business in Japan through direct control of pre- and post-sales market activities including sales, marketing, branding, channel relationships, and customer service."
The move couldn't come at a better time. Following the introduction of its Braava jet 240 model earlier this year, iRobot management confirmed last quarter that the affordable new floor-mopping robot had already become iRobot's No. 1-selling SKU in Japan, helping sales in the country return to modest year-over-year growth.In fact, Braava jet 240 was so well received by Japanese consumers that SODC even sold out of the product, in part as iRobot took a more cautious approach to allowing distributors to build inventory in the recovering region.
In the end, rather than funneling demand creation investments to an international third party as needed, iRobot has wisely opted to remove the middleman and directly seize control of its Japanese expansion. As sales in Japan continue to rebound, I think that's something with which iRobot investors should be more than pleased.
10 stocks we like better than iRobot When investing geniuses David and Tom Gardner have a stock tip, it can pay to listen. After all, the newsletter they have run for over a decade, Motley Fool Stock Advisor, has tripled the market.*
David and Tom just revealed what they believe are the 10 best stocks for investors to buy right now... and iRobot wasn't one of them! That's right -- they think these 10 stocks are even better buys.
Click here to learn about these picks!
*Stock Advisor returns as of November 7, 2016
Steve Symington owns shares of iRobot. The Motley Fool owns shares of and recommends iRobot. Try any of our Foolish newsletter services free for 30 days. We Fools may not all hold the same opinions, but we all believe that considering a diverse range of insights makes us better investors. The Motley Fool has a disclosure policy.