iRobot Corporation Rides U.S. Growth to a Great Quarter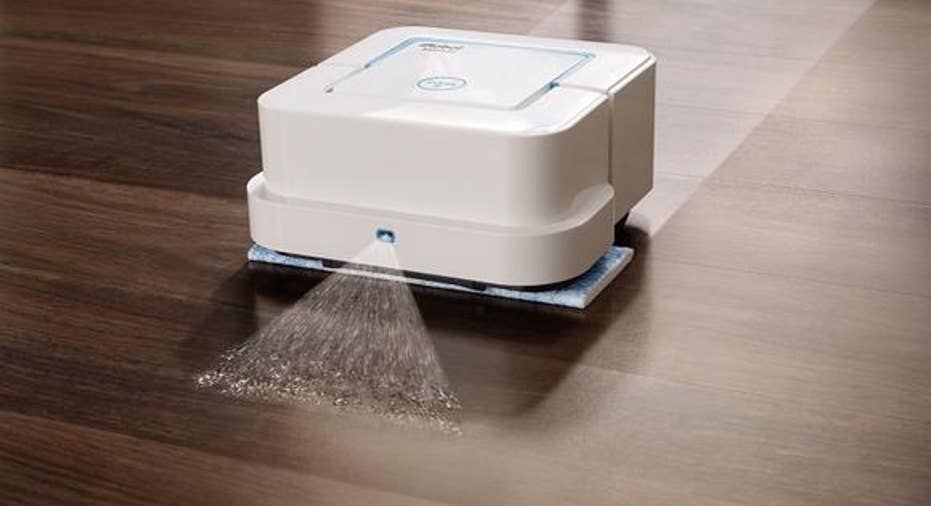 iRobot has seen an "overwhelmingly positive response" to its new Braava jet floor mopping robot, IMAGE SOURCE: IROBOT CORPORATION
iRobot Corporation announced solid first-quarter results Tuesday after the market close, and the market rewarded the home-robot specialist for its efforts, with shares up as much as 9.8% in Wednesday's early trading. Let's take a closer look at what iRobot accomplished in its latest quarter:
iRobot results: The raw numbers
| | Q1 2016 Actuals | Q1 2015 Actuals | Growth (YOY) |
| --- | --- | --- | --- |
| Sales | $130.8 million | $118 million | 10.8% |
| Net Income | $3.9 million | $4.8 million | -18.8% |
| Earnings per Share | $0.13 | $0.16 | -18.8% |
Data source: iRobot Corporation.
What happened with iRobot this quarter?
Adjusted earnings before interest, taxes, depreciation, and amortization (EBITDA) rose 7.6% year over year, to $14.1 million.
These results were largely ahead of guidance, which called for Q1 revenue of $125 million to $135 million, EPS ranging from a loss of $0.03 per share to net income of $0.04 per share, and adjusted EBITDA of $8 million to $11 million.
Home Robot revenue grew 14.9% year over year, to $127.7 million, including:
55.5% year-over-year growth in domestic home-robot sales, to $63.2 million, based on continued momentum for the new Roomba 980, and an "overwhelmingly positive response" to the recently launched Braava jet floor-mopping robot. In fact, Braava jet achieved iRobot's highest day-one unit sales in company history.
An 8.4% decline in international home-robot sales, to $64.5 million, in line with expectations, given distributor order timing in the EMEA region. Japan achieved a "small" increase year over year given successful new marketing programs in the country.
Successful marketing campaign in Q4 resulted in year-over-year sell-through of more than 70%, causing U.S. retailers to restock shelves ahead of expectations in Q1.
Shortly after the quarter's end, closed the previously announced sale of defense and security business for up to $45 million in total consideration, including a $15 million milestone-based contingent payment.
Executed an $85 million accelerated stock-repurchase transaction shortly thereafter, funded partly by proceeds from the sale.
Separately repurchased just more than $12 million in common shares, bringing year-to-date repurchases to nearly $100 million.
What management had to sayiRobot Co-founder and CEO Colin Angle called the results "outstanding," noting that iRobot sustained its momentum, even on the heels of a record holiday season last quarter.
Angle also spoke to the longer-term potential for the new Braava jet -- which is still only available in the U.S. -- to diversify revenue away from the complementary Roomba line:
Looking forwardFor the current quarter, iRobot expects home-robot revenue of $145 million to $150 million, or year-over-year growth of roughly 6% to 10%. This should translate to adjusted EBITDA of $9 million to $12 million, and earnings per share of $0.06 to $0.14. By comparison, analysts' consensus estimates predicted second-quarter earnings of just $0.01 per share on revenue of $128.4 million.
Finally, for the full year 2016, iRobot reiterated previous guidance for revenue of $630 million to $642 million, EPS of $1.20 to $1.40, and adjusted EBITDA of $80 million to $90 million.
In the end, with iRobot's divestiture of the defense and security business complete, the company is free to hone its focus on taking as much share of the home-robot market as possible. Given its impressive performance stateside, as well as the impending launch of Braava jet in China and Japan, where hardwood floors are the norm, I think investors have every reason to celebrate today's results, and look forward to the future.
The article iRobot Corporation Rides U.S. Growth to a Great Quarter originally appeared on Fool.com.
Steve Symington owns shares of iRobot. The Motley Fool owns shares of and recommends iRobot. Try any of our Foolish newsletter services free for 30 days. We Fools may not all hold the same opinions, but we all believe that considering a diverse range of insights makes us better investors. The Motley Fool has a disclosure policy.
Copyright 1995 - 2016 The Motley Fool, LLC. All rights reserved. The Motley Fool has a disclosure policy.