Irish clothing retailer Primark enters US market with 1st store in downtown Boston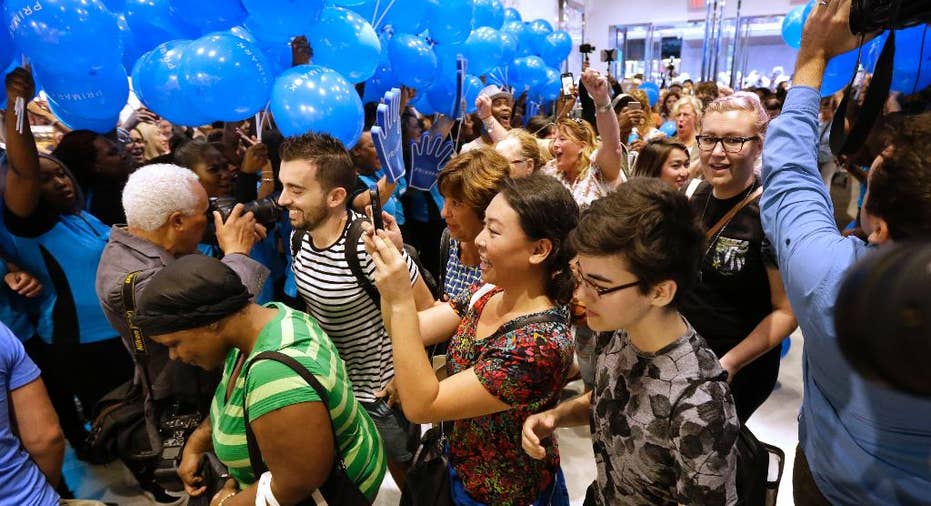 Irish clothing retailer Primark, which specializes in trendy, low-priced apparel, opened its first U.S. location Thursday in an historic building that once housed one of Boston's most venerable department stores.
The Dublin-based company is the latest store to occupy the grand Beaux Arts building that was once home to Filene's Department Store and its discount sister store, Filene's Basement, in the heart of the city's Downtown Crossing shopping district.
Boston was the logical place for Primark's first U.S. store because of its deep cultural ties to Ireland and Irish immigrants, said Breege O'Donoghue, the company's director of business development and new markets.
"Ask any Irish person to brainstorm Boston and you'll first get John Fitzgerald Kennedy," she said, referring to the famous Bostonian and Irish-American president. "He wasn't only the American dream. He was the Irish dream."
Mayor Marty Walsh, who noted he's the son of Irish immigrants, said the company was embracing the past while also helping the city move forward by moving into the restored building at the center of the city's downtown redevelopment plans.
"Downtown Crossing was and still is the retail hub for Boston and New England," he said. "Here you'll find a cross section of residents, students, tourists, business owners and tech companies. And we're adding to that each and every day."
Hundreds of customers streamed into the store, which takes up roughly 77,000 square feet of space over four floors, following a ceremonial ribbon cutting by Walsh and company executives.
"We've missed it," said Joanne Lafferty, a native of Ireland who now lives in Boston as she and a friend, also from Ireland, wound their way into cavernous store. "It's got really good stuff."
Janet Gilardi, a Boston resident, said she and her friends had come out mostly to see what had become of their beloved Filene's, which originally opened in 1912 and closed in 2005. The original Filene's Basement, also located in the building, closed in 2007.
"All of my generation, we were always coming up here to Filene's. It was just a regular thing," Gilardi said. "Now we have to check out what it's turned into, you know?"
Founded in 1969, Primark has nearly 300 locations across Ireland, where its stores still go by their original name Penneys, and the UK and Europe, where it's called Primark.
The company quickly adapts the latest runway styles for a broader audience, O'Donoghue said. "We're no frills, no gimmicks," she said.
Primark, which is now subsidiary of Associated British Foods, the London-based food maker whose brands include Ovaltine and Twinings, is the latest in a line of international retailers that have exported their "fast-fashion" model to the states in recent years, from Sweden's H&M to Britain's Topshop, Japan's Uniqlo and Spain's Zara.
Primark plans to open seven more stores across the Northeast: two others in the Boston area, as well locations in Danbury, Connecticut; Freehold, New Jersey; King of Prussia, Pennsylvania; Willow Grove, Pennsylvania; and on New York's Staten Island. The retail chain also opened a distribution center in Bethlehem, Pennsylvania earlier this month.
___
This story has been corrected to fix the spelling of Primark in the 8th paragraph.