Iridium Launches Forward As NEXT Satellite Production Hits High Gear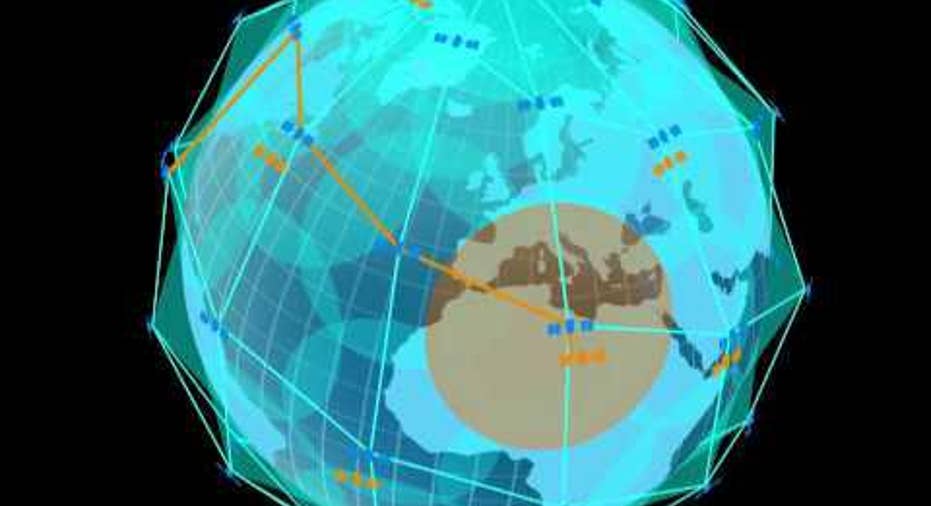 Image source: Iridium Communications.
Most people now take wireless communications for granted, but there are still places in the world where traditional networks don't reach. For them, Iridium Communications provides alternatives via satellite communication, serving needs for the aerospace, energy, and shipping industries that traditional telecom companies leave unserved. Coming into Thursday's first-quarter financial report, Iridium investors had hoped that the company would be able to bounce back from the quarterly loss it posted last quarter. Iridium's results pointed toward future success, and the progress of the key Iridium NEXT program appears to be moving forward well. Let's take a closer look at Iridium Communications' latest results and what investors should look forward to in the near future.
Iridium is a go for takeoff Iridium Communications' first-quarter results gave investors most of what they wanted to see. Revenue rose more than 7% to $104.2 million, just edging over what those who follow the stock had expected. Net income performed even better, jumping 36% from year-ago levels to $28.5 million and producing earnings of $0.23 per share, which was $0.03 above the consensus forecast among analysts.
A closer look at Iridium's results included some encouraging news. Subscriber counts finished the quarter at 788,000, which was up 40,000 from the year-ago quarter and 6,000 since the beginning of 2016. Services revenue, which comes largely from recurring revenue from subscribers on regular plans, climbed 6%. Iridium got 77% of its sales from the services segment during the quarter.
The lion's share of Iridium's growth once again came largely from the company's government services division. Within that segment, service revenue jumped 22%, with Iridium citing its airtime services contract with the Defense Information Systems Agency as the primary driver. Subscriber counts jumped 12,000 to finish the quarter at 75,000. Machine-to-machine data subscriptions grew at a 26% pace, almost doubling the increase in voice and data subscribers.
Meanwhile, the commercial services division remained fairly sluggish. Revenue was up 1%, and voice-and-data subscriber counts fell 1%. Overall, the division finished with 713,000 subscribers, up from 685,000 a year ago. With machine-to-machine data subscriptions rising 9%, the share of those customers rose above the 50% mark compared to traditional voice-and-data customers. Average revenue per customer was steady to down slightly from year-ago levels.
CEO Matt Desch was pleased with how the quarter went. "We delivered solid revenue growth in the first quarter and reaffirmed our full-year and long-range outlook," Desch said, "in spite of continued macroeconomic headwinds affecting our commercial business."
Can Iridium keep gaining altitude?Iridium is looking forward to the imminent implementation of its NEXT satellite program. As Desch noted, "With our first launch with SpaceX this summer, our primary focus remains on constellation replacement and the introduction of new business services." The CEO noted that the first satellites for the NEXT program are complete, and production of additional satellites is building momentum.
Iridium also noted that it still expects its longer-term results to be in line with prior guidance. Service revenue should grow between 4% and 6% in 2016, and growth in operational EBITDA should amount to roughly 5% to 9%. Looking out to 2018, Iridium's long-range outlook continues to call for service revenue of $420 million to $465 million.
Those investors who've been concerned about the costs of implementing Iridium NEXT have closely watched the company's balance sheet, but the company seems comfortable with its overall financial position. Iridium said it spent almost $76 million on capital expenditures during the quarter, mostly on the rollout of NEXT. However, with more than $412 million in cash and marketable securities in its arsenal, Iridium has the firepower to keep up its spending on growth initiatives without taking its overall leverage to levels that most would find dangerous.
Going forward, Iridium will count on the successful implementation of the NEXT network in order to drive its strategic vision for years to come. The unpredictable nature of launches could make the next several months nerve-wracking for the company and investors alike, but if Iridium can improve its service and tap into new demand, all of its investments will have been worth it.
The article Iridium Launches Forward As NEXT Satellite Production Hits High Gear originally appeared on Fool.com.
Dan Caplinger has no position in any stocks mentioned. The Motley Fool recommends Iridium Communications. Try any of our Foolish newsletter services free for 30 days. We Fools may not all hold the same opinions, but we all believe that considering a diverse range of insights makes us better investors. The Motley Fool has a disclosure policy.
Copyright 1995 - 2016 The Motley Fool, LLC. All rights reserved. The Motley Fool has a disclosure policy.