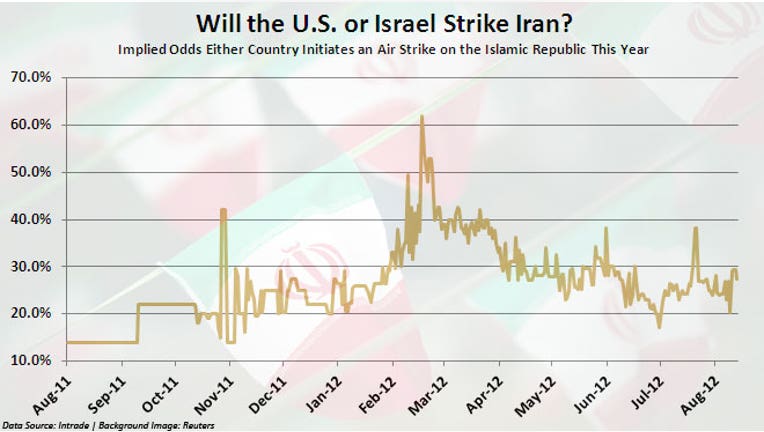 The financial world remains glued to the standoff in the Middle East between Iran and the West, searching for clues of an airstrike by Israel or even the U.S. that could plunge the region and financial markets into chaos.
While the chances of a conflict over Iran's nuclear ambitions before the end of the year seem unlikely, a slew of recent developments have kept the threat of war on jittery investors' radar screens.
That's for good reason, as in addition to a potentially significant loss of life, a military confrontation would likely have profound economic repercussions: driving oil prices to unthinkable heights, sending cash pouring into safe-haven assets like gold and eating into already-sagging global growth.
"If it's a prolonged oil shock we'll definitely see a disruption in the economic recovery," said Schehrazade Rehman, a professor at George Washington University, who predicted U.S. gross domestic product growth for the second half of the year could be wiped out.
Rising Risk?
Investors on Intrade, which takes bets on political outcomes, see a 30% chance of a U.S. or Israeli overt air strike against Iran before the end of 2012, up from 24% at the end of July.
Underscoring those jitters, Brent crude oil, which is more sensitive than light sweet crude, has rallied six of the past seven sessions, settling at a three-month high of $113.60 on Monday.
Market watchers pointed to a cluster of new stories, including a Stratfor report indicating a buildup of U.S. aircraft carriers near Iran, Israel testing a texting system that would warn civilians about missile attacks, Israel's central bank admitting it is preparing for a major crisis and a "security situation" and Israel handing new powers to Prime Minister Benjamin Netanyahu that could help him evade internal opposition to a strike.
Commodities analysts at Barclays (NYSE:BCS) noted a "discernible increase in international tension regarding Iran's foreign relations and nuclear program moving to the spotlight."
Knee-Jerk Oil Spike
The most obvious place where a conflict with Iran would be felt would be the jittery oil markets, especially due to Iran's threats to close the Strait of Hormuz, where 40% of the world's supplies transit daily.
No one can say for sure just how sharply oil prices would climb.
On the more conservative end, Darin Newsom of Telvent DTN predicted a knee-jerk spike that would "certainly" lead to a test of Brent's 2012 high of $128.30. That would reflect a painful but relatively modest 13% jump in Brent prices.
On the other hand, George Friedman of private-intelligence site Stratfor told Barron's in February that oil prices could skyrocket to $300 a barrel.
"The impact it would have on the financial markets would be absolutely enormous," said Peter Zeihan, vice president of analysis at Stratfor. Zeihan pointed to the estimated 75% of crude oil contracts being traded by skittish investment professionals not affiliated with the energy industry.
Energy Ripple Effects
A massive jump in oil prices would almost immediately hit consumer spending, which still accounts for around two-thirds of U.S. GDP. Soaring gas prices would eat into discretionary spending, threatening the anemic economic recovery.
However, the extent of the economic damage would likely depend on how long the oil-price shock lingered.
While oil prices soared after Iraq invaded Kuwait in August 1990, they plummeted by 36.2% to $19.25 in a single day in January 1991 -- the largest percentage decline in history -- after the short-lived Gulf War began.
"We would see prices go through the roof in the first 24 hours," said Zeihan. "They would probably tank just as fast they went up."
Stocks to Slump, Safe Havens to Rally
It's easy to see how the equity markets would likely retreat in the event of a military clash in Iran, responding to the higher energy prices, chances of a recession and increased geopolitical uncertainty.
In particular, the markets would probably punish stocks that are very sensitive to oil prices like airline and shipping companies as well as other affected sectors like insurers and luxury goods makers. Some relative winners could include defense contractors such as Lockheed Martin (NYSE:LMT).
"In any conflict like this the stock market takes a little bit of a hit. Depending on how long the conflict lasts, the good news is the stock market understands military action is temporary and it tends to correct itself if there is an end in sight," said Rehman, paraphrasing a belief expressed by investor Paul Dietrich
Investors who are long in gold would be likely to see very healthy returns as cash flees risky assets like stocks in favor of safe havens. Gold settled at $1,609.60 on Monday, up just 2.8% so far this year and still 15% away from its all-time high of $1,888.70 set in August 2011.
Other safe havens would also probably benefit, including the U.S. dollar and Treasurys. Despite concerns about America's fiscal difficulties, recent crises show the Treasury market remains the go-to place for investors during times of stress.
Odds Still Stacked Against Attack…For Now
It's important to remember that there are still more reasons for the current standoff to continue than for tensions to reach a boiling point.
For starters, the White House has no desire during an election year to allow Israel to pull the trigger on an attack that may very well drag the U.S. into the conflict. That means Israel would be alienating its biggest ally through a unilateral attack.
"While Iran is increasingly becoming a hot topic on the U.S. campaign trail, we do not believe that this development heightens the risks of war in 2012," Barclays analysts wrote.
According to surveys, just 35% of Israelis even support the idea of a solo attack on Iran, a growing faction but still a minority.
Zeihan sees less than a 10% chance of a conflict before the end of the year. "They have definitely stepped back from the brink. It's going to take a miscalculation on both sides," he said.
Still, that doesn't mean a conflict can't happen or won't after the U.S. elections.
Intrade is currently forecasting a 37.5% chance of an air strike on Iran before the end of 2013 and Mitt Romney's campaign has recently signaled the GOP standard bearer would support a unilateral air strike by Israel.
"We believe that 2013 may produce an important inflection point in Western capitals if the diplomatic track remains stalled," Barclays wrote.