Iowa group sues United over death of giant rabbit, Simon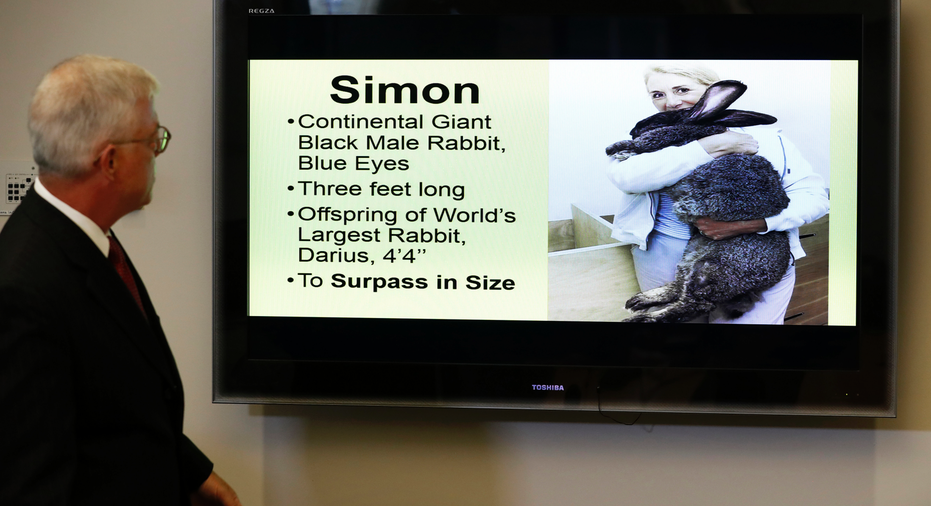 A group of Iowa businessmen filed a lawsuit Wednesday against United Airlines over the death of Simon, a giant rabbit whose lifeless body was discovered in a kennel after a flight from London to Chicago.
The lawsuit comes as United struggles to repair its image after a string of events, including the videotaped forced removal of a 69-year-old doctor from a plane at Chicago's O'Hare International Airport and the banning of two young girls from a flight because they were wearing leggings.
The businessmen filed the lawsuit more than three months after airline workers found the continental rabbit dead on April 20. Simon had been placed in a United kennel at O'Hare while awaiting a connecting flight to Kansas City, where his new owners planned to pick him up.
The lawsuit seeks unspecified damages to cover the costs of the rabbit as well as punitive damages.
Attorney Guy Cook represents the three Des Moines-area businessmen who bought Simon with the intention of showing him at the Iowa State Fair and then displaying him and selling related merchandise to raise money for the annual event.
The lawsuit said United was negligent in the care and transportation of Simon and that the airline improperly cremated the rabbit.
United spokesman Charles Hobart released a statement saying, "We were saddened by Simon's death in April. We have received this complaint and are currently reviewing it."
Cook said the businessmen — Mark Oman, Steve Bruere, and Duke Reichardt — never intended to profit from the rabbit and that they plan to donate any money from the lawsuit to a state fair foundation that funds upkeep at the fairgrounds in Des Moines.
"They're frustrated with how United has handled this from the start," Cook said. "None of them stand to benefit financially from the resolution."
The lawsuit alleges United has a poor record of transporting animals, stating the airline accounted for one-third of all animal deaths via U.S. air travel in the last five years.
The suit doesn't explain how the rabbit died but puts forth several possibilities, including that it was exposed to low temperatures in the cargo compartment or that dry ice might have been left in the same compartment as the animal.
When Cook threatened legal action in May, Hobart said United had reached "a satisfactory resolution" with the rabbit's breeder, Annette Edwards, in Worcestershire in the United Kingdom.
However, the lawsuit contends the rabbit had been sold to the Iowa group, which also had arranged and paid for the animal's transport to the United States.
Before flying to the U.S., the lawsuit states that a veterinarian examined Simon and found him to be in "good physical condition and fit to travel."
The lawsuit seeks a jury trial in Des Moines.