Investors Should Be Yawning at General Electric's Nearly $1 Billion Saudi Deal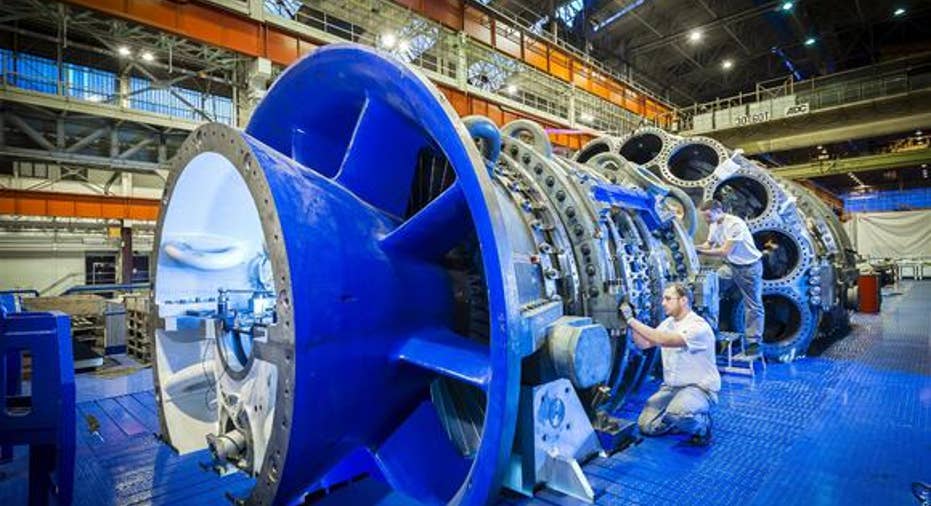 GE workers construct a turbine for a power plant. Image source: GE.
A billion dollars is a lot of money, even for a huge company likeGeneral Electric (NYSE: GE).
So it's no surprise that when GE announced a nearly $1 billion contract on the last day of 2015, people got a little excited.Indeed, the market sent the company's stock higher on a day when the Dow -- and GE's largest competitorSiemens (NASDAQOTH: SIEGY) --dropped more than 1%.
But what investors should have been saying was "Meh." Here's why.
The nitty-grittyThe contract is for the engineering, construction, and provision of gas turbine services for a new Saudi Electricity Company power plant. When finished, the plant will support the local phosphate mining industry. The work is scheduled to be completed by the end of 2019.
Being awarded a big contract like this one is good for the company. It's also good for GE's domestic workforce, since four of the five turbines will be produced here in the United States. But better yet for GE's long-term investors was this sentence, buried in the press release:
This should help to ensure a revenue stream into 2020 and beyond. And there are almost certain to be more projects in store. Ziyad Al Shiha, CEO of Saudi Electricity Company, has pledged that the company will continue to strengthen Saudi Arabia's power infrastructure "to meet the growing demand for electricity and to accelerate all-round growth."
According to the U.S. Energy Information Administration, Saudi Arabia plans to increaseits current electricity generation capacity to 120 GW by 2032, with a majority (41 GW) coming from solar energy. And according to the BP 2015 Statistical Review of World Energy, Saudi Arabia currently generates no electricity from renewable sources. If those plans hold up in this era of low oil prices, that's a huge opportunity for a manufacturer like GE.
All of this is positive. But none of it is surprising.
It's all been done beforeEven though this particular deal was unexpected, a big Saudi Electric Company contract like this was all but guaranteed to come to GE sooner or later. GE has been a major player in Saudi Arabia for years and has particularly close ties to the Saudi Electric Company.
GE has an existing Manufacturing Technology Center in Dammam, Saudi Arabia, which will manufacture one of the gas turbines for the plant. According to GE, the plant has a "Saudization" level of 70%, meaning 70% of the jobs there are held by Saudi nationals. Siemens also has a manufacturing center in Dammam , but it is more of a player in power transmission and distribution in Saudi Arabia. According to the Siemens Saudi Arabia website, its last contracts from the Saudi Electric Company, worth about $260 million, were awarded in May 2013.
GE turbines are already installed in more than 40 Saudi Electric Company plants throughout the kingdom, providing more than half the country's electricity. Earlier this year, GE signed a memorandum of understanding with the Saudi Electric Companyto set up a joint venture that will provide support to Saudi Electric Company power plants.
Business as usualThe market seems to like these kinds of contracts. On the day of GE's Nov. 9 announcement of a $2.6 billion transportation deal with Indian Railways, its stock also beat the market by more than a percentage point. But unlike the Indian Railways contract, this deal can hardly be regarded as any kind of game changer.
When a company that already has close ties to its client, and particularly when the two have a memorandum of understanding in place designating GE as the SEC's power plant support provider, it would be more surprising for these sorts of deals not to occur, or for them to be awarded to someone else, like Siemens.
Nor does this contract indicate that GE somehow has a leg up over Siemens in the Middle East. In fact, just a week before GE's announcement, Siemens announced its own deal to provide Egypt -- with which it has a long history as well as its own memorandum of understanding -- with six electric substations.
The Foolish bottom lineThe market likes to send shares up and down on news like this, but it's more important for you to keep an eye on how such announcements affect your long-term thesis in a company. For GE, this deal simply confirms the existing narrative: GE has a strong presence in and a good relationship with Saudi Arabia, and that's likely to continue as the company refocuses on its core industrial business. Since nothing about this deal alters that thesis, buying or selling on this news wouldn't make much sense.
The article Investors Should Be Yawning at General Electric's Nearly $1 Billion Saudi Deal originally appeared on Fool.com.
John Bromels has no position in any stocks mentioned. The Motley Fool owns shares of General Electric Company. Try any of our Foolish newsletter services free for 30 days. We Fools may not all hold the same opinions, but we all believe that considering a diverse range of insights makes us better investors. The Motley Fool has a disclosure policy.
Copyright 1995 - 2016 The Motley Fool, LLC. All rights reserved. The Motley Fool has a disclosure policy.