Investors Should Be Encouraged by 3 New Marijuana Statistics From the "Greenest" State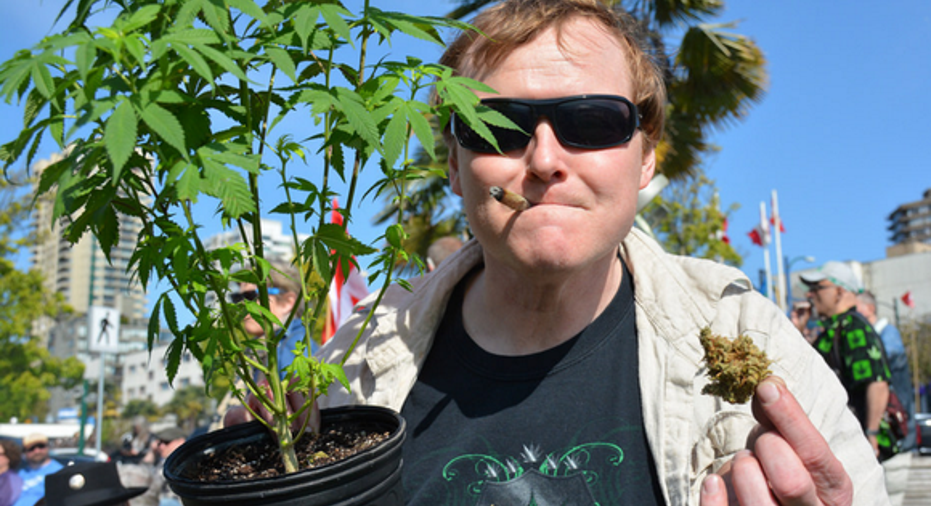 Image source: Flickr user Cannabis Culture.
We can assume there were quite a few cheers when California passed Proposition 215 in 1996, becoming the first state to legalize marijuana's medical use, but 2016 could go down as the most remarkable year for the marijuana industry to date.
Since this first approval 20 years ago, the marijuana industry has witnessed 24 states in total legalize medical marijuana, of which Pennsylvania became the latest just this past week. Additionally, four states Colorado, Washington, Oregon, and Alaska have legalized the use of marijuana for recreational purposes. The 2016 elections could result in a sizable boost to both figures as favorability to marijuana among the American public continues to rise. Gallup's national poll from Oct. 2015 showed that 58% of its respondents favor the idea of nationwide legalization, whereas a CBS News poll conducted a year ago this month demonstrated that roughly five in six people want to see medical marijuana legalized.
But just as exciting for the industry is the opportunity that may be at hand for investors. Marijuana is among the fastest-growing industries in the U.S., with ArcView Market Research expecting the industry to grow at a brisk compounded annual rate of 30% between 2016 and 2020, ultimately reaching an approximate market value of $22 billion by 2020. Investment opportunities where industries can sustain a 30% growth rate for a half-decade or longer simply don't come around very often, making marijuana a seemingly attractive investment opportunity.
Image source: Flickr user Oswaldo.
Three statistics that should excite investors in marijuana's greenest state These industry dynamics and investors' opportunity are especially evident in what I'd dub marijuana's "greenest" state, Oregon.
What makes Oregon so particularly attractive is its wide-scale medical marijuana infrastructure that was already in place before the 2014 approval of recreational marijuana by voters. Having the groundwork in place was expected to translate into immediate results for Oregon's marijuana businesses and perhaps even investors.
How'd they do? I believe the following three statistics speak for themselves.
1. 112% sales growth in Oct. 2015Although marijuana possession (under a certain amount) became legal on July 1, 2015, it wasn't until Oct. 1, 2015, that recreational marijuana began retailing in medical marijuana dispensaries in Oregon. In October, based on the surveys of dispensaries conducted by Sam Chapman of New Economy Consulting and Beau Whitney of Whitney Economics, and included in the Oregon Cannabis Jobs Report, medical marijuana dispensary sales rose by 112% to approximately $23 million. Furthermore, median marijuana sales among dispensaries rose from $23,000 in September to $58,000 in October.
2. An estimated 2,155 jobs createdSecond, and also from the Oregon Cannabis Jobs Report, it's estimated that the booming recreational industry will create 2,155 jobs in 2016, generating $46 million in wages, and having an initial market within the state of $300 million. The vast majority of these jobs will come from dispensaries that sell both recreational and medical marijuana. Chapman and Whitney also suggest in their report that an additional 200 to 700 jobs could be created by Oregon's marijuana industry in 2017.
3. $181 an ounceAnother interesting statistic comes from Priceofweed.com, a website that allows consumers to anonymously input their purchase price for marijuana regardless of whether it was bought legally or on the black market. Using "medium grade" marijuana as the benchmark, no state in the U.S. comes in with a lower price per ounce, rounded up to $181 per ounce, than Oregon.
As noted by the Oregon Cannabis Jobs Report, the number of dispensaries in Oregon has jumped dramatically within less than a year to 413 from 230, of which 326 participate in recreational marijuana sales. This abundance of retail options, as well as Oregon's already vast infrastructure, is allowing it to be as competitive as possible with the black market.
Image source: White House on Flickr.
Still an uphill climbYet, in spite of these resoundingly positive numbers out of Oregon, the "green standard" of the marijuana industry, I'd still view the marijuana industry to be in an uphill struggle without the support of the federal government.
Even in Oregon, dispensaries face an uphill battle against the black market. The reason? Licensing fees for dispensaries and taxes associated with the sale of marijuana make it very difficult for businesses to compete with the black market, which has no such fees to contend with. It's possible that, as Oregon's marijuana industry matures, we could see it become increasingly competitive with the black market, but my initial inclination is that a price gap will remain as long as the federal government views marijuana as a schedule 1 substance.
Tax and banking disadvantages exist as well. Because marijuana remains illegal at the federal level, marijuana businesses have extremely limited access to basic banking services, meaning most are dealing solely in cash. This, as you can imagine, can present security concerns and constrain expansion efforts. Additionally, marijuana businesses get creamed come tax time because they're disallowed from taking normal business deductions.
All three of these factors make it very difficult for the marijuana investor to succeed, even with state-level expansion. It continues to look as if investing in the marijuana industry will remain extremely risky, despite its strong sales growth, until the federal government changes its stance on the drug.
The article Investors Should Be Encouraged by 3 New Marijuana Statistics From the "Greenest" State originally appeared on Fool.com.
Sean Williamshas no material interest in any companies mentioned in this article. You can follow him on CAPS under the screen nameTMFUltraLong, track every pick he makes under the screen name TrackUltraLong, and check him out on Twitter, where he goes by the handle@TMFUltraLong.The Motley Fool has no position in any of the stocks mentioned. Try any of our Foolish newsletter servicesfree for 30 days. We Fools may not all hold the same opinions, but we all believe thatconsidering a diverse range of insightsmakes us better investors. The Motley Fool has adisclosure policy.
Copyright 1995 - 2016 The Motley Fool, LLC. All rights reserved. The Motley Fool has a disclosure policy.