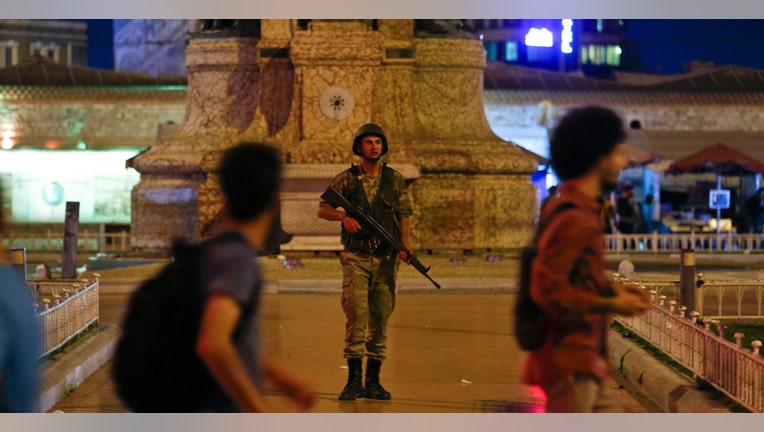 Investors sought shelter in safe-haven assets late Friday after Turkey's military attempted to seize control of the nation. Uncertainty abound as both the military and the Turkish government claimed they were in control of the country.
On the news, the U.S. dollar jumped more than 5% against the Turkish lira, while Blackrock's (NYSE:BLK) iShares MSCI Turkey Investible market index fund, an exchange traded fund that tracks Turkish stocks, dropped more than 6%.
Meanwhile, gold futures jumped as much as 0.50% to $1,338 a troy ounce after capping Friday's session down 0.36%. Global oil prices also advanced as two global benchmarks – West Texas Intermediate crude and Brent crude – rose more than 1%. Investors also rushed into the safety of U.S. government debt, sending the yield on the benchmark 10-year Treasury bond, which moves inversely to its price, to 1.55%.
U.S. equity futures initially dropped as investors digested an onslaught of headlines. Dow Jones Industrial Average futures declined 63 points, or 0.34%, while S&P 500 futures slipped 11 points, or 0.52%, and Nasdaq 100 futures shed 27 points, or 0.60%.  The moves came after a record-breaking week for U.S. stocks. The Dow saw its fourth-consecutive record close to cap the week up more than 2%, while the S&P 500 and Nasdaq Composite notched weekly gains of more than 1.4%.
National Security Council Spokesperson Ned Price said U.S. President Barack Obama's national security team made him aware of the situation on the ground in Turkey, and he will continue to receive regular updates as warranted. Secretary of State John Kerry at a press conference said he, too, is keeping abreast of the developments and hopes "there will be stability, peace, and continuity within Turkey."
Turkish President Recep Tayyip Erdogan, speaking to CNN Turk via the FaceTime feature on a TV presenter's iPhone, said the coup was "encouraged by parallel structure." He vowed the uprising will be "given necessary response," and those participating will "pay heavy price in courts," while calling upon citizens of his country to unite in the streets against the coup.
Laua Wells, a GRN reporter, told FOX Business Network's Deirdre Bolton Erdogan hasn't appeared in public in the last week and is believed to be at a villa in Marmaris off the Aegean coast in Southwest Turkey.