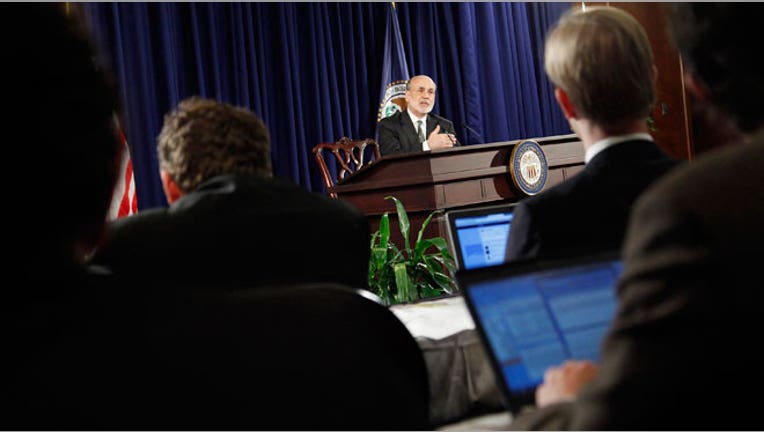 When Wall Street traders want the latest insight on what's going on inside Ben Bernanke's mind, they are increasingly turning to Jon Hilsenrath.
Searching for clues on when the Federal Reserve will remove the easy-money punchbowl, investors closely track stories -- and even rumors of stories -- by Hilsenrath, the well-connected Wall Street Journal reporter who is seen by many as a key conduit of information by top central bank officials.
For example, market watchers blamed a stock selloff last Thursday afternoon on a mere rumor that   Friday's paper would include a story by Hilsenrath about the Fed mapping an exit strategy for quantitative easing.
"There's a leak at The Wall Street Journal," Ed Yardeni, president of Yardeni Research, quipped in a note to clients.
Stocks rebounded when the story didn't materialize -- until it did late Friday, weighing on market sentiment at the outset of this week.
Traders Focus on WSJ
The incident highlights Wall Street's laser-like focus on the Fed's $3 trillion balance sheet as well as some investors' belief that they can gain an edge on monetary policy by reading stories by Hilsenrath and his predecessors at the Journal.
Art Cashin, director of floor operations for UBS (NYSE:UBS) at the New York Stock Exchange, has called Hilsenrath a "friend" of the Fed, while Dan Greenhaus of BTIG said he is seen "as the Fed's PR agent."
To be sure, market participants didn't appear to be suggesting anything sinister on the part of Hilsenrath. Instead, the comments indicate the perception that senior Fed officials may seek to influence market expectations on monetary policy through timely leaks to the Journal.
"My stories are based on a lot of reporting across a wide range of people inside and outside the Fed," Hilsenrath said in an email. "My intent is to accurately inform our readers about what the central bank is up to so they can make their own judgments, to hold the institution accountable and to break news. It is not to be a messenger."
The focus on a single reporter may not be entirely appropriate as investors looking to get an inside track on monetary policy similarly paid close attention to columns by other former Journal reporters, including Greg Ip.
"I'm glad people trust The Wall Street Journal enough to pay attention to our work," Hilsenrath said.
The Journal is a unit of Dow Jones & Co., which is owned by FOX Business parent News Corp. (NASDAQ:NWSA).
Does the Exit Strategy Need a PR Strategy?
The Friday story detailed how Fed officials have drawn up a cautious plan to wind down QE, the $85 billion-a-month program aimed at boosting economic growth by snapping up bonds. The article concluded that while timing remains uncertain, the Fed's strategy may not be the "clear and steady path markets expect based on past experience."
"Officials are focusing on clarifying the strategy so markets don't overreact about their next moves," Hilsenrath wrote.
Some market commentators blamed an early pullback on Monday on apprehension over the story.
"Moderate weakness has crept in, but this is just a reaction to a potentially worrying article in the Wall Street Journal from last week," Chris Beauchamp, market analyst at IG Markets, wrote in a note. "Any discussion regarding an end to QE will unsettle markets, but I suspect the effect from Jon Hilsenrath's article will not last."
From a communications standpoint, it would make a certain amount of sense for Bernanke and other Fed officials to ease the pain of an eventual exit strategy through strategic leaks to the media.
"It's very helpful that you have someone help soften the blow of a transition in policy," said Peter Kenny, chief market strategist at Knight Capital Group (NYSE:KCG).
However, Kenny expressed doubt that top Fed officials are actually leaking hints about policy to the media.
Bernanke's Communications Push
Greenhaus said in the short term there's "no doubt that discussions related to the exit strategy are likely to increase volatility." He added, "The truth is the Fed is probably not totally unhappy about that. The Fed doesn't want to be seen as coming out of nowhere."
Others believe the Fed should avoid sending messages through newspaper stories.
"That'd be a terrible way to implement policy," said Ernie Patrikis, former general counsel of the New York Fed and now a banking partner at White & Case.
Patrikis said he was interviewed three times under oath about leaks during his tenure at the NY Fed.
"The Fed has always prided itself on not leaking. We're not like those other parts of government where people leak all the time like the Justice Department and SEC," said Patrikis.
A spokesman from the Federal Reserve declined to comment.
Compared with his predecessors, Bernanke has been far more forward-leaning in revamping the Fed's communications strategy.
Just a few decades ago, the central bank didn't even publicly announce its interest rate moves, but today's Fed issues detailed policy statements, lagging minutes to its meetings and even holds televised press conferences.
"The Fed has made great strides on the communications side. Leaking to the Journal intra-meeting is not the worst thing they can do," Greenhaus said.