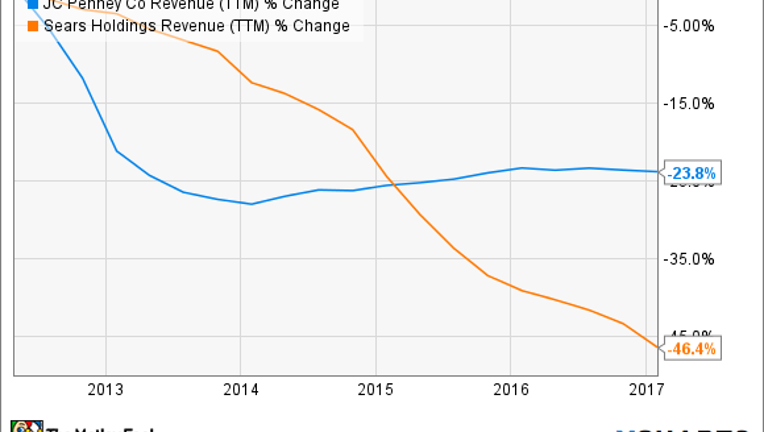 JCPenney (NYSE: JCP) is often considered the poster boy of retail failure. The 114-year-old company thrived for decades in urban centers, then generated robust sales in suburban malls as middle class shoppers moved out of big cities.
But then several powerful headwinds struck, including the growth of internet retailers, waning mall traffic, and the financial crisis of 2008-2009. A doomed turnaround strategy led by former Appleand Target exec Ron Johnson then caused JCPenney to lose over half its market value in less than three tumultuous years.
Image source: JCPenney.
JCPenney stock has fallen more than 90% over the past decade, but short sellers are still aggressively targeting the stock, with 34% of shares shorted as of March 24. That overwhelming bearishness looks bad for the bulls -- but can the stock really fall that much further from current levels? Let's take a closer look at JCPenney's headwinds, tailwinds, growth estimates, and valuations to decide.
No, JCPenney isn't the next Sears Holdings
The bears often compare JCPenney to another fading retailer, Sears Holdings (NASDAQ: SHLD). While both companies face similar challenges, like internet retail and weak brick-and-mortar traffic, JCPenney is in much better shape than Sears.
Between fiscal 2012 and2016, JCPenney reduced its store count by 8% to 1,013 locations. During that same period, Sears reduced its store count by 44% to1,430 locations. If we compare the two companies' revenue growth over the past five years, it's clear that Sears' strategy of closing stores and selling the real estate is exacerbating its revenue declines. Meanwhile, JCPenney's revenue growth mostly stabilized after Ron Johnson was fired in 2013.
Source:YCharts
Looking ahead, analysts expect JCPenney's revenue to fall 1.6%, but Sears is expected to post an 18% drop. JCPenney's operating margin also turned positive over the past two years, thanks to better cost controls, but Sears' operating margin remains negative.
Source:YCharts
That's why analysts expect JCPenney to posta narrow annual profit this year, while Sears' bottom line is expected to remaindeep in the red. Therefore, JCPenney isn't in great shape yet, but it definitely isn't the next Sears Holdings.
How does JCPenney plan to grow again?
Under CEO Marvin Ellison, who took the top job in 2015, JCPenney's turnaround strategy consists of several main strategies.
First, it's forging new partnerships with companies like Ashley Furniture and Empire Today to beef up its home improvement department. That move was clearly inspired by the resilience of home improvement retailers like Home Depot (NYSE: HD) in the face of e-commerce threats. The reason was simple -- consumers generally still wanted to visit stores to test out and buy large home improvement products, and larger products were too costly to ship over long distances. JCPenney also notes that 70% of its customers are homeowners.
JCPenney CEO Marvin Ellison. Image source: JCPenney.
To strengthen its apparel business, JCPenney recently signed a deal to addNike (NYSE: NKE) outlets to 600 of its locations to boost store traffic. This move, which will complement an expansion of its Adidasproducts, targets another weakness in e-tailing -- the need for consumers to try on shoes and athletic apparel before buying.
JCPenney also believes that offering more plus-size apparel -- another market which is tough to address for online apparel retailers -- will boost its brick-and-mortar traffic.It's also investing more heavily in activewear, a category dominated by companies like Lululemon, to reach more female shoppers -- which also account for 70% of its customer base.
On the digital front, JCPenney has been tweaking the functionality of its website. Customer service research firm ForeSee notably ranked JCPenney's website as the fifth best website of 2016, with its overall score rising 300 basis points annually. The company is also relying more on data-driven analytics to make pricing and promotional decisions.
The valuations and the verdict
JCPenney still has lots of work to do before it can achieve consistent growth again, but I believe that Ellison's ability to tether JCPenney to hotter retail trends is getting the company back on the right track. JCPenney's trailing P/E is negative due to its unprofitability over the past year, but it trades at just 10 times forward earnings.
In my opinion, shorting a company which has such a low valuation, high short interest, and improving prospects is a terrible idea. A single positive headline about profit growth or new retail partnerships could spark an overdue short squeeze. Therefore, I'm not suggesting that investors buy JCPenney today, but I think shorting the stock is definitely the wrong play at the wrong time.
10 stocks we like better than J.C. PenneyWhen investing geniuses David and Tom Gardner have a stock tip, it can pay to listen. After all, the newsletter they have run for over a decade, Motley Fool Stock Advisor, has tripled the market.*
David and Tom just revealed what they believe are the 10 best stocks for investors to buy right now... and J.C. Penney wasn't one of them! That's right -- they think these 10 stocks are even better buys.
Click here to learn about these picks!
*Stock Advisor returns as of April 3, 2017
Leo Sun has no position in any stocks mentioned. The Motley Fool owns shares of and recommends AAPL, Lululemon Athletica, and Nike. The Motley Fool has the following options: long January 2018 $90 calls on AAPL and short January 2018 $95 calls on AAPL. The Motley Fool recommends Home Depot. The Motley Fool has a disclosure policy.