InvenSense, Inc. Stock Pops 28% on Acquisition Talks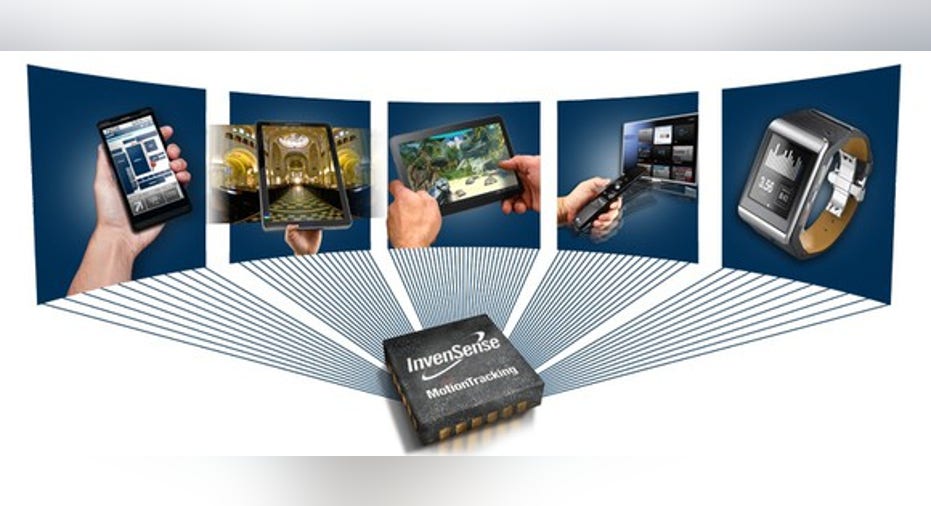 Image source: InvenSense, Inc.
What happened
Shares of InvenSense Inc. (NYSE: INVN)skyrocketed nearly 28% as of 12:30 p.m. EST Friday following reports that Japan's TDK Corp. is in talks to acquire the motion-sensing chip specialist.
So what
More specifically, citing "people familiar with the matter,"Reutersreportedthat TDK has offered $12 per share to acquire InvenSense. That's a 45% premium to InvenSense's opening price today, but still only 3% above the company's 52-week high set almost exactly one year ago.
Recall InvenSense stock plunged hard over the past year due toweakness in its core mobile market. But the stock has also rebounded nicely in recent months as the company works to diversify its revenue streams into other segments, such as optical image stabilization, drones, virtual reality, wearable devices, and smart home solutions.
Last month, InvenSense delivered strong 32% year-over-year revenue growth (to $79.8 million) for its fiscal 2017 second quarter.
"We are encouraged that our R&D [research and development] investments are beginning to pay off with new design wins which we anticipate will allow us to penetrate new markets," saidInvenSense CEO Behrooz Abdi at the time. "While the consumer and mobile markets were and remain soft, we believe this design win activity will position us for strong top line growth in fiscal 2018 as we strive to diversify our business."
Now what
It's no surprise TDK might want to pounce on a potential acquisition at a time when InvenSense is operating from a position of relative strength. And InvenSense is currently trading around $10.50 per share, indicating uncertainty that an acquisition will actually happen. To be sure, InvenSense shareholders should keep in mind that negotiations are still in the early stages. So in the meantime, I think investors would be wise to focus on InvenSense's actual business rather than a buyout when considering the company as a portfolio candidate.
10 stocks we like better than InvenSense When investing geniuses David and Tom Gardner have a stock tip, it can pay to listen. After all, the newsletter they have run for over a decade, Motley Fool Stock Advisor, has tripled the market.*
David and Tom just revealed what they believe are the 10 best stocks for investors to buy right now... and InvenSense wasn't one of them! That's right -- they think these 10 stocks are even better buys.
Click here to learn about these picks!
*Stock Advisor returns as of Nov. 7, 2016
Steve Symington has no position in any stocks mentioned. The Motley Fool owns shares of InvenSense. Try any of our Foolish newsletter services free for 30 days. We Fools may not all hold the same opinions, but we all believe that considering a diverse range of insights makes us better investors. The Motley Fool has a disclosure policy.