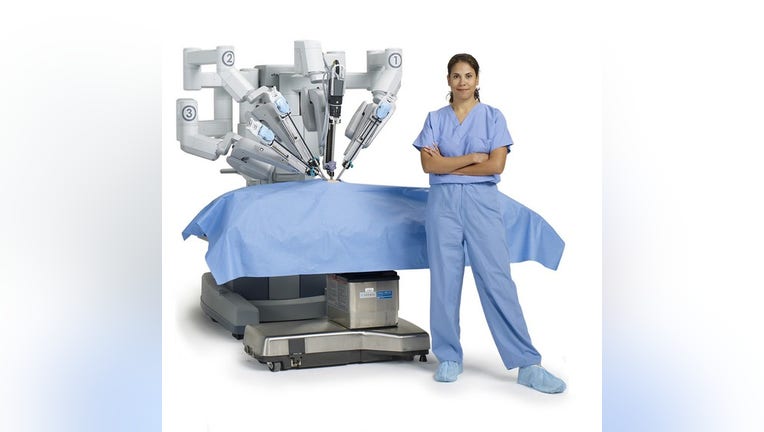 Back in 2014, it looked as if the wheels were coming off Intuitive Surgical (NASDAQ: ISRG), the company behind the da Vinci robotic-surgical system.
Shares had fallen 40% in a little over a year's time, hospitals' purse strings were super-tight with the onset of the Affordable Care Act, and key leaders in the medical field were questioning the machine's necessity in benign hysterectomies, its biggest procedure.
Image source: Intuitive Surgical.
What has followed in the three years since has been unprecedented. In the face of increasing competition and management forecasts that continually call for a slowdown in procedures, the company's robots have gotten more and more popular in hospitals around the world. Consider the following trend.
Data source: SEC filings.
To put this in perspective, most investors would have been thrilled with consistent 10% growth back in 2014. What's happening now is fairly remarkable, and it helps explain why the stock is up almost 125% since then. Let's get into how this happened.
Intuitive Surgical results: The raw numbers
Before diving too deep into the details, let's look at where Intuitive Surgical currently stands based on some raw quarter-end figures.
Data source: Intuitive Surgical.
It's also worth breaking out how the company's three different reporting segments performed.
Data source: Intuitive Surgical.
Instrument revenue tends to mirror procedure growth, so results there should be no surprise. But investors could be forgiven for being somewhat alarmed by the slow growth in da Vinci system sales.
Not to worry, however, as management had a perfectly reasonable explanation: "First-quarter 2017 revenue excludes$23 millionthat was deferred in association with a customer trade-out program that the company plans to offer to certain first quarter customers. Those customers will be offered the opportunity to trade products purchased in the first quarter of this year for products expected to be launched in the future."
In other words, there are new products on the horizon -- the new da Vinci X, which is an upgrade to the Si -- and the company doesn't want customers waiting to buy simply to get a better deal. Overall, the company shipped 133 systems during the first quarter, a 21% increase over last year. And had the deferred revenue not been taken out, systems revenue would have grown 19%.
Procedure growth has two drivers
By far, however, the biggest news was the acceleration of the company's already-impressive procedure growth. Heading into the year, CEO Gary Guthart said management expected procedures to grow between 9% and 12%.
The impressive performance was "driven primarily by growth in U.S. general surgery procedures and worldwide urologic procedures," he said.
The former should be nothing new to longtime shareholders. Colorectal and -- in particular -- hernia operations have been strong growth engines.
But growth outside the U.S. was even more impressive. Procedures grew 28% internationally, "led by Europe, China, and South Korea,"said Patrick Clingan, VP of finance. Just as encouraging, the company placed 56 systems internationally, a 56% jump. And that came in the face of little to no growth from China because of the lack of new quotas.
Looking ahead
Intuitive is continuing to invest aggressively in R&D. For the first quarter, spending was up 38% for the division.
"We have ramped our operating expenses as we focus on execution," said Calvin Darling, senior director of finance, stated,adding that overall operating expenses would come in at the high end of management's previous forecast -- meaning a likely jump of 19%.
The company also announced that it will be delaying the rollout of its single-port (Sp) platform by one to two quarters. Said Guthart:
On the procedure front, expectations were lifted from a previous range of 9% to 12% growth to a new range of 12% to 14%. Investors should keep in mind that management stated many times that procedure growth is expected to slow for the rest of the year.
That said, Intuitive continues to drive adoption of its machines in procedures across the world -- a trend that has been a huge boon to Foolish investors.
10 stocks we like better than Intuitive SurgicalWhen investing geniuses David and Tom Gardner have a stock tip, it can pay to listen. After all, the newsletter they have run for over a decade, Motley Fool Stock Advisor, has tripled the market.*
David and Tom just revealed what they believe are the 10 best stocks for investors to buy right now... and Intuitive Surgical wasn't one of them! That's right -- they think these 10 stocks are even better buys.
Click here to learn about these picks!
*Stock Advisor returns as of April 3, 2017
Brian Stoffel owns shares of Intuitive Surgical. The Motley Fool owns shares of and recommends Intuitive Surgical. The Motley Fool has a disclosure policy.