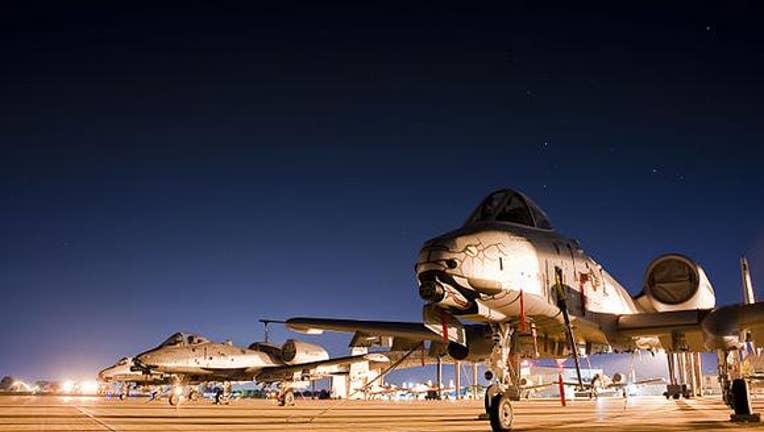 Image source: U.S. Air National Guard photo by Staff Sgt. William Hopper.
According to the U.S. Air Force, it costs anywhere from $700 million to $840 million per year to operate and maintain America's fleet of 300-odd A-10 Warthog bombers. The U.S. Government Accountability Office says USAF overstates the case, but if that number is accurate, the Air Force could skip hiring Boeing to replace the wings on a lot of A-10s, and quit paying Northrop Grumman to maintain them -- in order to save enough money to buy seven or eight of Lockheed Martin'sshiny new F-35 fighter jets instead. Soisthe U.S. Air Force right about that?Figuring out how much a warplane costs to buy is pretty easy. Every time the Air Force buys one, that information -- the plane purchased, whether it's Northrop Grumman, Boeing, or Lockheed Martin that builds it, and how much they charge -- gets published almost immediately on the Pentagon's daily list of contract awards. But figuring out the cost of maintaining and flying those planes day to day? Determining which weapons are most cost-effective, such that the companies that make them are likely to win more business from the Pentagon? That's all a bit trickier.
In fact, this information is so hard to come by that last year, I filed a Freedom of Information Act (FOIA) requestwith the U.S. Air Force to get some answers. What I received in response was a pages-long printout showing:
every active aircraft in the U.S. Air Force arsenal
the number of hours they flew in 2014 (the most recent full year for which data was available)
their cost to operate, including everything from maintenance costs to fuel costs to pilot salaries, and
for easier apples-to-apples comparison, their "ownership cost per flight hour," including the cost of any repairs or upgrades made to the aircraft during the year.
Parsing all of this information is going to take some time, but this is the kind of information that investors in Northrop Grumman, Boeing, and Lockheed Martin require when making their investment decisions. Rest assured that we're working our way through the data.
And to start the process, let's go through a quick rundown of the top 10 most expensive aircraft (to fly) in the U.S. Air Force arsenal, which company makes them -- and what implications this data holds for investors.
Introducing the U.S. Air Force's Top 10 Priciest Planes (to Fly) from The Motley Fool.
The article Introducing the U.S. Air Force's Top 10 Priciest Planes (to Fly) originally appeared on Fool.com.
Rich Smithdoes not own shares of, nor is he short, any company named above. You can find him onMotley Fool CAPS, publicly pontificating under the handleTMFDitty, where he's currently ranked No. 298 out of more than 75,000 rated members.Follow him on Facebook for all the latest indefense news.The Motley Fool has no position in any of the stocks mentioned. Try any of our Foolish newsletter services free for 30 days. We Fools may not all hold the same opinions, but we all believe that considering a diverse range of insights makes us better investors. The Motley Fool has a disclosure policy.
Copyright 1995 - 2016 The Motley Fool, LLC. All rights reserved. The Motley Fool has a disclosure policy.