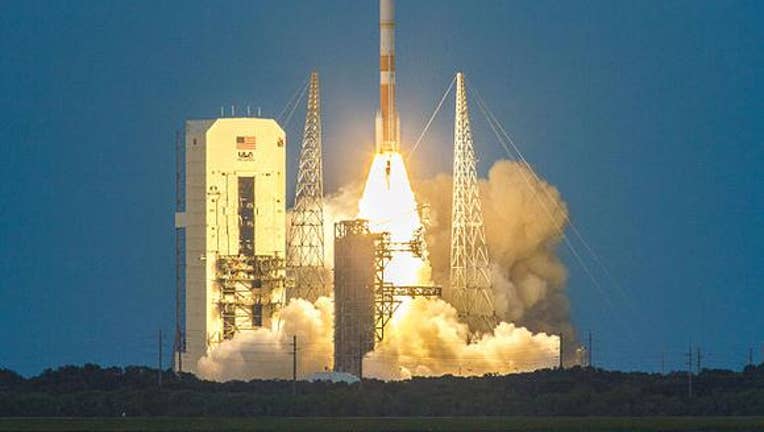 ULA's Delta IV rockets help send NASA satellites into space -- and could do the same for your investments. Image source: Michael Seeley viaWikimedia Commons.
2015 has been a big year for space news. So far, we've seen SpaceX get the green light to compete for "Category-2" NASA space missions -- and for U.S. Air Force military launches, as well. Elon Musk's Blue Origin landed a big contract fromLockheed Martin -- then re-landed a rocket after sending it into outer space.
In perhaps the biggest sign that "the times, they are a-changin'," Boeing -and-Lockheed joint venture United Launch Alliance recently announced it's dropping out of the competition to put Air Force GPS satellites into orbit. Among other reasons, ULA says its current rocket fleet simply cannot compete with SpaceX on price.
In many ways, there's a changing of the guard afoot at NASA, as historically dominant, publicly traded aerospace companies see their businesses disrupted, and new privately owned up-and-comers take their places. One day soon, perhaps, we'll get a chance to invest in companies like Blue Origin and SpaceX.
For the time being, however, giants like Boeing and Lockheed Martin, Orbital ATK and Aerojet Rocketdyne, continue to do important work for NASA on projects ranging from the International Space Station to a planned mission to Mars-- and there's still plenty of opportunity to own a piece of the "space race" in the form of the companies NASA is working with today.
Eager to get started? Then take a quick click-tour through the following slideshow, and see whether you can spot an opportunity or three.
Introducing NASA's Top 10 Contractors from The Motley Fool.
The article Introducing NASA's Top 10 Contractors originally appeared on Fool.com.
Rich Smith does not own shares of, nor is he short, any company named above. You can find him on Motley Fool CAPS, publicly pontificating under the handle TMFDitty, where he's currently ranked No. 310 out of more than 75,000 rated members.The Motley Fool recommends Orbital ATK. Try any of our Foolish newsletter services free for 30 days. We Fools may not all hold the same opinions, but we all believe that considering a diverse range of insights makes us better investors. The Motley Fool has a disclosure policy.
Copyright 1995 - 2015 The Motley Fool, LLC. All rights reserved. The Motley Fool has a disclosure policy.