Intrexon's Biggest Risk Front and Center in Third-Quarter 2016 Earnings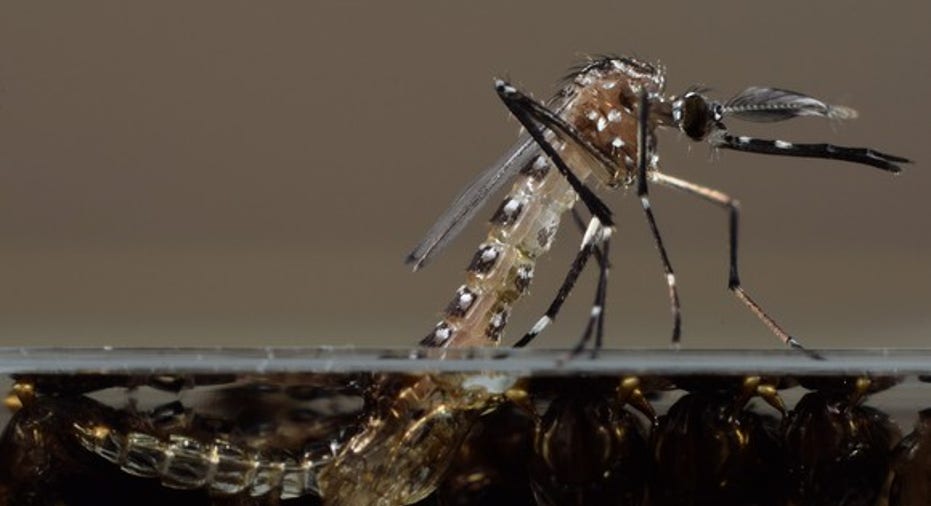 Image source: Oxitec.
Engineered-biology conglomerate Intrexon (NYSE: XON) reported third-quarter 2016 earnings with an extra dose of excitement on Wednesday: an important update on its commercialization plans for genetically modified mosquitoes aimed at combating mosquito-borne diseases including Zika virus and yellow fever. While the update wasn't the absolute best investors could have hoped for, there's not a whole lot that will stop the eventual approval of the tool at this point. Investors only have to await the answer to one question: when?
Given the disappointing details of the financial performance reported by Intrexon for the recent quarter and the year to date, approval cannot come soon enough.
By the numbers
You can view the press release for the full financial numbers, but here are the important metrics from the most recent quarter:
Data source: Intrexon.
That's a pretty depressing table for investors. Intrexon's business is bringing in less money at the top line, spending significantly more in expenses, and churning out even bigger losses at the bottom line. Worse yet, it doesn't get better when investors view important financial metrics for the first nine months of 2016 compared with the same period of last year:
Data source: Intrexon.
This table appears to show more progress, but the details quickly pick apart first impressions. While revenue grew 9.7% in the year-over-year comparison, all of the gains were driven by the riskiest parts of the company's business: collaboration and licensing revenue and service revenue. The least risky revenue -- from selling actual products -- is actually shrinking. As I've explained several times before, Intrexon generates a worrisome amount of revenue from partner companies with a market cap less than $1 billion. That's not what investors would expect if Intrexon was actually a technology leader in its space (which is in serious doubt) as it continuously boasts.
One of the company's closest partners, Ziopharm Oncology, with a market cap of just $817 million, has accounted for nearly 30% of all collaboration and licensing revenue this year. That dependence is up from just 20.5% of the total segment's revenue at this point last year. History suggests that won't be sustainable. In fact, two other companies -- Oragenics and Fibrocell Science -- contributed over 60% less to collaboration and licensing revenue for Intrexon this year than at the same point in 2015, or $9.8 million less. They have a combined market capitalization of $43.3 million. When Intrexon's tiny partners suffer, so do its own investors.
The table for the first nine months of 2016 also appears to show a sharply improving line for R&D expense, which was nearly one-third lower than in the same period of 2015. However, the amount from last year includes a $59.6 million payment of common stock paid to MD Anderson. Adjusted for that all-stock transaction, R&D expenses have actually increased 35% so far this year.
The combination of expense-heavy operations and a shrinking revenue base, notwithstanding the riskiness of its sources, resulted in a $55.1 million negative swing in operating cash flows for Intrexon so far this year. That's not a great sign for the validity of the company's business model, which seeks to finance R&D through partner and customer funding on the road to long-term success in product launches.
Outlook
Intrexon doesn't provide a financial outlook, but investors received an update on the path to commercialization for genetically modified mosquitoes aimed at controlling the spread of insect-borne diseases. Two counties in the Florida Keys placed a non-binding referendum on the ballot in Tuesday's General Election on whether the company and its subsidiary, Oxitec, could release GM mosquitoes in their backyards. The results were mixed.
In Monroe County, 58% of voters favored the trial.
But in Key Haven, 65% of voters opposed a trial.
That's an interesting result for a few reasons, but it doesn't provide any more clarity for investors. So what will happen? Since the field trials are site-specific, Oxitec will need to visit with the U.S. Food and Drug Administration to relocate the planned trial in Key Haven. Because the vote took place in a non-binding referendum there's still a chance that the trial goes through against the wishes of citizens. However, given the relatively heavy opposition in Key Haven, I wouldn't expect that to occur. Either way, investors can expect both trials to be delayed at least another several months while sites are determined.
What does it mean for investors?
Intrexon operates a relatively complex business with dozens of moving parts. That makes it easy for the company to report adjusted non-GAAP results that make operations appear healthier than they are in reality. While non-cash charges -- namely stock-based compensation -- weigh heavily on GAAP results, they, too, bear risks that investors should consider. Given those circumstances, shareholders need the company to generate substantially more product revenue as quickly as possible. The good news is that the company has a healthy pipeline of products launching or nearing commercialization. The bad news is that they can't begin contributing to the top and bottom lines soon enough.
10 stocks we like better than Intrexon When investing geniuses David and Tom Gardner have a stock tip, it can pay to listen. After all, the newsletter they have run for over a decade, Motley Fool Stock Advisor, has tripled the market.*
David and Tom just revealed what they believe are the ten best stocks for investors to buy right now... and Intrexon wasn't one of them! That's right -- they think these 10 stocks are even better buys.
Click here to learn about these picks!
*Stock Advisor returns as of November 7, 2016
Maxx Chatsko has no position in any stocks mentioned. Follow him on Twitterto keep up with developments in engineered biology and materials science.
The Motley Fool has no position in any of the stocks mentioned. Try any of our Foolish newsletter services free for 30 days. We Fools may not all hold the same opinions, but we all believe that considering a diverse range of insights makes us better investors. The Motley Fool has a disclosure policy.