Intrexon Corporation Shares Were Stung in April -- Here's Why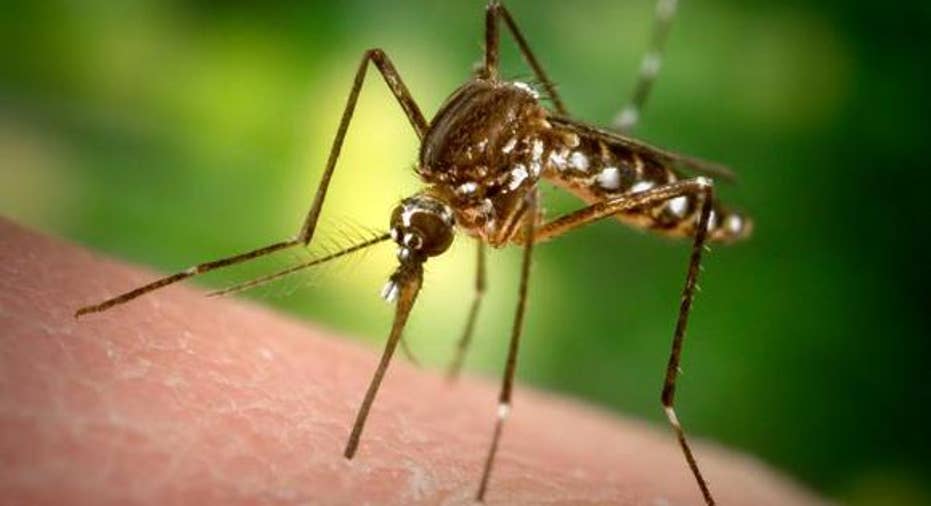 Aedys Aegypti mosqutio. Image source: Centers for Disease Control and Prevention.
What: Shares of Intrexon , a biotechnology company focused on creating therapies to control gene regulation, were stung in April, tumbling 21%, according to data from S&P Global Market Intelligence.
So what: There appear to be two primary causes for Intrexon's valuation implosion in April.
First, a report issued by Spotlight Research on April 21 questioned whether or not Intrexon was deserving of a valuation approaching $5 billion considering its subsidiary, Oxitec, which it acquired in 2015 and is working on a solution to the Zika virus, may not have an economically viable solution. Oxitec's solution of modifying the genetic makeup of male Aedys aegypti mosquitoes to pass along a gene that shortens the next generation's lifespan, halting the breeding process, has been around for a while, but it hasn't really caught on.
Image source: Centers for Disease Control and Prevention.
The other issue relates to residents in Florida who are petitioning the Food and Drug Administration not to use their state to run a clinical test. The idea would be to release Intrexon's modified male mosquitoes in Florida in an effort to control the Aedys aegypti population. However, nearly 11,000 signatures suggest that there are concerns regarding the safety of these modified mosquitoes, even though the FDA has cleared them as safe for the environment.
Now what: Intrexon is certainly set up to be a battleground stock in 2016, but I believe it's for all the wrong reasons. Even if Intrexon has the only commercial viable Zika solution that's demonstrated success in Brazil, Panama, and the Cayman Islands, its solution at its peak is only expected to generate $200 million to $400 million in annual sales, according to various analyst estimates. However, if global health agencies work to control the Zika virus, which seems increasingly likely, Intrexon's moat of opportunity to control Zika could be limited at best (assuming it gets the green light from the FDA).
It's long been a contention of mine that Intrexon's real value is tied up in its collaboration with Ziopharm Oncologyto develop CAR-T immunotherapies. With CAR-T, researchers harvest patients' T-cells, genetically modify them to produce chimeric antigen receptors (CARs) that can help locate and bind to cancer cells, and finally inject those cells back into the body. Intrexon's role is to provide its RheoSwitch technology that can effectively turn genes on or off, ensuring that a patient's immune system remains supercharged only for a relatively short period of time. The potential of CAR-T is where the bulk of Intrexon's valuation derives from, and it's what I strongly suggest investors pay close attention to instead of hoping that Intrexon's Zika virus solution becomes a winner.
The article Intrexon Corporation Shares Were Stung in April -- Here's Why originally appeared on Fool.com.
Sean Williamshas no material interest in any companies mentioned in this article. You can follow him on CAPS under the screen nameTMFUltraLong, track every pick he makes under the screen name TrackUltraLong, and check him out on Twitter, where he goes by the handle@TMFUltraLong.The Motley Fool has no position in any of the stocks mentioned. Try any of our Foolish newsletter servicesfree for 30 days. We Fools may not all hold the same opinions, but we all believe thatconsidering a diverse range of insightsmakes us better investors. The Motley Fool has adisclosure policy.
Copyright 1995 - 2016 The Motley Fool, LLC. All rights reserved. The Motley Fool has a disclosure policy.