Intrexon and Zika Virus: An Interview With Oxitec's Hadyn Parry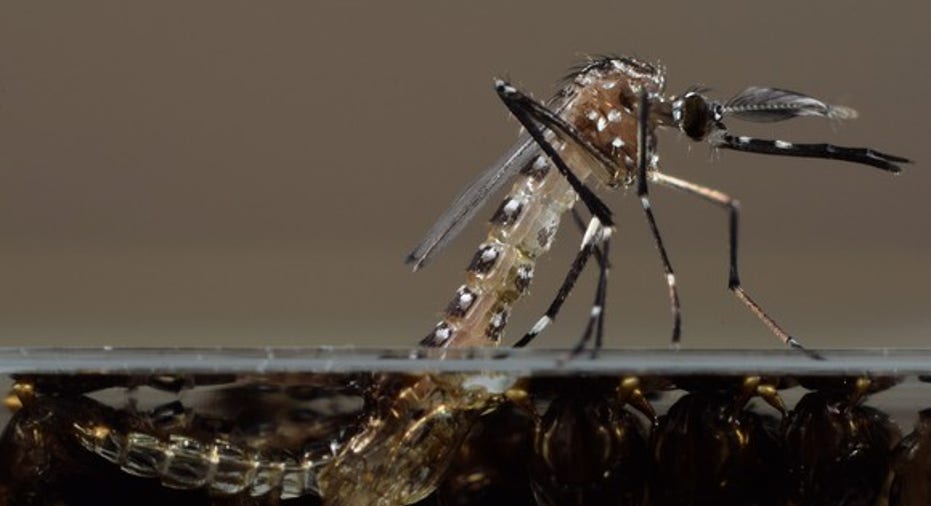 A mosquito emerging from water for the first time.Image source: Oxitec.
I recently spoke with Oxitec CEO Hadyn Parry about the company's self-limiting insect platform, which was acquired by engineered biology conglomerate Intrexon in 2015. Aimed at controlling agricultural pests and mosquito-borne illnesses, such as dengue, malaria, and yellow fever, the little-known platform has been catapulted by the post-acquisition emergence of Zika virus to the front pages of publications across the globe.
Given the widespread coverage and fast pace of developments, Intrexon investors might be wondering how to size up the opportunity ahead. What's the timeline for deployment? What are regulatory bodies waiting for? Parry and I discussed these questions and more.
Self-limiting mosquitoes in Brazil
Oxitec developed a process for engineering insects to contain a self-limiting gene: The insects are released into the wild, they mate with local populations, and they create offspring that cannot survive to adulthood. By definition, the self-limiting genes cannot persist in the wild. And unlike insecticide spraying, the genes have no off-target effects; only one species is affected. It's a uniquely efficient and low-impact tool for controlling wild populations of insect pests.
In 2014 Brazil's National Biosafety Committee, or CTNBio, gave the green light to release the genetically engineered mosquitoes throughout the country, which has the highest incidence of dengue in the Western Hemisphere. The decision paved the way for a partnership between the company and the city of Piracicaba, Brazil. A pilot program released self-limiting mosquitoes over a small area, protecting about 5,000 people from mosquito-borne diseases.
Parry highlighted the results, which were overwhelmingly positive after just the first year:"We were able to reduce mosquito larvae populations by 82%. The region of Piracicaba participating in the pilot reported just five cases of dengue during the program, compared to 130 in the previous year."
The success prompted the city and Intrexon to expand the project earlier this year to protect up to 60,000 people in Piracicaba, although the manufacturing facility under construction nearby will be capable of producing enough mosquitoes to protect the city's entire population of about 300,000 people.
Mosquitoes being released in Piracicaba.Image source: Oxitec.
How should investors think about the revenue potential for the platform?
Parry said the proper unit is "revenue per person," adding that the company is generating "roughly $8 to $10 per person" in Piracicaba. That will vary in each jurisdiction and change as the technology matures, but it extrapolates quite favorably for investors when you consider that tens of millions of people in Brazil and the United States are affected by mosquito-borne illnesses. It's also worth noting that Brazil (which, unlike the United States, has dealt with public health threats from mosquitoes for decades) allocated $330 million for mosquito-control measures in 2015 at the federal level, which doesn't include local budgets or emergency allocations.
American regulatory pathway
Intrexon's self-limiting mosquitoes are unlikely to be used more broadly in 2016 for a couple of unsurprising reasons.
First, the technology isn't fully approved by regulators in Brazil or the United States, although Oxitec is working its way through processes in each country. Brazil had to create an entirely new regulatory pathway to ensure a thorough and proper review of the new product class, which Parry explained in comparison to insecticides:
Parry also explained the procedures for gaining approval in the United States, where the self-limiting mosquitoes are being regulated as an Investigational New Animal Drug. The U.S. Food and Drug Administration recently issued a preliminary finding of "no significant impact" on the environment or human health from the engineered mosquitoes, which could become a final ruling after public comments are reviewed. That's only part of the process, however. If a planned trial in the Florida Keys demonstrates the claims made by Oxitec, then the technology could gain FDA approval -- which most states will likely adhere to, although some could ask for additional trials -- in time for mosquito season in 2017.
Of course, the FDA has been known to drag its feet before. It took nearly two decades for genetically engineered salmon (now,coincidentally, owned by Intrexon) to gain the institution's approval.
Parry said there is one way to deploy the technology today, but it requires a special emergency authorization by regulators and health officials. (It's important to note we were discussing all possible scenarios, and he wanted to be clear that emergency authorization is merely a hypothetical at this point.) That could be possible in Puerto Rico, Parry told me:
It's no joke. The Centers for Disease Control estimates that 25% of the island's population -- over 875,000 people -- could contract Zika virus in the first year. The institution has placed Puerto Rico under a Level 2 Alert. A Level 3 Warning is the highest rating, which would instruct people to avoid nonessential travel to the tourism hot spot and likely have disastrous consequences for the local economy.CDC director Dr. Tom Frieden also recently noted: "Our birth defects specialists tell us a single child with birth defects can usually cost $10 million to care for or more."
Mosquito larvae in one of Oxitec's production facilities in Brazil.Image source: Oxitec.
The second reason not to expect rapid deployment in 2016 is that manufacturing capabilities take time to build out. While they are not very capital-intensive, relatively speaking, a certain level of regulatory certainty is needed before Intrexon starts erecting mosquito factories. Parry had a great analogy for how the platform could scale once regulatory approvals are granted:
Who knew rearing mosquitoes could be compared to bottling Coca-Cola?
What about other mosquito-control tools?
I recently compared Oxitec's self-limiting mosquitoes to those of biotechnology start-up MosquitoMate, which spread bacterial infections through wild populations. Each platform usesonly males for mosquito-control tools. Parry says MosquitoMate's is an interesting approach with some notable limitations:
Additionally, he added that his company'spublic outreach program has worked nonstop to educate the public and answer questions. There appears to be little resistance to releasing genetically modified mosquitoes:
What does it mean for investors?
Intrexon's self-limiting mosquitoes could become the default tool used to combat mosquito-borne diseases -- and one of the biggest sources of revenue for the company. However, it will take time to clear the few remaining regulatory hurdles and make the necessary investments in manufacturing infrastructure. While investors should maintain realistic expectations, there won't be much else standing in the way.
The article Intrexon and Zika Virus: An Interview With Oxitec's Hadyn Parry originally appeared on Fool.com.
Maxx Chatskohas no position in any stocks mentioned.Follow him on Twitterto keep up with developments in the engineered biology field.The Motley Fool recommends Coca-Cola. Try any of our Foolish newsletter services free for 30 days. We Fools may not all hold the same opinions, but we all believe that considering a diverse range of insights makes us better investors. The Motley Fool has a disclosure policy.
Copyright 1995 - 2016 The Motley Fool, LLC. All rights reserved. The Motley Fool has a disclosure policy.