International Paper Buys Weyerhauser -- but Not All of It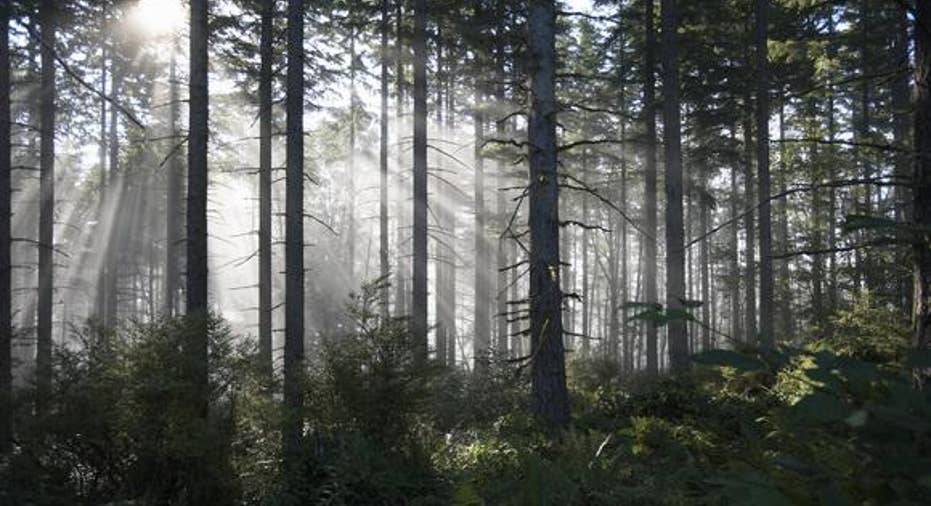 Agreeing to a $2.2 billion buyout, Weyerhauser sees the forest for the trees.
The news is out. International Paper is buying Weyerhauser's wood pulp business. In the process, it's helping Weyerhauser transform itself into a pure-play timberland REIT.
The newsAs announced last week, International Paper has agreed to pay $2.2 billion to acquire much of Weyerhauser's cellulose fibers division, specifically those portions producing absorbent wood "fluff pulp" used in such products as diapers, tissues, and textiles. International Paper will be paying in cash and structuring the purchase as an asset purchase of seven Weyerhauser factories (as opposed to buying these same assets as a working subsidiary). According to IP, under the tax laws, this will allow it to claim $300 million in tax credits, reducing its own effective cost to $1.9 billion.
For its part, Weyerhauser saysit will net $1.6 billion after taxes, and that it will use this money to pay down its $4.4 billion net debt load.
What does all this mean for investors in the two companies?
What it means for International PaperAccording to data from S&P Global Market Intelligence, Weyerhauser's cellulose fibers division produced revenue of just under $1.9 billion last year -- but that number includes sales of "liquid packaging board" and also "newsprint and publishing papers," businesses Weyerhauser is hanging on to for the time being. Thus, while we can't be certain of the exact figure, International Paper appears to be paying something more than one times annual sales for Weyerhauser's fluff pulp assets.
Is that a fair price? Well, for comparison, International Paper stock costs only 0.8 times sales, so at first glance, this doesn't look like much of a bargain. On the other hand, Weyerhauser's cellulose fibers division earned operating profit margins of 12% last year. International Paper, on the other hand, made less than 11%.
If IP is paying a bit of a premium for its new assets, at least they're more profitable assets than what it already had in hand. Looked at that way, investors in International Paper stock can probably rest easy: They're not getting a great deal, but they're not getting all that bad of a deal, either.
What it means for WeyerhauserFrom Weyerhauser investors' perspective, the situation is a bit more complicated. Cellulose fibers was never Weyerhauser's most profitable business to begin with. (That would be timberlands, with an operating profit margin north of 25%.) On the other hand, fluff pulp wasn't a horrible business to be in, either. Its 12% profit margin was twice what Weyerhauser gets from selling simple wood products (lumber).
So, why is Weyerhauser selling fluff pulp but keeping wood products? Management's thinking goes like this: It likes the basic business of buying and selling wooded land plots, and selling the wood that grows thereon. It wants to focus on this business and is unloading the value-added fluff pulp business as not core to its desired business. For similar reasons, Weyerhauser will probably exit its liquid packaging board and newsprint businesses eventually, but it's still mulling its options on those two.
As far as the price goes, Weyerhauser will be paid something more than one times sales -- a fair price for a non-core business, which is also its smallest business, and which generates half of the profit margins of those generated in timberlands. Plus, with the cash it receives, Weyerhauser can pay off more than a third of its net debt.
It looks like a fair deal to me, and I think investors who sold off Weyerhauser stock (it's down about 1.5% since the sale was announced) are overreacting.
The article International Paper Buys Weyerhauser -- but Not All of It originally appeared on Fool.com.
Rich Smithdoes not own shares of, nor is he short, any company named above. You can find him onMotley Fool CAPS, publicly pontificating under the handleTMFDitty, where he's currently ranked No. 293 out of more than 75,000 rated members.The Motley Fool has no position in any of the stocks mentioned. Try any of our Foolish newsletter services free for 30 days. We Fools may not all hold the same opinions, but we all believe that considering a diverse range of insights makes us better investors. The Motley Fool has a disclosure policy.
Copyright 1995 - 2016 The Motley Fool, LLC. All rights reserved. The Motley Fool has a disclosure policy.