International Business Machines Corporation: The Bear Case from a Bull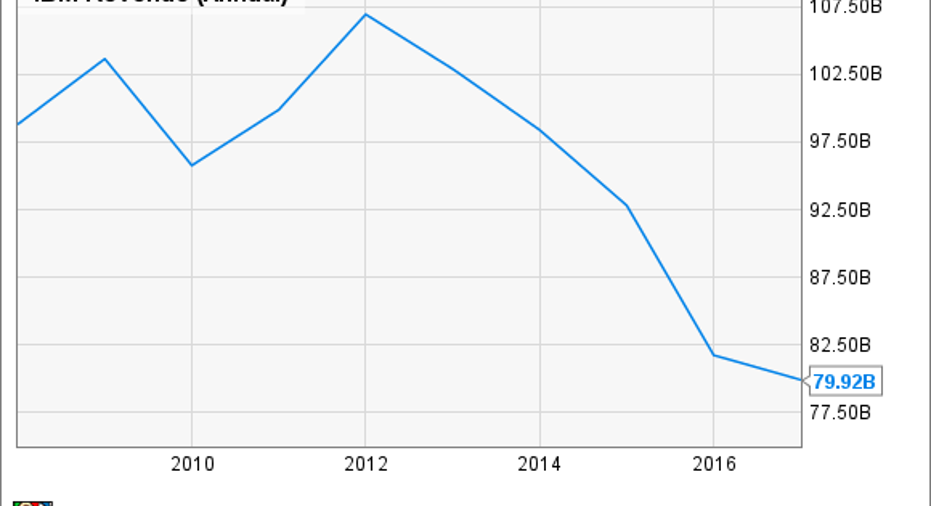 Recently, I've been bullish on International Business Machines' (NYSE: IBM) opportunity in the machine learning space. The company's Watson machine learning service is helping enterprise companies sift through massive amounts of their own data and pull out the most useful information for their businesses.
The company's ability to sell Watson as a service to other companies is part of the broader machine learning as a service (MLaaS) segment, which is expected to be worth $19.8 billion by 2025, according to Transparency Market Research.
Image source: Getty Images.
This represents just one opportunity that IBM is likely to benefit from, but the company's most recent earnings release poured some cold water on investors that may have been warming to the company.
IBM reported falling revenue for the 20th consecutive quarter and saw margins fall below their usual levels. While I think IBM is still on a solid longterm path, let's take a quick look at why these two recent problems might open up a bear case for the stock:
This doesn't look good
IBM earned about 44% of its total revenue from its Technology Services and Cloud business segment, and in the first quarter revenue in this category fell by 2.5% year over year (2% after adjusting for currency changes).
As it's the company's largest revenue segment, it's obviously important for IBM to prove that it can grow in this area. IBM's CFO,Martin Schroeter, said on the earnings call that, "While we had some substantial relationships lined up, we did not get them closed by quarter end, which impacted revenue in the period."
One quarter of misses in this segment isn't all that big of a deal of course, but it does put additional pressure on IBM in the coming quarters to deliver on some of the deals it's failed to finalize. And with the company now entering five years of declining revenue, it's certainly something investors need to see.
But that drop wasn't the only thing that's working against IBM right now. The company also saw profit margins fall in Q1.IBM acknowledged that the company needs to make improvements on its margins, withSchroeter saying,
Morgan Stanleyanalyst Katy Huberty said in an investor note that she remains bullish on IBM but, "If we don't see meaningful strides" toward year-over-year gross margin stability later in the year then the company would lean toward her bear case share price estimates.
It's not all that bad
IBM isn't out of the woods just yet. Investors should certainly keep a close eye on whether or not the company brings its margins back up to speed, and if it can grow revenues across all of its major segments.
But investors should remember that the company is a dominant player in the machine learning and cloud computing markets. IBM made a lot of investments in its future last year, and it's going to take more than a couple of quarters to see those pay off. Patient investors will likely see better results from the company in the near future as it begins to capitalize on its full potential.
10 stocks we like better than IBMWhen investing geniuses David and Tom Gardner have a stock tip, it can pay to listen. After all, the newsletter they have run for over a decade, Motley Fool Stock Advisor, has tripled the market.*
David and Tom just revealed what they believe are the 10 best stocks for investors to buy right now... and IBM wasn't one of them! That's right -- they think these 10 stocks are even better buys.
Click here to learn about these picks!
*Stock Advisor returns as of April 3, 2017
Chris Neiger has no position in any stocks mentioned. The Motley Fool has no position in any of the stocks mentioned. The Motley Fool has a disclosure policy.