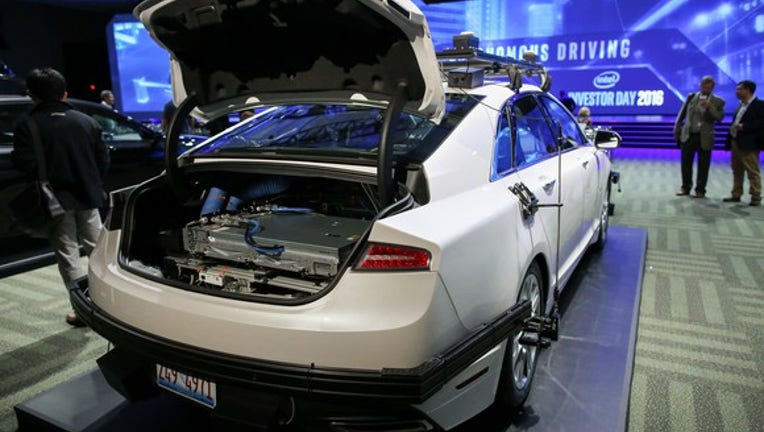 Intel (NASDAQ: INTC) recently appointed former Chief Financial Officer (CFO) Stacy Smith as the Executive Vice President responsible for the company's sales, manufacturing, and operations -- arguably making him the most powerful executive at Intel next to only CEO Brian Krzanich.
Image source: Intel.
Smith recently presented at an investor conference, offering up a wealth of insights into how the company will need to transform its go-to-market strategy as it more aggressively targets the growing Internet of Things market (a market in which Intel is already doing surprisingly well).
Let's take a closer look at what he had to say, shall we?
Then and now
Smith began by saying that the company's sales force "has been designed over the years to be a very efficient functional model."
To understand what Smith is saying here, it's important to know what a functional sales model is. Website PM Study Circle has a good explanation of what a functional organization structure is like:
Going forward, though, Smith says that the company is "toggling toward a sales force that's actually aligned by vertical markets."
"And so, we will have a dedicated sales force, for example, for automotive that have very deep skills in that space and can go in to a customer like a BMW or a Delphi, which was announced by them this morning, and do a solution sale that touches all the different parts of Intel," Smith elaborated.
Intel is really taking the Internet of Things seriously
Intel's Internet of Things business certainly isn't large enough today to really move the needle for the company -- it brings in less than $3 billion in annual revenues to a company that's expected to bring in more than $58 billion in revenue this year.
In other words, upside in this business can't offset significant weakness in the company's much larger Data Center Group (DCG) or Client Computing Group (CCG), and weakness in it can't offset good news from either of those two businesses. At least not today.
However, if we look at it from a long-term perspective, the potential is clearly there. In 2015, this business segment generated about $2.3 billion in sales, and year-to-date the business has grown by a little more than 14% year-over-year (we'll see the final growth figure for the year when Intel reports its financial results on Jan. 26).
Just for the sake of argument, let's assume that Intel can wring out a 15% compounded annual growth rate from this business over the course of the next five years. This business that brought in just $2.3 billion in revenue during 2015 could be a $4.5 billion business by the time 2020 rolls around.
At that point, it'd still be a small part of Intel's total revenue, but a $4.5 billion Internet of Things business, combined with a non-volatile memory business that could conceivably grow from around $2.6 billion to roughly $4.5 billion by then, would be $9 billion in non-DCG and non-CCG revenue.
Throw in Intel's Programmable Solutions Group (PSG) (formerly Altera) and assume that it can get to $2 billion+ revenue by 2020, and Intel now has a trio of non-DCG, non-CCG businesses that together add up to $11 billion in annual revenue.
That, collectively, could be enough to compensate for weaknesses or augment strengths elsewhere. And I think that's been Intel's point for quite a while now.
It'll be interesting to see what the chip giant's business ultimately looks like in five-to-ten years.
10 stocks we like better than Intel When investing geniuses David and Tom Gardner have a stock tip, it can pay to listen. After all, the newsletter they have run for over a decade, Motley Fool Stock Advisor, has tripled the market.*
David and Tom just revealed what they believe are the 10 best stocks for investors to buy right now... and Intel wasn't one of them! That's right -- they think these 10 stocks are even better buys.
Click here to learn about these picks!
*Stock Advisor returns as of Nov. 7, 2016
Ashraf Eassa owns shares of Intel. The Motley Fool recommends Intel. Try any of our Foolish newsletter services free for 30 days. We Fools may not all hold the same opinions, but we all believe that considering a diverse range of insights makes us better investors. The Motley Fool has a disclosure policy.