Intel Spends $15.3 Billion to Own Its Share of the Self-Driving Future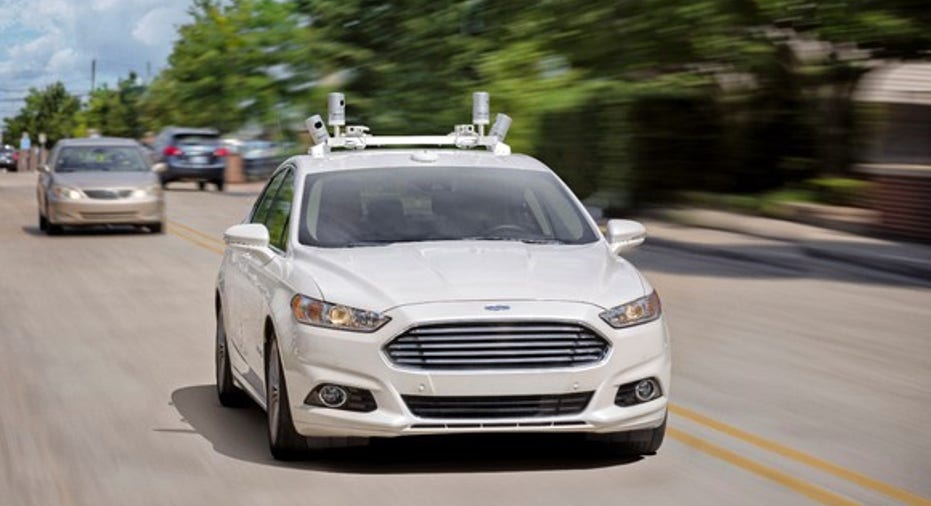 It's been clear for some time now that the automotive industry is on the verge of evolving more over the next two decades than it has in the past hundred years. Further proof came Monday morning when Silicon Valley pushed more chips onto the table with Intel Corporation (NASDAQ: INTC) announcing it would acquire Mobileye (NYSE: MBLY), a leader in developing driverless car technology.
By the numbers
Intel's deal to purchase Mobileye came with a $15.3 billion price tag, a hefty sum that valued Mobileye at $63.54 per share. That's a 34% premium to Mobileye's price at Friday's close, and is the driving force behind the company's 30% surge in stock price Monday morning.
While this move was unforeseen, it does make a lot of sense and is just one of many recent big moves in the automotive industry. Intel already had made a move to buy a 15% stake in digital map-making company Here International B.V., to own more navigation technology. Samsung Electronics made its own move a week ago when it closed an $8 billion deal to purchase Harman International, a company devoted to designing and engineering connected products and solutions for automakers.Even the automotive industry's own General Motors spent roughly $1 billion to purchase Cruise Automation to ignite its own self-driving research, and has invested $500 million in ride-hailing company Lyft in its effort to bulk up smart mobility projects.
Ford's Fusion testing self-driving technology. Image source: Ford Motor Company.
A big step forward
In the press release announcing the acquisition, Ziv Aviram, Mobileye co-founder, president and CEO, said:
What's in it for Intel?
Intel paid a hefty price tag for Mobileye, which generated a modest $358.2 million in revenue last year. But Intel is getting a serious foot in the door of markets it wants to dominate in the future.
Image source: Intel Corporation Mobileye acquisition presentation.
Mobileye brings a lot to the table in that regard with its thoroughly respected expertise in self-driving sensors and technology, as well as numerous partnerships with the largest automakers in the business. Mobileye is a leader in advanced driver-assist systems (ADAS) technologies and has a portfolio of vision, sensor fusion, mapping, and driving policy products.
And if you're going to get into the automotive industry, which is plagued by capital-intensive operations and historically low margins, this is the place to be. Consider that during 2016 Mobileye generated 76% gross margin, 48.3% adjusted-EBITDA margin, and 34% operating margin, thanks to its low fixed costs and less intensive marketing and SG&A costs compared to OEM (original equipment manufacturer) automakers.As a bonus, Mobileye is expected to be immediately accretive to Intel's non-GAAP earnings per share and cash flow. Intel management also believes it can wring out $175 million in cost synergies annually by 2019, which will only improve margins in the years ahead.
With Intel making a significant push into self-driving vehicle technology, the company now has the products to offer automakers a larger and more complete package of components, which could help seal future contracts. The future of the automotive industry is autonomous vehicles, and it's going to be a lucrative market in a couple of decades -- Intel is just the latest tech company to spend billions carving out its spot in the coming automotive evolution, but it certainly won't be the last.
10 stocks we like better than IntelWhen investing geniuses David and Tom Gardner have a stock tip, it can pay to listen. After all, the newsletter they have run for over a decade, Motley Fool Stock Advisor, has tripled the market.*
David and Tom just revealed what they believe are the 10 best stocks for investors to buy right now... and Intel wasn't one of them! That's right -- they think these 10 stocks are even better buys.
Click here to learn about these picks!
*Stock Advisor returns as of February 6, 2017
Daniel Miller owns shares of General Motors. The Motley Fool recommends General Motors and Intel. The Motley Fool has a disclosure policy.