Intel Corporation's Three Paths to Double-Digit Data-Center Growth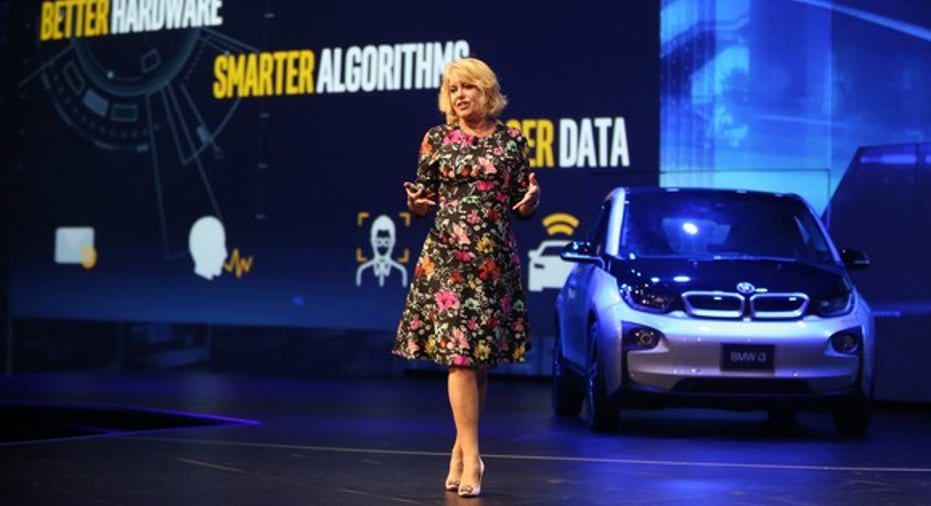 For years, Intel (NASDAQ: INTC) told its investors to expect a long-term revenue compounded annual growth rate (CAGR) of 15% from its Data Center Group (DCG). And, for years, Intel fell short of that 15% growth, except for the 18% growth that this business achieved in 2014.
During its Feb. 9 investor meeting, Intel finally took that long-term CAGR forecast down from 15% to just "low double digits," which is believed to mean anywhere from a 10% CAGR to a 13% CAGR.
Intel DCG chief Diane Bryant. Image source: Intel.
The company says that it reduced its long-term forecast for a couple of reasons. Firstly, it significantly lowered its expectations around the enterprise-server processor market. Secondly, in the time frame for which the CAGR applies (2017 through 2021), Intel expects delays in ramp-ups of new products.
If Intel's predictions were too bullish last time, investors should be skeptical of its new ones. But management tried to assuage investor fears about the current CAGR by explaining that it can still achieve its predicted growth given a variety of trends in the enterprise-server processor market.
Intel's three paths
In the slide below, you'll see the three different scenarios that Intel has cooked up with respect to potential declines in enterprise-server processors:
Image source: Intel.
Note that in each of the three scenarios -- which range from enterprise-server processor sales dropping at a 1% CAGR from 2017 to 2021 (a total revenue drop of around 5%) to dropping at a 7% clip (a total revenue drop of around 30%) -- Intel should be able to achieve its goal of "low double digit CAGR."
Of course, with the power of compounding, a 10% CAGR over a five-year period leads to a vastly different total amount of growth than a 13% one does. Growth of 10% compounded over five years is a total of 61% growth; growth of 13% compounded over that time frame is a total of 84.2% growth.
Translating that into hard dollar figures, 61% growth from the $17.2 billion that Intel's DCG saw in 2016 would lead to $27.7 billion in revenue by 2021; 84.2% growth from that same baseline would yield $31.7 billion in revenue -- a difference of $4 billion.
A big caveat to these growth scenarios
The figures that Intel shows in this slide appear to assume that in each scenario, everything but enterprise-server processor sales is fixed. It is entirely possible that the growth rates Intel is currently betting on in the cloud and networking markets -- both markets where Intel will arguably face more heated competition than in the traditional enterprise-server processor space -- fall short of expectations, negatively impacting DCG's long-term growth rate.
Indeed, just because Intel has built its new growth targets around more reasonable expectations about the enterprise-server market, investors shouldn't necessarily have faith in the rest of its forecasts being realistic.
Investment takeaway
What's interesting is that if Intel manages to achieve the long-term growth CAGR it has projected, its DCG business should, by 2021, be roughly the size of its Client Computing Group (CCG) business.
At that point, the company's sensitivity to the structurally challenged personal-computer market (the bulk of the company's CCG revenue) should be much lower. And if Intel is able to keep its operating expenses under reasonable control and keep its gross profit margins roughly where they are, it should be able to generate much greater profits, too.
For now, though, Intel has its work cut out for it. A lot of change can happen in five years: in the macroeconomic environment, in the competitive landscape, and even in how well the company can execute new products and ink deals to sell said products.
It's by no means assured that the company will hit the long-term growth rate it has put out there, so investors shouldn't plan as if it's in the bag.
10 stocks we like better than IntelWhen investing geniuses David and Tom Gardner have a stock tip, it can pay to listen. After all, the newsletter they have run for over a decade, Motley Fool Stock Advisor, has tripled the market.*
David and Tom just revealed what they believe are the 10 best stocks for investors to buy right now... and Intel wasn't one of them! That's right -- they think these 10 stocks are even better buys.
Click here to learn about these picks!
*Stock Advisor returns as of February 6, 2017
Ashraf Eassa owns shares of Intel. The Motley Fool recommends Intel. The Motley Fool has a disclosure policy.