Intel Corporation's Strange Choice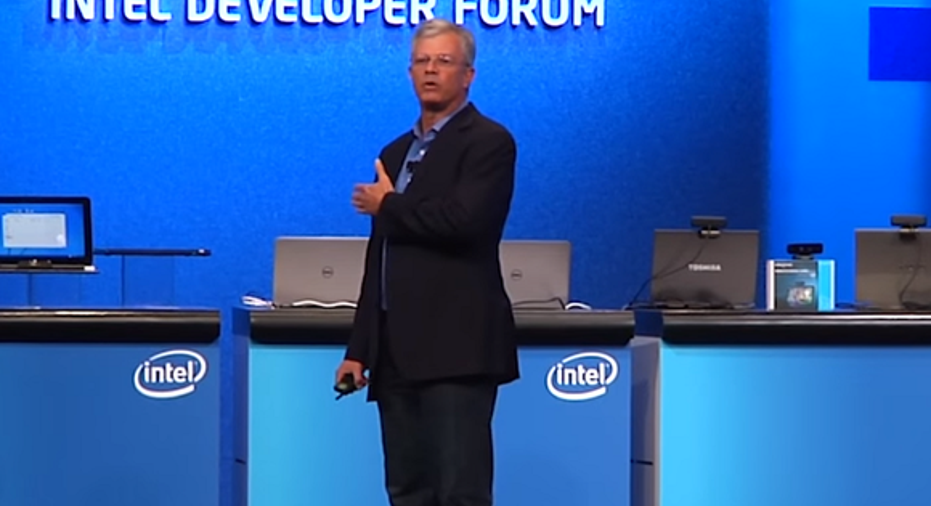 David Perlmutter at IDF 2012 Image source: Screen capture from IDG News Service video footage.
In a previous column, I noted that microprocessor giant Intel has exhibited significant execution issues in critical areas. In a bid to solve these problems, I suggested that the company's board of directors find a new CEO.
In the comments section of the article, one reader suggested that, instead of picking Krzanich to succeed previous CEO Paul Otellini, the company should have chosen David "Dadi" Perlmutter.
I agree. Here's why.
Krzanich is a factory person running a product companyIntel is fundamentally a company that used world-class chip manufacturing technology in order to build superb products for many of the markets that it serves.
Indeed, Intel now generates in excess of $55 billion in revenue, while the world's largest and most successful pure-play semiconductor manufacturing company -- TSMC -- brings in around half that in annual revenue.
The value that Intel's design/product teams add to those silicon wafers is tremendous.
At the end of the day, Intel lives and dies by the performance and features of its products -- its customers don't care about what manufacturing technology is used to build said products.
That's why it was so strange to see Intel choose Brian Krzanich to run the company.
According to a biography on the company's website, Krzanich started at Intel in 1982 as a process engineer after graduating with a B.S. in Chemistry, held a bunch of leadership positions within the company's manufacturing group, and then as chief operating officer, he oversaw many manufacturing-heavy areas of the company (NAND flash, Technology and Manufacturing Group, Supply Chain Operations, etc.).
Perlmutter, on the other hand, was a dyed-in-the-wool product person -- exactly what Intel needed.
Perlmutter's backgroundIn contrast to Krzanich, Perlmutter spent virtually his entire career at Intel helping to define and shape the company's products. He played critical roles in defining and developing key technologies at Intel such the Pentium Pro, Pentium II, Centrino laptop platform, and more, according to a biography that previously appeared on Intel's website.
Somebody with a deep understanding of what it takes to get competitive products designed in a timely fashion would seem to be a very good bet for a company that depends on building competitive products for a handful of critical markets.
Intel lost a valuable asset when it lost PerlmutterShortly after Krzanich was appointed CEO, one of the first things he did was to wrest control of what was known at the time as the Intel Architecture Group -- the group responsible for the development of Intel's key processor technology -- from Perlmutter.
Shortly thereafter, Perlmutter left the company.
I just cannot imagine that a factory/operations person would be better suited to run this group than somebody with the credentials that Perlmutter had.
Perhaps Perlmutter had made it clear that if he were not selected as Intel's CEO that he would leave the company, which prompted Krzanich to take control of the Intel Architecture Group when he did.
At any rate, in my view Intel lost a very valuable executive when it lost Perlmutter.
Intel's next CEO -- three contendersIt's clear from Intel's recent executive promotions/shuffling that the company is trying to groom successors to Krzanich. Right now, it would seem that the following current Intel executives are "on the bench," so to speak:
Diane Bryant -- General Manager of the Data Center Group.
Venkata "Murthy" Renduchintala -- President of the Client and Internet of Things Group.
Stacy Smith -- currently CFO, but planning to transition into what is effectively a "COO" role at Intel.
Of these three internal candidates, I would guess that the first choice today would be Bryant, as her leadership of Intel's important Data Center Group has been nothing short of superb. I expect that Renduchintala would be next in line, given his extensive product experience at a major competitor. Then, finally, would be Smith.
The competitive picture between these candidates is likely to change by the time a CEO transition actually happens, which I think will be in five to six years or so given how long Intel CEOs tend to hold their positions on average (average is nine years, excluding Krzanich).
It's obvious that Smith's new role is intended to allow him to gain enough experience to make him a strong contender as a potential successor to Krzanich.
The article Intel Corporation's Strange Choice originally appeared on Fool.com.
Ashraf Eassa owns shares of Intel. The Motley Fool recommends Intel. Try any of our Foolish newsletter services free for 30 days. We Fools may not all hold the same opinions, but we all believe that considering a diverse range of insights makes us better investors. The Motley Fool has a disclosure policy.
Copyright 1995 - 2016 The Motley Fool, LLC. All rights reserved. The Motley Fool has a disclosure policy.