Intel Corporation's Data Center Growth Drivers Explained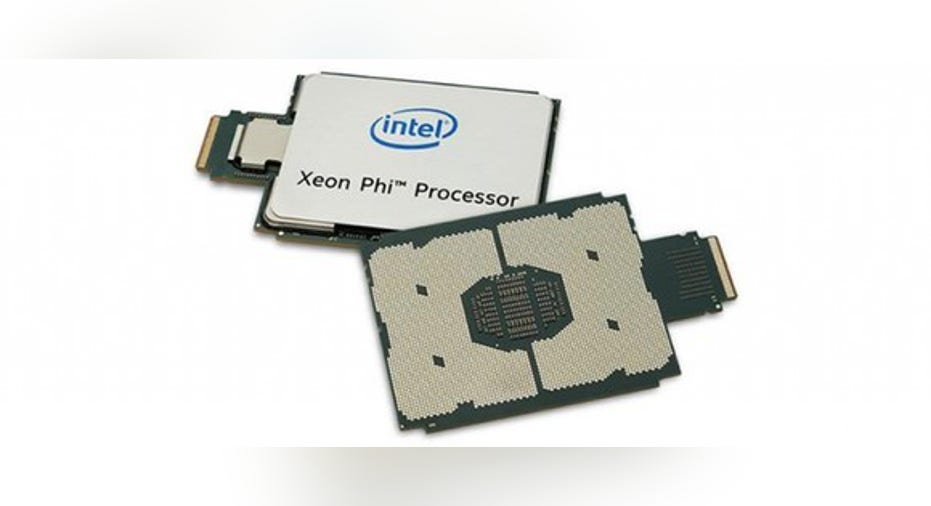 Image source: Intel.
Microprocessor giant Intel has made it clear that, over the long term, its Data Center Group, or DCG, will be its primary growth engine going forward. The business brought in around $16 billion in revenue last year and just over $7.8 billion in operating income, both very significant portions of the company's consolidated revenue and operating income results, respectively.
The company said back in November of last year that, through 2019, it expects a roughly 15% compounded annual revenue growth rate for this business. This growth is expected to be driven by two major components: sales of processors and sales of non-processor components.
15% breaks down into 12% and 3%
Intel's goal is for revenue from its data center oriented CPUs to grow at a 12% compounded annual growth rate through 2019. If the growth there follows historical trends, it should come as a result of both average selling price improvements (i.e. Intel selling a richer mix of products) as well as some overall unit growth.
The remainder of the total 15% compounded annual growth rate is expected to come from growth of non-CPU products.
What are some of these non-CPU parts?
At the company's investor meeting, Intel talked about three product categories that could help drive that additional growth.
The first opportunity that the company cites is in the sale of silicon photonics components. By 2020, Intel estimates that the total addressable market for these products will come in at around $5 billion.
The next is the company's Omni-Path interconnect technology, a type of high-speed data center connectivity that competes with the well-established Infiniband interconnect. Intel claims that the total addressable market for related components will be $1.6 billion by 2020.
And, finally, Intel claims that the market for memory modules based on the 3DXPoint memory technology that it developed with memory specialist Micron will represent an eye-popping $34 billion total addressable market by 2020.
It's also worth noting that this presentation was made before Intel's acquisition of programmable logic maker Altera closed. Altera's financial results are currently separated from the company's data center group (they're under the company's Programmable Solutions Group, or PSG), but I would expect that integrated Xeon CPU with Altera FPGA parts would be a product of DCG.
How much of this TAM does Intel need to capture to hit its goal?
Assuming Intel's TAM estimates prove legitimate, it's worth trying to figure out how much non-CPU revenue Intel will need to generate if it is to meet its goals and what portion of the combined total addressable market that would represent.
If Intel's DCG grows revenue at a 15% compounded annual rate throughout 2020, this would imply total revenue of $32.2 billion. If Intel's CPU revenue grows at a 12% compounded annual rate over that time from 2015 levels, then by 2020 that revenue would come in at around $26.23 billion. Non-CPU revenue, in that case, would come in at $5.97 billion.
$5.97 billion out of a claimed total addressable market of $40.6 billion seems doable. However, it's important to note that the bulk of the non-CPU TAM is what Intel thinks it can address with 3DXPoint.
It's not clear where this number comes from (Intel's footnote says this estimate comes from a combination of third party estimates as well as Intel's own analysis), but the magnitude of the number suggests that Intel is simply saying that it can go after a large portion of the traditional server memory market with 3DXPoint.
The article Intel Corporation's Data Center Growth Drivers Explained originally appeared on Fool.com.
Ashraf Eassa owns shares of Intel. The Motley Fool recommends Intel. Try any of our Foolish newsletter services free for 30 days. We Fools may not all hold the same opinions, but we all believe that considering a diverse range of insights makes us better investors. The Motley Fool has a disclosure policy.
Copyright 1995 - 2016 The Motley Fool, LLC. All rights reserved. The Motley Fool has a disclosure policy.