Intel Corporation VP Talks Contract Chip Manufacturing Business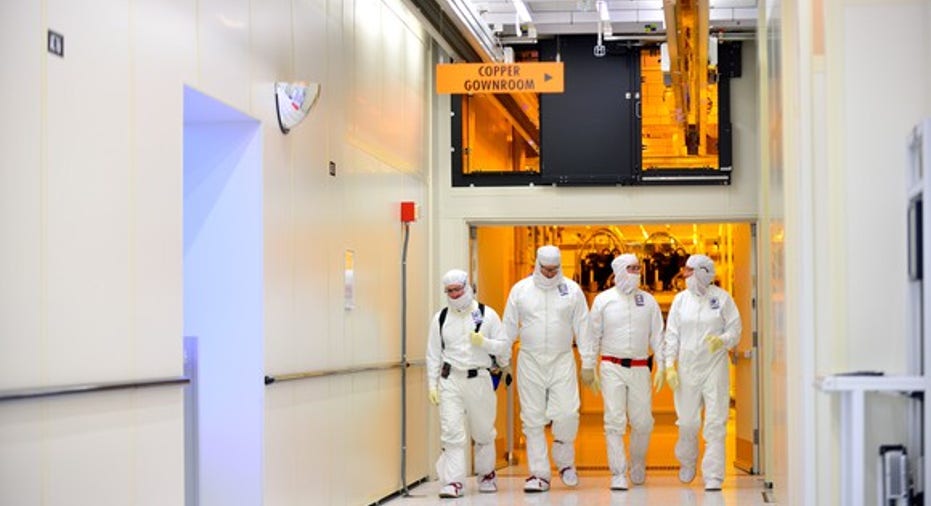 For several years, microprocessor giant Intel (NASDAQ: INTC) has made it clear that it aims to build a real business out of playing contract chip manufacturer for chipmakers that don't own chip manufacturing plants, also known as fabless semiconductor companies.
Intel engineers inside of a development factory. Image source: Intel.
Intel's revenue from this business today is essentially zero, but the company is putting in significant effort to change that situation. At a recent investor conference, Intel executive Stacy Smith shared some insights into its fledgling foundry business. Let's take a closer look.
Addressing a tough question
Analyst John Pitzer asked Smith the following question: "There [are] a lot of, I think, [views] out there in the investment community that ... you [have] stringent design rules, your higher cost of manufacturing just can't compete with the flexibility and lower cost you need for a boarder based foundry. How do you address this?"
Smith began by admitting that Intel's capabilities in terms of contract chip manufacturing "over the last three or four years" weren't anywhere near what more established foundries such as Taiwan Semiconductor (NYSE: TSM) and Samsung (NASDAQOTH: SSNLF) have been offering.
"It's a stretch to call it [a] foundry. You call it semi-custom," Smith said.
Smith pointed out that for a while, it lacked a lot of the key tools and technologies required to support smaller customers. That situation, the executive argued, has changed. He said the company has built the capabilities "to be much more what the rest of the industry needs to be able to work with us as a foundry partner."
What about cost?
In addition to addressing the challenges that Intel has faced in simply building up the capability to handle being a contract chip manufacturer, remember that Pitzer's also raised a concern that Intel's chip manufacturing technologies could be more expensive than those of competing manufacturers.
Smith argued that Intel can "deliver a die cost that actually is better than the cost through the third parties," but he was careful to distinguish between per-chip cost (a.k.a. die cost) and silicon wafer cost.
"It's not wafer cost; it's die cost. And that's because of the fact that we have higher density, we have better scaling, we have the ability to, frankly, have better yields," Smith explained.
How can Smith's cost claim make sense?
To understand what Smith is talking about, let's work through an example. Let's suppose it costs $10,000 to buy a silicon wafer from chip manufacturer A, and just $8,000 to buy a silicon wafer from chip manufacturer B. Additionally, suppose that a chip that measures in at 100 square millimeters in area on B's technology can be implemented in an area of just 70 square millimeters in A's technology.
Under these assumptions, and under the additional assumption of 100% manufacturing yields for both -- unrealistic in the real world, but useful for this discussion -- the raw die cost of a chip manufactured in B's technology would be about $13.33. That same chip in A's technology would be $11.57.
In other words, assuming constant yields, A's technology would enable a cheaper-to-build chip than B's, despite its higher wafer cost. If A's technology also delivered superior manufacturing yields, then that would further tilt the cost-per-chip advantage to A's favor.
A big caveat
The major general-purpose contract chip manufacturers, such as TSMC, usually offer customers a wide variety of chip manufacturing technologies. These technologies range from recently introduced processes (i.e., 20-nanometer, 16-nanometer) to technologies that have been around for many years (i.e., 55-nanometer, 40-nanometer).
TSMC's revenue on those extremely mature technologies is significant. Last quarter, 45% of the company's sales came from technologies older than the 28-nanometer process that TSMC introduced in 2011, and 69% of sales came from the 28-nanometer and older technologies.
Smith indicated that Intel's advantages apply to "leading-edge" technologies, rather than to significantly older technologies.
"So we can be very competitive on a cost basis, but it has to be at the leading edge," Smith explained. "When you're talking about n-2 [generation manufacturing technologies], and fully depreciated factories and things like that, that really isn't our business model."
Investor takeaway
Smith paints an optimistic picture for Intel's contract chip manufacturing efforts, but investors need to wait and see if the company is ultimately able to land significant contract chip manufacturing deals. The ones Intel has announced to date are unlikely to move the needle for the chipmaker, but perhaps this situation will change in the future.
A secret billion-dollar stock opportunity The world's biggest tech company forgot to show you something, but a few Wall Street analysts and the Fool didn't miss a beat: There's a small company that's powering their brand-new gadgets and the coming revolution in technology. And we think its stock price has nearly unlimited room to run for early-in-the-know investors! To be one of them, just click here.
Ashraf Eassa owns shares of Intel. The Motley Fool recommends Intel. Try any of our Foolish newsletter services free for 30 days. We Fools may not all hold the same opinions, but we all believe that considering a diverse range of insights makes us better investors. The Motley Fool has a disclosure policy.