Intel Corporation Quietly Forms Connectivity Group, Promotes Executive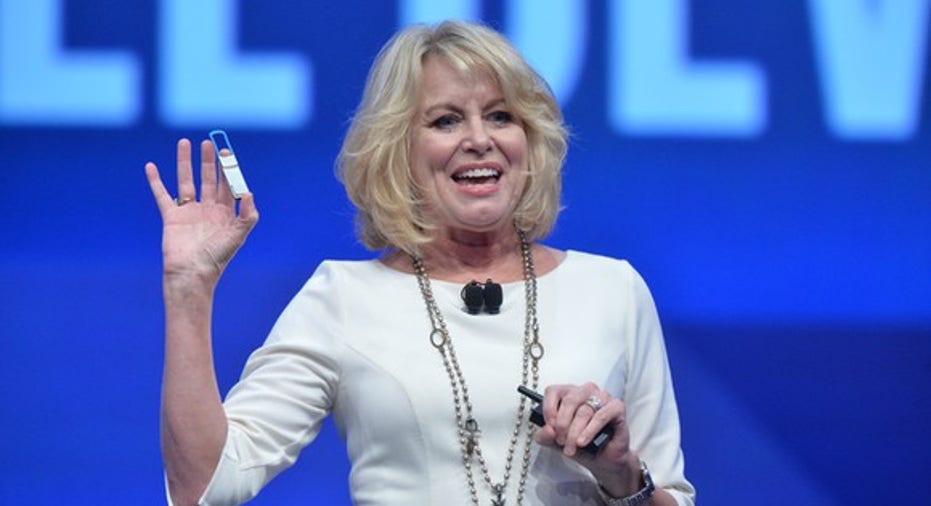 In 2015, microprocessor giant Intel (NASDAQ: INTC) hosted what it called its Data Center Day. During this event, the heads of the various divisions within the company's data center group (DCG) went over their respective strategies along with progress updates for their portions of the business.
Intel DCG chief Diane Bryant holding a silicon photonics module. Image source: Intel.
During the presentation, Intel executive Alexis Bjoerlin talked about the company's strategy with respect to silicon photonics connectivity products. Indeed, at the time Bjoerlin's title was vice president and general manager of Intel's silicon photonics solutions group.
However, Intel recently formed a new organization that encompasses the silicon photonics solutions group called the connectivity technology group. Bjoerlin, per her LinkedIn profile, is now the general manager of this new group. And, per Intel's job board, the company is now searching for a new general manager for Intel's silicon photonics solutions group.
Let's take a closer look at what the formation of the broader connectivity technology group means for DCG.
Intel expecting significant growth in this business
Intel has made no secret of the fact that it expects the non-processor portion of DCG to grow substantially over the next several years, serving as a key enabler of the long-term growth that it expects from DCG.
These non-processor products, per Intel, include Intel's Silicon Photonics connectivity technology, its Omni-Path connectivity technology (for high-performance computing), as well as its 3D XPoint memory modules.
Two of those three technologies/product lines are data-center connectivity products.
Intel's current public long-term DCG revenue growth forecast is a 15% compounded annual growth rate (CAGR) through 2019, though this figure may be revised when the company hosts its annual investor meeting next month.
Indeed, the company has said that it expects its data center processor business to grow at a 12% compounded annual growth rate through that time, which implies that it expects the non-processor portion of this business to grow at a 42.6% compounded annual growth rate through 2019.
So, if these products are going to become serious contributors to Intel's revenue in the coming years (by 2020, Intel expects the total addressable markets for Omni-Path and Silicon Photonics products to total $6.6 billion), then it likely makes sense to have an overarching organization dedicated to connectivity technologies.
The organization is in place, but let's see how it does
Intel only recently began shipping Omni-Path and Silicon Photonics products last year, so it's unlikely that the revenue contributions from either of those product lines was significant in 2016.
Nevertheless, with the products now in the market, it would be helpful for the company to provide insight into the initial revenue that the company is seeing from sales of these products, what kind of market share it expects to have in these segments over the next couple of years, and what sort of margin/profitability profile investors should expect from these products.
Intel is unlikely to break down sales of these products in each of its quarterly reports (though the company does report consolidated revenue from non-processor products in DCG, which is helpful), but annual updates at its investor meetings going forward would be appreciated.
10 stocks we like better than Intel When investing geniuses David and Tom Gardner have a stock tip, it can pay to listen. After all, the newsletter they have run for over a decade, Motley Fool Stock Advisor, has tripled the market.*
David and Tom just revealed what they believe are the 10 best stocks for investors to buy right now... and Intel wasn't one of them! That's right -- they think these 10 stocks are even better buys.
Click here to learn about these picks!
*Stock Advisor returns as of January 4, 2017
Ashraf Eassa owns shares of Intel. The Motley Fool recommends Intel. The Motley Fool has a disclosure policy.