Intel Corporation Plans Seismic Change to Data-Center Chips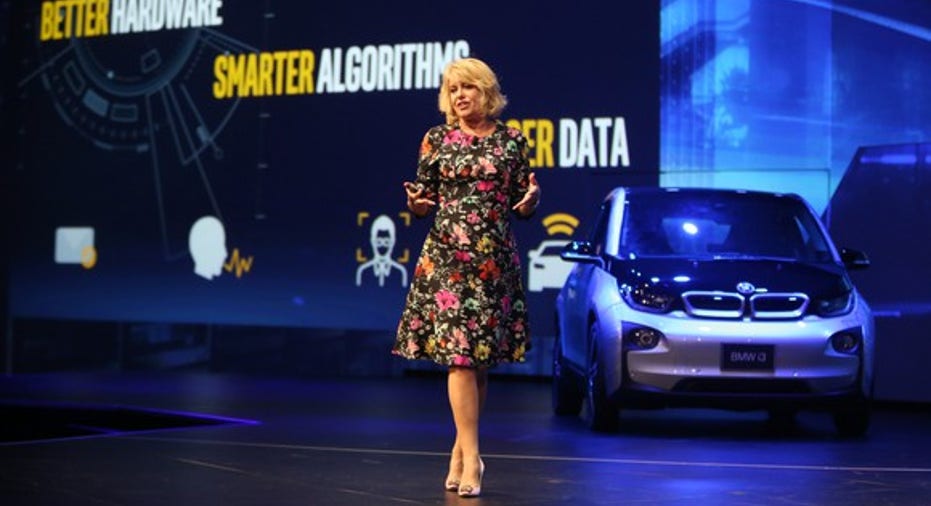 For many years, when microprocessor giant Intel (NASDAQ: INTC) would introduce a brand-new manufacturing technology, it would use that technology to build chips for mass-market personal computers such as thin-and-light laptops.In contrast, the company's high-performance data-center processors would get the newer technologies much later.
To put that in perspective, Intel began shipping the first personal-computer chips manufactured using its 22-nanometer technology in late 2011, but it didn't introduce the first data-center chips built using that very same technology until late 2013 -- a two-year gap.
The same goes for the company's 14-nanometer technology: Intel shipped the first personal-computer chips built on 14-nanometer in the second half of 2014, but it didn't start shipping the first data center-oriented chips built on 14-nanometer until the first half of 2016 -- once again, a roughly two-year gap.
Intel Data Center Group (DCG) chief Diane Bryant says this practice will change going forward.
Intel's Diane Bryant. Image source: Intel.
"Data Center First"
Bryant described Intel's current strategy as "Data Center First." Although Intel's DCG revenue is still smaller than the company's client computing group (CCG) revenue, the PC market doesn't really have much of a growth future, while growth opportunities for DCG are much clearer.
It's no wonder that, going forward, Intel will prioritize DCG ahead of its other business units. Over the long term, I fully expect that DCG revenues will overtake CCG revenue as DCG revenue grows and CCG revenue declines.
According to Bryant, the first products to use Intel's 10-nanometer++ technology -- its third-generation 10-nanometer technology -- as well as the first products to use Intel's 7-nanometer technology will be data-center chips, rather than personal-computer chips.
This approach also implies that Intel's data-center chips won't be first to use Intel's 10-nanometer or 10-nanometer++ technologies. In fact, in another column, I'll explain why I don't think Intel will use either of those technologies for its main server processor lines at all.
Why didn't Intel do it sooner?
Given that PCs have been in a slump for some time, with DCG essentially helping to pick up the slack, a natural question that comes to mind is, "Why didn't Intel do this before?"
Bryant answered this question quite nicely."Historically, there were two limiters to going first" with Intel DCG to a new manufacturing technology, she said, indicating that DCG simply didn't produce chips in enough volumes to make such a strategy viable in the past.
"You need a lot of wafers going through the factory in order to get a new process technology up and running; we didn't have the volume back then. We clearly have the volume now," Bryant explained.
Next, she said that "die size" -- or the physical area of the chips produced -- had been the second of these "limiters."
"You need a small enough die size to ramp a new process technology, given the defects are naturally higher at that time," she elaborated.
Indeed, Intel's smallest 14-nanometer Broadwell-EP server processor, launched in March 2016, measures in at roughly 250 square millimeters -- with the largest, for comparison, measuring in at 454 square millimeters -- while its first 14-nanometer client processor, Broadwell-Y, launched in the second half of 2014, measured just 82 square millimeters.
To get around this problem, Bryant explained, Intel is using a new silicon packaging technology called Embedded Multi-Die Interconnect Bridge, or EMIB for short.
EMIB, Bryant said, "allows [Intel] to cut up the Xeon die and debug just a piece of it at a time."
"So that combination is allowing us to go first on a next-generation process node," she said.
Business and financial implications
This move is going to have some interesting business and financial implications.The bad news, according to Intel, is that by migrating the server chips to the newer manufacturing technologies, gross profit margin is going to take a hit. As Bryant explained, "[T]hose early wafers on a new process node are very expensive and then that reflects back, obviously, in operating margin."
The good news, though, is that Intel is going to be facing quite a lot of competition from many companies for data-center business, and so giving its products every competitive advantage possible is going to be critical to defending its market share and product average selling prices simultaneously.
That, I suspect, is why Bryant indicated that this will be an "overall win for the data center group and a win for the corporation."
Offer from The Motley Fool: The 10 best stocks to buy now
Motley Fool co-founders Tom and David Gardner have spent more than a decade beating the market. In fact, the newsletter they run, Motley Fool Stock Advisor, has tripled the S&P 500!*
Tom and David just revealed their ten top stock picks for investors to buy right now.
Click here to get access to the full list!
*Stock Advisor returns as of 1/30/2017
Ashraf Eassa owns shares of Intel. The Motley Fool recommends Intel. The Motley Fool has a disclosure policy.