Intel Corporation Outs Its First 5G Modem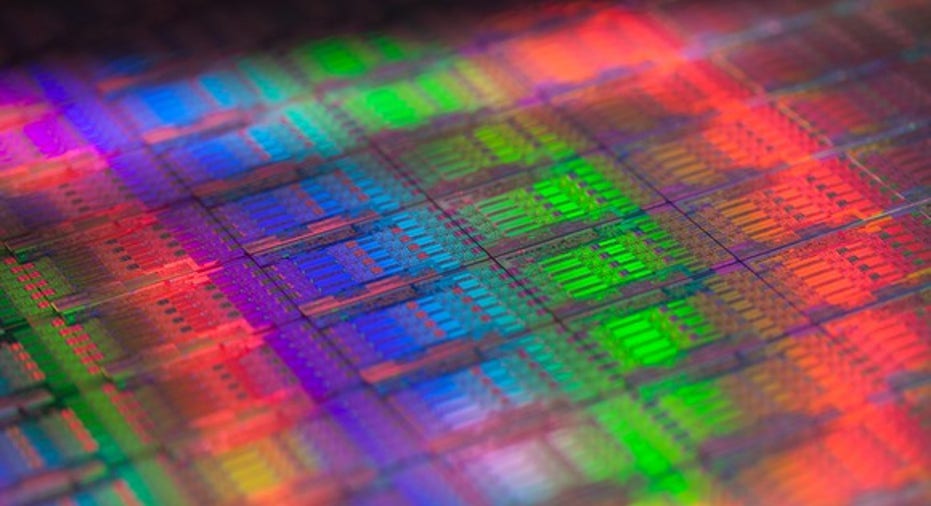 Microprocessor giant Intel (NASDAQ: INTC) has been working to become a major player in the cellular modem market since its acquisition of Infineon's (NASDAQOTH: IFNNY) wireless assets all the way back in 2010.
Image source: Intel.
The company's cellular efforts struggled for years, as the company was late to deliver modems implementing important technologies such as 4G LTE and LTE Advanced. Indeed, the competition always seemed to be at least a step ahead -- if not a couple of steps ahead -- of Intel.
The chip giant seems to be determined to hit the "reset" button as the wireless industry transitions from 4G LTE and 4G LTE Advanced to 5G technologies, aiming to position itself as a "leader" rather than as a (fast?) follower.
Only time will tell if Intel can ultimately succeed in becoming a leader here, but the company recently announced its very first 5G modem, codenamed Gold Ridge. Let's take a closer look at the announcement.
Pairs with XMM 7360, sampling in second half of 2017
Intel's Gold Ridge chip appears to be a "5G-only" modem that needs to be paired with a separate 4G chip (an Intel image posted by EETimes shows that the Gold Ridge modem paired with Intel's XMM 7360 LTE Advanced modem).
This solution looks like wireless chip leader Qualcomm's (NASDAQ: QCOM) Snapdragon X50 5G modem, which the company says "can be paired with a Snapdragon processor with an integrated Gigabit Class LTE modem."
The chip will reportedly sample in the second half of 2017, which suggests that it will find its way into the first commercially available devices sometime in the second half of 2018. Qualcomm has said that its own Snapdragon X50 5G modem will also sample to customers in the second half of 2017 and that "the first products integrating it are expected to surface throughout 2018."
If Intel manages to keep to its publicly announced schedule, it could have a shot at achieving rough time-to-market parity with the industry leader.
Built on the company's 14-nanometer technology
All of Intel's modems released to date have been manufactured by third parties on older manufacturing technologies. Not only that, but those chips have been manufactured by third parties, rather than by Intel itself -- a company that routinely claims that owning and operating its own manufacturing plants is a significant competitive advantage.
Per EETimes, the Gold Sand 5G modem will be manufactured in Intel's own 14-nanometer technology, making it the very first cellular modem that's both designed and manufactured by Intel.By manufacturing the modem in-house, Intel might be able to achieve a better cost/margin structure compared to a modem built by a third party since Intel won't have to pay a third-party chip manufacturer's profit margins.
Additionally, if Apple adopts Intel's 5G modem in some portion of its 2018 iPhone shipments (Intel currently supplies XMM 7360 modems into some models of the iPhone 7 and iPhone 7 Plus), then this would mean significant chip volumes for Intel's 14-nanometer chip factories.
Indeed, since Intel is likely to begin transitioning much of its chip volumes away from its 14-nanometer technology toward its newer 10-nanometer technologies in late 2018, its 5G modems could be useful in keeping what 14-nanometer capacity that the company keeps online busy.
Investor takeaway
Intel has made it clear that it believes that connectivity technologies, such as cellular modems, will be critical to long-term success across many important areas of the computing market.
The company is clearly putting its money where its mouth is by investing in next-generation wireless standards and chips that implement them. I suspect that over the next three to five years, we'll know whether Intel is destined to be a potent player in the cellular modem market or just another has-been.
10 stocks we like better than Intel When investing geniuses David and Tom Gardner have a stock tip, it can pay to listen. After all, the newsletter they have run for over a decade, Motley Fool Stock Advisor, has tripled the market.*
David and Tom just revealed what they believe are the 10 best stocks for investors to buy right now... and Intel wasn't one of them! That's right -- they think these 10 stocks are even better buys.
Click here to learn about these picks!
*Stock Advisor returns as of January 4, 2017
Ashraf Eassa owns shares of Intel and Qualcomm. The Motley Fool owns shares of and recommends Qualcomm. The Motley Fool recommends Intel. The Motley Fool has a disclosure policy.