Intel Corporation: It's Time to Replace CEO Brian Krzanich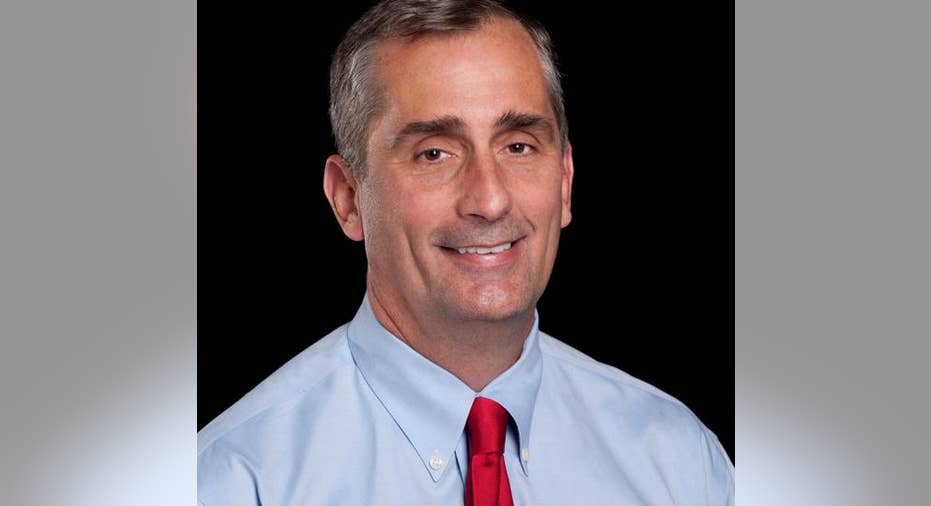 Intel CEO Brian Krzanich. Image credit: Intel.
Three years ago, Intel appointed a new Chief Executive Officer to succeed Paul Otellini -- then-Chief Operating Officer Brian Krzanich. Shortly after Krzanich's appointment in May of 2013, at the company's November 2013 investor meeting, the executive outlined his vision for the future of the company.
"If it computes, it does it BEST with Intel" -- or does it? The main theme of Krzanich's 2013 investor meeting presentation was that if something has compute capabilities, Intel wants its chips for those "somethings" to be the best in the industry.
To achieve this vision, Krzanich laid out the four "focus areas" for Intel: Data Center, PCs, Mobility, and chip manufacturing technology. In addition to mentioning these focus areas, Krzanich pointed to specific targets and goals within each of these areas.
Under Krzanich's leadership, Intel has not successfully executed too many of the long-term goals set out here.
Data Center is mostly fine ...Intel's most impressive business is arguably its data center business. The products that Intel fields here are best-in-class and the company's ability to gain share in areas of the data center outside of the core server market (i.e. networking) has been impressive.
Intel forecasted a 15% compounded annual growth rate in this business through 2016. Growth in this segment during 2013 and 2015 came in below this target (though Intel exceeded it in 2014), and it's looking as the company is merely committing to "double digit" growth for 2016 (after starting off the year with just 9% growth).
I don't blame the growth shortfall on Intel's execution, but I think continuing to reiterate the long-term 15% compounded annual growth rate target was not particularly prudent on Intel's part.
PC execution is good, tooIntel's largest business is its PC processor business. Although the PC environment has been challenging, the company has continued to field best-in-class products here and has tried just about everything under the sun to try to stimulate PC demand.
Given that Intel dominated this market when Krzanich took his post, though, it's hard to give Krzanich too much credit for this.
Mobile was a complete disasterIn 2013, Intel made it clear that it was finally "serious" about getting into the market for mobile processors (tablets and phones). To accelerate entry into the tablet market, Intel spent a ton of money providing subsidies (read: "contra-revenue") to shoehorn its chips into low-cost tablets in order to "establish a footprint" (this was an idea cooked up under Krzanich's watch).
Krzanich also told investors that it would be investing in an aggressive roadmap of system-on-chip products (integrated modem and applications processor) aimed at the low-end, mid-range, and high-end of the smartphone/tablet markets.
After Intel badly missed its original launch schedule for these products, it outright killed its entire pipeline of smartphone/tablet oriented processors.
Billions of dollars burned under Krzanich's watch with nothing to show for it. Intel did not even respect its shareholders enough to announce this in a press release; only after privately communicating these cancellations to industry and financial analysts did Intel publicly confirm them to journalists.
Moore's Law leadership lostIn 2013, Krzanich told investors that its 10-nanometer chip manufacturing technology would be ready for mass production by the end of 2015. Not only would Intel move to more advanced technologies more quickly than the competition, but Intel's technology was expected to be far superior to "comparable" manufacturing technologies from the competition.
The reality of the situation has turned out to be much grimmer.
Intel's 14-nanometer technology was delayed from the end of 2013 into the first half of 2014, and even in late 2015 management was talking about its plans to improve manufacturing yields on this technology.
According to Semiconductor Engineering's sources, Intel is planning to "move into 10nm production by mid-2017." This jibes with Intel's claim that its first 10-nanometer products will arrive in the second half of 2017.
This is a delay of a year-and-half, nearly the time that it should take between two chip manufacturing technology generations.
This delay has allowed Intel's competition to narrow the gap between themselves and the chip giant. It is not clear at this point whether Intel will even have a so-called "manufacturing lead" by the second half of 2018.
Intel stock has underperformed significantly under Krzanich At the end of the day, what matters is the value that a company delivers to its stockholders. When Krzanich took the CEO role on May 2, 2013, Intel stock traded at $24.11 per share. As of writing, the stock sits at $30.28 per share -- a 25% gain in nearly three years.
In that time, the NASDAQ composite is up 41.3%. The PHLX Semiconductor Index is up 43.15%.
To make matters worse, it's hard to see anything in the near-to-medium term that should allow Intel to outperform.
Replace Krzanich before it's too lateThings appear to have gotten significantly worse for Intel since Krzanich has taken the helm and, as the old saying goes, "the fish rots from the head down." I believe that the best chance that the company has to course correct is to install a new CEO.
The tricky part will be to find a CEO that knows what it takes to allow Intel to become a chip manufacturing technology leader while at the same time knows that Intel is more than just a chip manufacturing house -- it's a processor/platform design house that uses cutting edge chip manufacturing technology to build high-value products.
Here's hoping the Board of Directors gets cracking -- the clock is ticking.
The article Intel Corporation: It's Time to Replace CEO Brian Krzanich originally appeared on Fool.com.
Ashraf Eassa owns shares of Intel. The Motley Fool recommends Intel. Try any of our Foolish newsletter services free for 30 days. We Fools may not all hold the same opinions, but we all believe that considering a diverse range of insights makes us better investors. The Motley Fool has a disclosure policy.
Copyright 1995 - 2016 The Motley Fool, LLC. All rights reserved. The Motley Fool has a disclosure policy.