Intel Corporation Is Running out of Room to Grow...What's Next?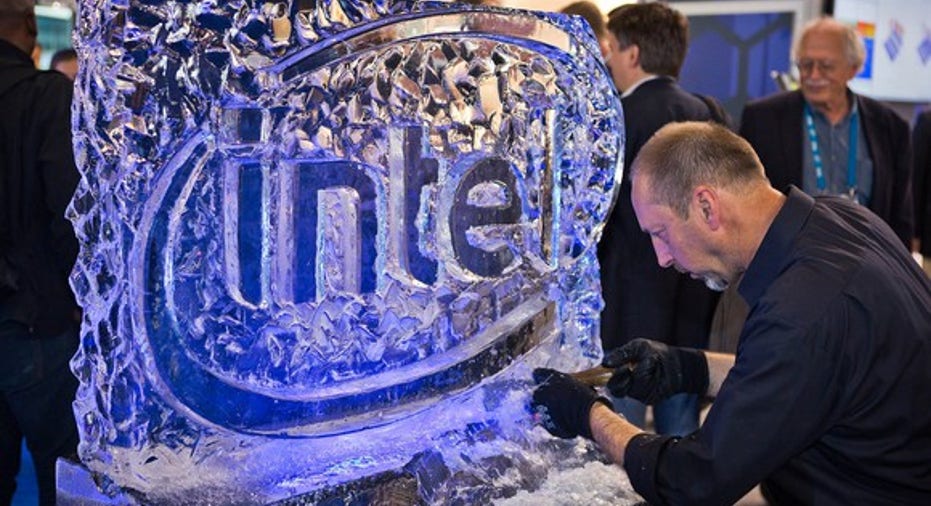 Intel is running out of room to grow. Sluggish demand for PCs, which have long upgrade cycles and are being displaced by tablets and phones, have caused sales of its PC chips to slow to a crawl.
Its ill-fated attempt to enter mobile chips by subsidizing partners resulted in billions wasted forless than a 1% market share. Sales of data center chips, meanwhile, have been growing well below its estimated annual growth rate of 15% between2015 and 2019, and its non-volatile memory business has been posting top- and bottom-line declines.
Image source: Intel.
Due to all these headwinds, Intel is only expected to postabout 3% sales and earnings growth this year. But the chipmaker doesn't plan to sit still and let its core businesses simply stop growing. Let's take a look at four ways Intel is trying to expand its business, and whether or not they can get its growth back on track.
The Internet of Things
Intel believes that 200 billion devices will be connected to each other and the cloud by 2020 in theInternet of Things (IoT), which consists of wearables, appliances, and other everyday gadgets. To capitalize on that growth, Intel formed a dedicated IoTbusiness in 2013. Since then, the unit has launched special IoT modules like the button-sized Curie, the SD-card sized Edison, and low-power Quark microprocessors.
Intel has heavily promoted these IoT modules with IoTincubators, trade show presentations, and even a reality TV show called America's Greatest Makers. However, the IoT business generated justover 4% of Intel's revenue and less than 4% of its operating profits last year. It also faces significant challenges from Qualcomm , which is moving into the IoT space to offset slowing sales of its smartphone chips.
Intel's Curie. Image source: Intel.
Drones
Consulting firm PWC believes that the global drone market will grow from $2 billion today to $127 billion by 2020. That market includes a wide range of drones for consumer, delivery, defense, photography, and enterprise purposes.
To tap into that growth, Intel invested in drone makers Airware, Precisionhawk, and Yuneec, developed collision avoidance technology withAscending Technologies, and integrated its Atom chips with depth-sensing RealSense cameras in reference designs for drones. Earlier this year, Intel partnered with AT&Tto test drone flights across the telecom giant's LTE network. LTE-connected drones can be piloted from longer distances beyond the pilot's line of sight, and could be essential for delivering goods or performing other automated tasks for businesses.
However, Qualcomm is also entering the same space with Snapdragon Flight, a low-cost reference design for drones. Yuneec wasnotably the first major customer to use Snapdragon Flight, indicating that Intel's investment in the Chinese drone maker doesn't necessarily ensure its long-term loyalty.
Connected cars
Intel and Qualcomm are also clashing in a battle to power connected cars. BI Intelligence estimates that the percentage of new cars shipped that are connected to the Internet could rise from 13% in 2015 to 75%in 2020.
Earlier this year, Qualcomm launched the Snapdragon A series processors to power infotainment and navigation systems. Intel chips already power infotainment and navigation systems in select Hyundai, BMW, Kia, andInfiniti vehicles, and it previously launched a development kit for self-driving cars.
Intel, Mobileye, and BMW executives with a driverless concept car from BMW. Image source: Intel.
To accelerate the growth of that business, Intel acquired Yogitech inApril. Yogitech specializes in functional safety in semiconductors, which ensures that chips in driverless vehicles operate properly. In May, it agreedto buy Itseez, a computer vision start-up that develops algorithms to help automobiles "see" and avoid obstacles on the road. Earlier this month, Intel partneredwith ADAS (advanced driver assistance systems) provider Mobileyeto develop a new autonomous driving platform for BMW.
5G technologies
In May, Intel announced that it would discontinue its SoFIA andBroxton 4G mobile chipsets, basically surrendering the mobile market to Qualcomm and MediaTek. Intel declared that it was moving on from 4G technologies to get a head start in 5G technologies, which are expected to be deployed around 2020.
5G networks are expected to offer 100 times faster data transfers than 4G networks. By investing heavily in 5G modems, Intel might steal more business away from Qualcomm in the future, as it recently did with a portion of Qualcomm's next-gen iPhone orders. Gaining a head start in 5G would also complement Intel's efforts in the IoT, drone, and connected-car markets.
But don't get too excited yet...
Intel is investing in new growth markets, but these investments probably won't provide its top and bottom lines with a meaningful boost in the near future. However, investors should monitor their progress over the long term to see if they can diversify Intel's core business away from its slowing PC, data center, and memory businesses.
The article Intel Corporation Is Running out of Room to Grow...What's Next? originally appeared on Fool.com.
Leo Sun owns shares of AT&T and Qualcomm. The Motley Fool owns shares of and recommends Qualcomm. The Motley Fool recommends Intel. Try any of our Foolish newsletter services free for 30 days. We Fools may not all hold the same opinions, but we all believe that considering a diverse range of insights makes us better investors. The Motley Fool has a disclosure policy.
Copyright 1995 - 2016 The Motley Fool, LLC. All rights reserved. The Motley Fool has a disclosure policy.