Intel Corporation Expects to Grow Client Computing Group Profit Margin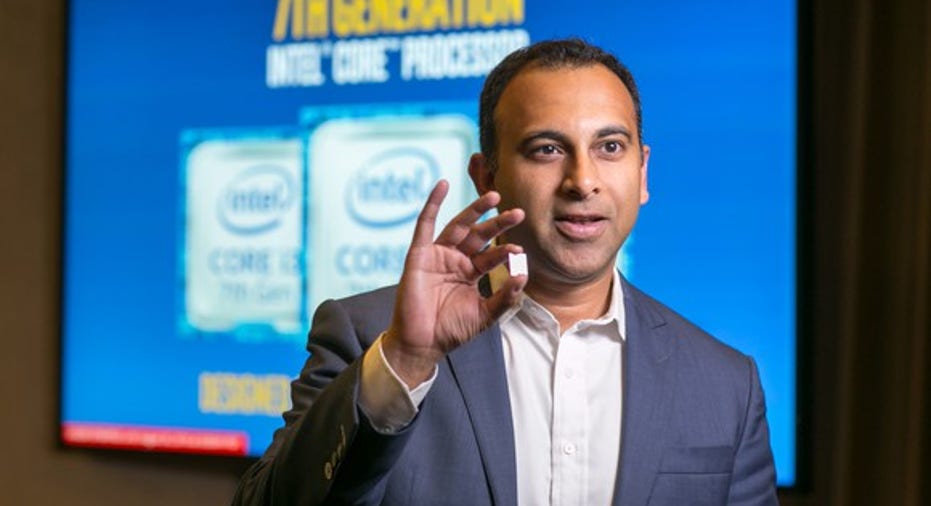 A little while back, microprocessor giant Intel (NASDAQ: INTC) merged its PC client group business with its mobile group to form its client computing group. CCG is Intel's largest business by revenue, generating nearly $33 billion in sales during 2016.
Most of that revenue comes from sales of processors and related components into personal-computer systems, although the company has seen reasonable success from the sale of chips that power cable gateways and, more recently, cellular modem chips into Apple's (NASDAQ: AAPL) iPhone.
Navin Shenoy, general manager of the company's client computing group. Image source: Intel.
At Intel's Feb. 9 analyst day, company management went over its financial expectations for this segment for 2017 -- and beyond. Let's take a closer look.
Next year's expectations
Intel says it expects CCG revenue during 2017 to drop by a mid-single-digit percentage, which I take to mean between 5% and 7%. It's worth noting that the chipmaker had originally expected flat-to-low single-digit revenue growth for this segment in 2016 when it provided a preliminary forecast at the end of 2015, and then it revised its guidance down during the year to call for a revenue decline, but it ultimately ended up seeing CCG revenue grow by 2% for the year.
The company's revenue forecast appears to be in line with its overall personal-computer industry unit forecast, which the company acknowledges is lower than what some of the estimates from third-party analysts have published.
What this suggests is that Intel is not only taking what it refers to as a "cautious outlook" on the total addressable market within the personal-computer market, but that it also doesn't expect a repeat of last year's average selling price performance in which it saw its processor average selling prices rise, helping to offset the industrywide unit decline.
As far as CCG profitability goes, Intel says it aims to see CCG operating margin outperform CCG revenue growth. Or, put another way, it expects operating-margin growth.
How Intel will grow CCG operating margin longer term
In a previous column, I went over why Intel expects its profit margins in its fast-growing data-center group (DCG) to deflate in the coming years.
Two of the drivers expected to hurt DCG's operating margin going forward -- namely adopting newer, more expensive manufacturing technologies before CCG does and taking on a larger part of the company's shared operating expenses -- should serve as tailwinds to CCG operating margin going forward.
First, if Intel is allocating more of its shared operating expenses to DCG and away from CCG, then this should have the effect of lowering CCG's operating expenses. Lower operating expenses, all else being equal, means that more of each dollar of revenue gets turned into operating profit -- in other words, higher operating margin.
Next, if Intel's personal-computer processors will adopt new manufacturing technologies only after DCG has had the opportunity to break them in, then CCG should get the benefit of higher manufacturing yields for newer products. Higher yields mean a lower effective cost per chip, which for a given selling price means higher gross profit margin. Higher gross profit margin, assuming fixed operating expenses, means higher operating margin.
CCG is a cash machine, not a growth engine
It's clear that Intel is now running its personal-computer chip business for maximum profitability, not for growth.
Now, this doesn't mean the chipmaker can just halt all investments in future products or even get complacent -- Intel can't maintain its profit engine here if it builds bad products or even builds good products but markets them ineffectively.
But what it does mean is that CCG is going to have to be more careful with each of its research and development dollars, and it's probably only going to adopt new manufacturing technologies for very high-volume products once the costs of those new technologies has come down considerably.
CCG is still going to be extremely important for Intel over the long term, but that importance will -- if Intel is successful -- continue to diminish in the years ahead.
10 stocks we like better than IntelWhen investing geniuses David and Tom Gardner have a stock tip, it can pay to listen. After all, the newsletter they have run for over a decade, Motley Fool Stock Advisor, has tripled the market.*
David and Tom just revealed what they believe are the 10 best stocks for investors to buy right now... and Intel wasn't one of them! That's right -- they think these 10 stocks are even better buys.
Click here to learn about these picks!
*Stock Advisor returns as of February 6, 2017
Ashraf Eassa owns shares of Intel. The Motley Fool owns shares of and recommends Apple. The Motley Fool has the following options: long January 2018 $90 calls on Apple and short January 2018 $95 calls on Apple. The Motley Fool recommends Intel. The Motley Fool has a disclosure policy.